Philly Beer Week Guide
There are over 200 events happening this year at the Philly Beer Week, and we know there are some tough choices.
While we can't promise we know the perfect event for each and every moment in time, we CAN make some recommendations.
For your consideration, we offer the following suggestions for Philly Beer Week. We may update these as we receive news of any cool happenings in the area, so keep your eyes here!
---
---
Wednesday, June 8th
Ommegang - Sweet & Savory
Time: 7pm-10pm
Place: Devil's Den
Cost: Pay As You Go
Join Ommegang & the Devil's Den for a sweet & savory pairing. Devil's Den will be tapping a selection of Ommegang beers and pairing them with a cheese plate - savory from Di Bruno Brothers, and cupcakes - sweet from Sweet Elizabeth's Cakes. Ommegang & Duvel beers will be on special during the event. Flights of beers, cheese plate & cupcakes will be available a la carte. Draft List - Hennipen, Witte, Rare Vos, BPA, Abbey Dubbel & Gnomegang.
---
Thursday, June 9th
Flying Dog Tap Takeover + Nuts For Beer Charity
Time: 11:30am-2:30pm
Place: Cavanaugh's Rittenhouse
Cost: Pay As You Go
Join Cavanaugh's as they host Flying Dog Brewing and team up with Philly Beer Scene to help raise money for Testicular cancer. They will have four different Flying Dog beers on draft, and there will be a bunch of people from the brewery there to talk shop. They'll also have a special lunch menu to pair with Flying Dog beers. All Flying Dog drafts are only $3.00 all day!
Special Philly On Tap Tour, featuring Blue Point Brewery and Joe Gunn's Variety Show
Time: 5pm-7pm
Place: Begins at City Hall
Cost: $30 (Advance purchase required)
Urban Adventures presents the Philly On Tap Tour, this time featuring Gary Rosen, sales rep and former brewer for Long Island's Blue Point Brewery. Bring a bag to take home some blue point goodies!
Though the tour will cover several famous pubs in Philadelphia, it will end at Jose Pistola's, where Philadelphia Urban Adventures is joining forces with Drink Philly to co-sponsor a "Big Guns" tapping of rare Blue Point beers from 7-10pm. Gary will be sampling No Apologies (Double IPA -- one of three kegs in PA), Toxic Sludge (a firkin of one of the last batches ever made), and Old Howling Bastard barleywine that's been aged one year. Philly on Tap participants get $1 off each pint they purchase. We'll also be giving away prizes like coupons for future tours.
Stick around after for the ever-riotous "Late Night with Joe Gunn" variety show.
Beauty of the Beerholder
Time: 9pm-Midnight
Place: The Draught Horse
Cost: Pay As You Go (featuring $0.99 Magic Hat #9 draughts)
Pub meets Art Gallery! The Draught Horse and Magic Hat are setting out to show that it's not just the beer that makes Philadelphia a wonderful place, but the art as well. Expect $0.99 Magic Hat #9 drafts, and beer-inspired artwork! If you have any art that was inspired and/or includes beer in it and would like to be part of this celebration, please let us know at info@draughthorse.com Any format is welcomed, for example photographs of taps, paintings of people drinking, sculpture made with beer cans, etc
---
Friday, June 10th
Something In the Wings
Time: 4pm-7pm
Place: Irish Pol
Cost: Pay As You Go
The Irish Pol's unique Hot Mustard Wings are getting an upgrade! If you know the team at Drink Philly, you already know just how much we love these wings. Irish Pol is mixing a beer from Flying Dog into the secret recipe to give them a little something extra. This special variety will only be available for this event. While you're here, get a Flying Dog pint - there's a good chance that most, if not all, will be three bucks for their happy hour.
Anchor Steam Tap Take Over!
Time: 7pm-10pm
Place: Cavanaugh's Rittenhouse
Cost: Pay As You Go

Cavanaugh's Rittenhouse will have Four Anchor Steam beers on tap! When you arrive, collect your card with all four beers listed. For each style you drink, you'll get a hole punch. Finish all four, and you'll be put in a drawing to win two free Philadelphia Union Tickets.
You will be given a card with all four beers... we will punch a hole in the the card for ach beer you finish
Once you finish all four you name will be put in a drawing to win Two FREE Philaldephia Union Tickets!!!
---
Saturday, June 11th
Wild Onion Hits the East Coast
Time: 6pm-9pm
Place: Doobies Bar
Cost: Pay As You Go
Come meet the guys from Wild Onion Brewery (who made the Jack Stout we reviewed here)! Hailing from Lake Barrington, IL, they'll be bringing kegs & cans that include Hop Slayer Double IPA, Paddy's Pale Ale, Summer Wit & more (subject to availability). We hear they are throwing a bunch of stuff in the car & driving our way!! A brewery that is relatively new to taps in Philly, we think you'll enjoy this awesome meet & greet.
---
Sunday, June 12th
Kegs and Eggs!!
Time: 11:30am - 2:30 pm
Place: Cavanaugh's Rittenhouse
Cost: Pay As You Go
It's the last day of Philly Beer Week, and Cav's needs help kicking all the kegs! This event will feature a one-time-only brunch menu designed by Chef Dan Kelly! In addition, they'll have a beer special to kick the kegs.
Now *this* is the way to start your morning!
Dock Street Philly Beer Week Music Festival
Time: 2pm-6pm
Place: Dock Street Brewing Co.
Cost: No cover, Pay As You Go for food/drink.
If you love a good beer, wood-fired pizza, great music and sunshine, get over here.
Dock Street will be serving:
Summer Session: a wheat beer spiced with lemon grass and fresh ginger
Sudan Grass Ale: traditional African Gluten Free beer
Pimp My Rye: our Philly Beer Week exclusive and the first release in a summer series of Saisons brewed with rosemary, basil, oregano and black pepper! Tried and true favorites
Rye IPA and Royal Bohemian Pilsner will also be on tap.
Expect music from psychedelic rockers Bardo Pond, TJ Kong and the Atomic Bomb, Da Comrade!, and City Wide Specials.
We also hear that Buttercream Cupcake Lady will be around to serve some delicious sweet stuff.
Rock!

--
But wait! Is this all?
No way! There are over 200 events to choose from, and we're picking some of our favorites and adding them each day to our calendar as we get more info. For a full (and daunting!) listing, check here:
Get your t-shirts now for Beer Week!
On Sale: $10 per shirt!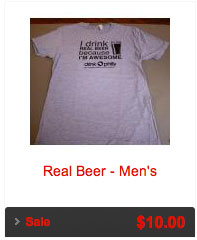 ---
Past Events
Friday, June 3rd
"12:01am, Philly's #1 Happy Hour" (technically happens Thursday evening just after midnight)
Time: 12am - 2am
Place: The Irish Pol
Cost: Pay As You Go
Drinker's Choice winner Irish Pol is wasting no time in getting the festivities started, and they're offering some great brews to boot. They're bringing their $3 draft happy hour late night to mark the occasion.
Fegley's Brew Works, Great Lakes Brewing Co., Palm Breweries, Troegs Brewing Co., Victory Brewing Co., Yards Brewing, and Yuengling will all make an appearance.
If those don't suit you (and they should suit you fine, they're all delicious breweries), Irish Pol sports 40 taps. Yes, most of those are gonna' be $3. They don't play around.

Opening Tap
Time: 7:30-10pm
Place: Independence Visitor Center
Cost: $41 (tickets sold only in advance)
Sample beer from over a dozen brewers, and sample some bites for an additional price. Witness the mighty Hammer of Glory, and meet some of the world's best brewers!
Check our video all about it here!

Opening Night Double Header Jam
Time: 10:00pm-2am
Place: Perch Pub
Cost: Pay As You Go
Brewery: Flying Dog Brewery , Sly Fox Brewing Co. , Stoudt's Brewing Co. , Victory Brewing Company , Weyerbacher Brewing Co.
Perch Pub is hosting a great night of of music and great brews, featuring Flying Dog, Sly Fox, Stoudt's, Victory, and Weyerbacher. The musical line-up includes two bands.
From the website:
"The All Ways - Rock/Pop/Alternative Austin Massirman-Vocals, Ron Geffen - Guitar, Jon Colantonio - Guitar/Vocals, Steve DeNola - Drums and Pat Heraghty - Bass. From Rockland County, NY.
Howling Hour - Based in Philadelphia, Howling Hour is a rock duo comprised of Robert Bobo (vocals, guitar) and Sean Donaghy (drums, vocals). Raw, loud, and unapologetic, the duo creates music that defies their age. Whether playing basement shows or large venues, Howling Hour puts on an in your face high energy show that is not to be missed."

---
Saturday, June 4th
International Great Beer Expo
Time: 12:30-4pm (Session 1), 5:30-9pm (Session 2)
Place: Philadelphia Cruise Terminal at the Naval Yard (5100 S. Broad St.)
Cost: $45 per session ($10 for Designated Drivers)
The International Great Beer Expo is a full-scale beer fest, featuring 50+ breweries from all around the world.
Included in the cost of your ticket are sampling glasses that you can keep, and unlimited 2 oz. samples of all the beers that are at the beer fest. In addition to the great beers you'll find, there are always dozens of cool vendors!
The event will help raise funds for the CBC, Committee to Benefit the Children, a local Philadelphia charity that provides resources for treatment, care and family support to benefit area children with cancer, leukemia and serious blood disorders.
For ticket information, click here.
For footage of the 2010 International Great Beer Expos, check here!

---
Sunday June 5th
Second Annual Coffee Beer Brunch
Time: 11am-12pm
Place: Eulogy Belgian Tavern
Cost: Pay As You Go
Eulogy is bringing back their Coffee Beer Brunch! Nothing but coffee stouts and porters on tap, including: Peche Mortel, Southern Tier Jahva, Evil Twin Liquid Dookie, De Struise Black Damnation-Coffee, Mikkeller Rauch Breakfast, Emelisse Espresso, Terrapin Wake n' Bake, Flying Dog Wild Dog Coffee Stout, Centeral Waters Coffee Stout, among others. Have some of those with chef Theo Atkinsons' famous ckicken fried steak with red eye gravy, and you've got a great start to your day!
2nd Annual Beer Cocktail Competition
Time: 2pm-5pm
Place: Smokin' Betty's
Cost: $20
Absolut, Dock Street Brewing, and Smokin' Betty's have brought together Philly's best bartenders, who will compete to find the most delicious beer cocktail. They'll be mixing Absolut products with some of Dock Street's finest ales: Sudan Grass, Summer Session, OMG Pale Ale and Man Full of Trouble Porter. Tickets include unlimited cocktails and light fare.
Lew & Scoats' Upstate Beer Trek
Time: 7pm-9pm
Place: Grey Lodge Pub
Cost: Pay As You Go
Beer writer Lew Bryson, author of Pennsylvania Breweries, and Scoats, owner of Grey Lodge, recently journeyed around upstate to pick of sixtels of beer that never made it to Philly. There are plenty of great breweries scattered around the state, and the boys have found some real gems this year.
This time around they have beer from Ottos, Marley's, BennyBrew, Old Forge, Elk Creek, Breaker, and more. Enjoy the beer, then hear the gentlemen discuss their travels. The first talk will be at 7:30pm on the 2nd floor. At 8:30pm, they will "pretty much say the same thing" on the 1st floor.
The Best of the '70's
Time: 8pm-2am
Place: Perch Pub
Cost: Pay As You Go
Perch Pub is having a 70's celebration, and from 8 -9 PM they'll have 12 local craft beers on tap for $3 each. Prizes will awarded for Best 70's Male or Female Musician look-alike, and Best 70's Retro Dress.

---
Monday June 6th
Stillwater Experimental Cocktails
Time: 3pm-5pm
Place: Farmers Cabinet
Cost: Pay As You Go
If you're looking to really practice your palate, this is a perfect exercise.
Brian Strumke of Stillwater Artisanal Ales will be on site as head bartender Phoebe Esmon crafts 5 cocktails based off of the flavor profile of 5 Stillwater Ales. Please note: There are no beers (harmed) or used in these cocktails. All flavors are derived from spirits, house-made bitters, fresh squeezed juices, shrubs, etc.
In a nutshell, they're beer-inspired cocktails, like we talked about here!
Weyerbacher & '80's Rockers
Time: 5pm-10pm
Place: Perch Pub
Cost: Pay As You Go.
The 1980s was a decade of revolutionary changes on the music scene. The two major developments were the advent of MTV and the compact disc. Music became more diverse, with new wave, heavy metal, rap, techno pop, alternative rock and the "new" country sounds.
Meet Weyerbacher's brewer Chris Wilson and Mike Lubieski as they rock out to the best of the '80's.
To get the party rockin', from 5 -7 PM they'll feature12 local craft beers on tap for ½ price, featuring a great selection from Weyerbacher . Prizes awarded for Best 80's Male or Female Musician look-alike and Best 80's Retro Dress.
Brew & Chew: Victory vs. Troegs
Time: 7pm-9pm
Place: Cavanaugh's Rittenhouse
Cost: $20
The Brew & Chew is a monthly two-hour event, featuring a select craft brewer. In honor of beer week, Cavanaugh's Rittenhouse has selected two awesome brewers and four great beers: Victory Brewing Co.'s "Headwaters Pale Ale" and "Summer Love", as well as Troegs Brewing Co.'s "Flying Mouflan" and "Dreamweaver." Each beer will be paired with a tapas-style appetizer.
We've been to these before, and they've always been one of the greatest ways to try a number of awesome beers at a more than affordable price. Stick around afterward, because they'll be running the featured beers for $3 on special for the rest of the night!
There's a good chance it will fill up, so make sure to reserve seats ahead of time!

---
Tuesday, June 7th
Forum of the Gods
Time: 3pm-5pm
Place: Philadelphia Bar & Restaurant
Cost: $20
If you've ever wanted to meet some of the legendary brewers who make some of the best beer in the States, here's your chance. Philadelphia Bar & Restaurant will be bringing in the following for a round-table::
* Carol Stoudt, Stoudt's Brewing
* Sam Calagione, Dogfish Head Craft Brewery
* Vinnie Cilurzo, Russian River Brewing
* Brian Grossman, Sierra Nevada Brewing
* Larry Sidor, Deschutes Brewery
Each brewer will bring along a few favorites for afternoon sampling, including Exportation, the Philly Beer Week collaboration porter, brewed by local beer luminaries in 2010 at Sierra Nevada, then aged in Russian River's barrels for a year. You probably do *not* want to miss this event.
White Birch Brewing Night
Time: 7pm-9pm
Place: Devil's Den
Cost: Pay As You Go
Welcome White Birch Brewing Company with founder & brewer Bill Herlicka. He'll be here to answer questions & to throw back a few beers. Devil's Den will be tapping a Barrel Aged Cherry Elysium, Belgian Pale Ale, Hop Session, Hookset & Tavern Ale. They'll also be tapping a firkin that is TBD.
Special Beer Quizzo featuring Rich Allen from Long Trail
Time: 8pm
Place: Cavanaugh's Rittenhouse
Cost: Pay As You Go
Special Guest, Rich Allen from Long Trail, will be hosting the 1st round of Quizzo with his very own questions. Come out and test your Beer Knowledge and have a chance to win a trip to the Brewery in Vermont! The trip features a free lunch and Long Trail Brewery Tour, as well as free Lift Tickets for Killington Resort for up to four people.
Irish John will be continuing the next rounds of Quizzo with his own mix of beer and general trivia, with $3 featured drafts all night long.
Recent Articles

Feedback
How are we doing? Tell us what you like or don't like and how we can improve. We would love to hear your thoughts!