Tiki in the City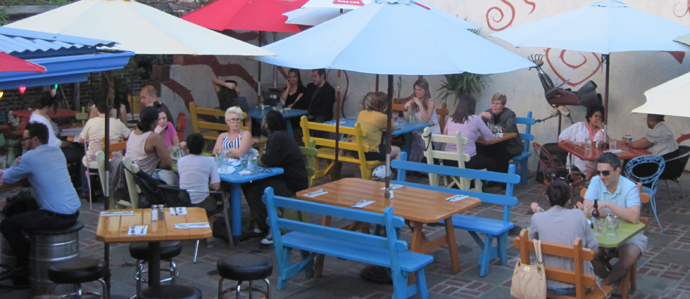 Summer is almost here, which means t-shirts, shorts, flirty sundresses, sandals, and lots of sunshine. Lovely! It also encourages another "s" word, (generally) undesirable if you are on a date: SWEATING. The antidote? A nice spot where you can enjoy a frosty, cold drink outside, with at least as much shade as ambience.
Luckily, there's more than one option in this fair city: For example, Stephen Starr's newest endeavor, Frankford Hall, is an outdoor beer garden in Fishtown that boasts ping pong tables, bratwurst, and rows upon rows of communal picnic style seating. It wouldn't be my first pick for an intimate date, but it's a great space to go with a group of friends.
At the other end of the spectrum, the intimate garden at the M restaurant at the Morris hotel at 231 South 8th street is perfect for a romantic tete-a-tete, but it may not end up being a cheap date if you want to have more than one drink (their happy hour runs Tues-Friday with $4 beers and $6 wines and cocktails).
For the perfect middle ground, my go-to outdoor date spot is the casual yet classy backyard patio at Silk City.
Located at 435 Spring Garden, Silk City Diner is a restaurant, bar, lounge, and dance club. The restaurant operates out of a cool classic diner car, complete with shiny siding, and vinyl-covered bar stools. Originally built in 1952, it was revamped in 2007 to include s 3,000 square foot backyard beer garden. The space is large without being overwhelming, and the laid-back and convivial crowd makes for a pleasant background buzz. Take your pick of large and small tables clustered under bright cloth umbrellas, with seats painted ocean blue and sunshine yellow, or sit at the Tiki Bar! At night, strings of colored lights add to the festive atmosphere, which feels a world away from the street just on the other side of the wall, which you can peek at through elaborate wrought-iron gates.
Silk City is a great place to linger on weekday evenings, with $4 house wines and $5 cocktail specials on offer from 5-7pm. One note of caution: don't show up hungry. The food isn't super cheap, and you will quickly blow your date budget on food unless you stick with one of a few affordable appetizers like $5.50 Edamame, $6 baked Mac-and- Cheese, or $4 cheese fries. Of course, being that Silk City is attached to a night club, if you do indulge (or over-indulge) you can always dance it off later.
How cheap we talkin': Monday-Friday from 5-7pm, enjoy $1 off all drafts, $4 house wine, or a $5 cocktail special.
Why this will impress your date: Tiki bar!!!
The Inside Game: On Fridays get $3 coronas in addition to the regular happy hour offerings.
Score Extra Points: Truth: Women like men who dance. Come on a Thursday, imbibe some liquid courage, and stick around for Mo Money Mo Problems featuring DJ Sammy Slice & DJ Cool Hand Luke. Guys are $5 but ladies get in free (I know, it's not fair, but it's still fun!).
Next date: Any weekday. The sweatier, the better.
---
Cheap Dater is the author of cheapdatephiladelphia.com, a website dedicated to finding fun dates in Philly for less than $15 per person, including food and/or drink!
---
Related Articles:
Recent Articles

Feedback
How are we doing? Tell us what you like or don't like and how we can improve. We would love to hear your thoughts!