Cheap Dater: You Bring the Drinks, Moonstone Brings the Jazz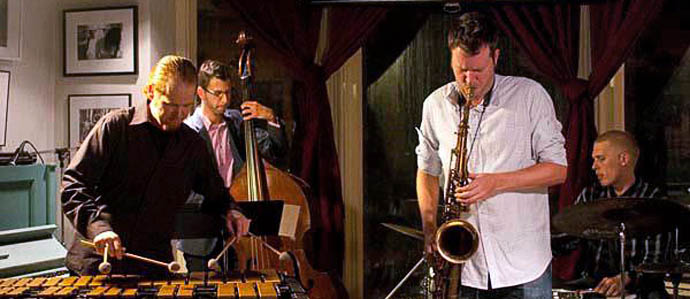 True alcohol aficionados – those who make their own beer, are great home mixologists or have cellars of fine wines or craft ales – have an edge on creating a great cheap date: they can take advantage of Philly's huge BYO culture. On every second Friday, Moonstone Arts Center in Midtown Village welcomes Lucky Old Souls (purveyors of a burger truck and forthcoming South Philly jazz club) for an evening of music.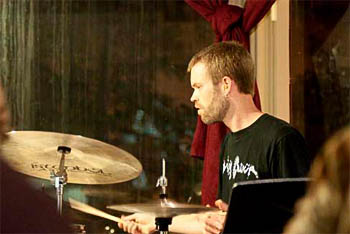 For a $10 cover, you are treated to live performances, a laid-back atmosphere, and the freedom to bring your own drinks. On a recent Friday we brought wine, but this scene – at other times of day the space is Robin's Bookstore – would work well with a nice bottle of Scotch, or even champagne and strawberries (you can bring your own food to the event, too). If you find yourself in the neighborhood without your own in hand, you can pick up wine and liquor at the Wine & Spirits at 1218 Chestnut Street (open until 9 PM), or beer at The Foodery (10th & Pine St; open until midnight).
Doors at Moonstone open at 8:30 PM and the show begins at 9 PM sharp. On our latest visit, three groups performed, each completely different from the next. Though the feel and style varied greatly, all of the performers displayed an equally impressive level of musicianship. Over the course of the evening there was upright bass, guitar, saxaphone, a drum kit, and a percussion instrument I'd never seen played before – the Cajon.
The crowd was relatively small; 20 or so people spread their bottles and cups on folding tables covered with paper tablecloths, making it feel almost like we were receiving a private performance at some kind of recreation hall. The intimacy of the small commercial space allowed the performers to interact with the audience candidly, and vice versa. Best of all, I was able to get lost in the music without having to worry about fighting my way to the bar, or catching the waitress's eye when my cup ran dry. And when we were ready to go, we didn't have to wait for the check. We just up and left, taking our not-quite-finished-yet bottle with us.
How cheap we talkin': Cover is $10. What you spend on drinks is up to you.
Why this will impress your date: The bookstore is on the second floor, so it's not exactly "underground," but taking your date to see some of Philly's most eclectic and interesting jazz musicians perform in this unique space is still pretty darn cool.
Score extra points: By bringing a snack or dessert to pair with your drinks. Chocolate is good with red wine, or bring cheese to have with beer.
The inside game: Don't forget to BYO cups!
Next date: Any Second Friday. Check the website for a summary of the next month's artists, or just bring your date and be surprised. You won't be disappointed.
Photos by Anthony Dean Photography, via Lucky Old Souls on Facebook

Recent Articles

Feedback
How are we doing? Tell us what you like or don't like and how we can improve. We would love to hear your thoughts!