Jet Wine Bar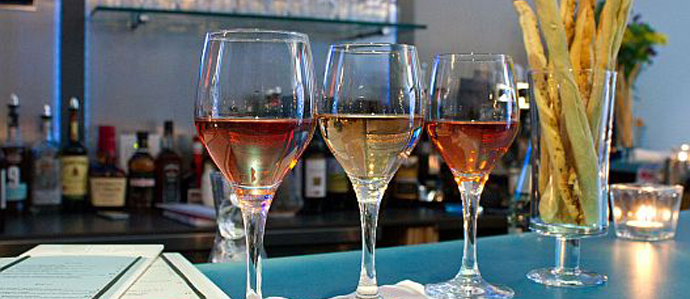 Photo courtesy of Danya Henninger.
Jet Wine Bar, a quaint little find on South Street seems to be a great place for happy hour. Though the bar can only seat about 20 or so patrons, it was packed with a diverse crowd and retained a unique atmosphere.
During happy hour Jet Wine Bar features $1 off their house wines (a white Trebbiano d'Abruzzo and a red Montepulciano d'Abruzzo – both from Italy), $2 off their featured wine of the day (this particular day it was Chianti), and a $4 Kenzinger. I had a glass of the house white for only $5. It was very crisp and refreshing – perfect for a hot summer day. To snack on, my friend and I ordered the sharing platter for $18. You got to choose 2 meats, 2 cheeses, and you get a sample of all their snacks (fruit, nuts, bread, breadsticks, olives - yum!). It was nice and light, and went perfectly with my vino. Our bartender was also very courteous – making eye contact and checking in with us periodically.
The space was pretty tiny – there was a blue bar with fresh flowers atop it and one large flat screen tv right smack in the middle of it. There were also a few tables surrounding the bar. Everything in the space was blue, which made for a very calming atmosphere. The Goldfinger theme song flooded the bar (for all you Bond fans out there), and one of the old black and white Godzilla movies was playing on the big screen. This made for quite the entertaining time. These are just some of the quirks are what made Jet Wine Bar so unique. I would definitely take a stroll off the beaten path to come back to this little wine bar.
---
Related Articles:
Summer of Riesling Comes to Philadelphia
Panther Creek Pinot Noir
Recent Articles

Feedback
How are we doing? Tell us what you like or don't like and how we can improve. We would love to hear your thoughts!