Reflections on a Beer Dinner at Chifa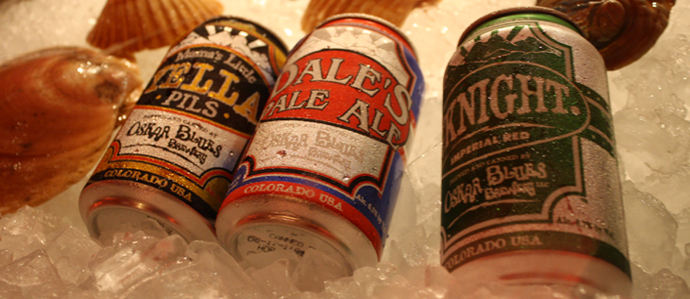 The Garces establishments have never failed to disappoint, and I was more than a little excited about the premise of their BBQ Picnic Dinner featuring Oskar Blues.
Chifa is situated just off 7th on Chestnut Street, and typically offers a mix of latin-asian cuisine. For those not in the know, "chifa" is actually a form of cuisine native to Peru that is heavily inspired by cantonese dishes. It may well be in the top list of my favorite styles of cooking.
The folks at Chifa decided to change things up a bit for this evening, and serve everything in a BQB Picnic style. Tables were dressed up in festive red and white picnic tablecloths, and dishes were set out for tables to enjoy. This was an intense eight course meal, plus dessert and five awesome beers from Oskar Blues.
The meal began with a chilled corn soup with purple potato, lovage, and lime/Dale's Pale Ale espuma. The soup was chilled (not frozen), and had a wonderfully creamy texture. It wasn't too heavy, and the flavors of corn didn't overpower the whole dish, as I find to generally be the case with corn-based dishes.
Oysters were also served on the half-shell, featuring a "mignonette" made with Little Yella Pils.
Another dish of note included the Peruvian Potato salad - whole baby potatoes served with boquerones, capers, garlic and mint. There was just the slightest hint of vinegar, likely complemented by the boquerones, which helped to create a pleasant dish.
For me, the star of the dinner was a house-made korean hot dog cooked in Oskar Blues Old Chub. Served on a fresh bao bun, it was topped with spicy mustard and served with a side of kimchi. It was wonderfully seasoned and just a little spicy. The bao bun was the perfect addition to this, and definitely set it apart. If I could have bao buns with every hot dog I ate for the next little while, I'd probably be content.
With the city all abuzz about the many amazing hot dogs around town, I hope this one has a permanent spot on their menu.
The dinner was $65 per person, and there was tons of food and drink to go around. I left feeling quite content as far as the food portions were concerned, and the five beers selected (and noted on the menu below) made for a perfect addition.
The beer dinners run monthly, and the next one features The Bruery on August 25th. Make sure to buy your tickets early though - the place was pretty much packed.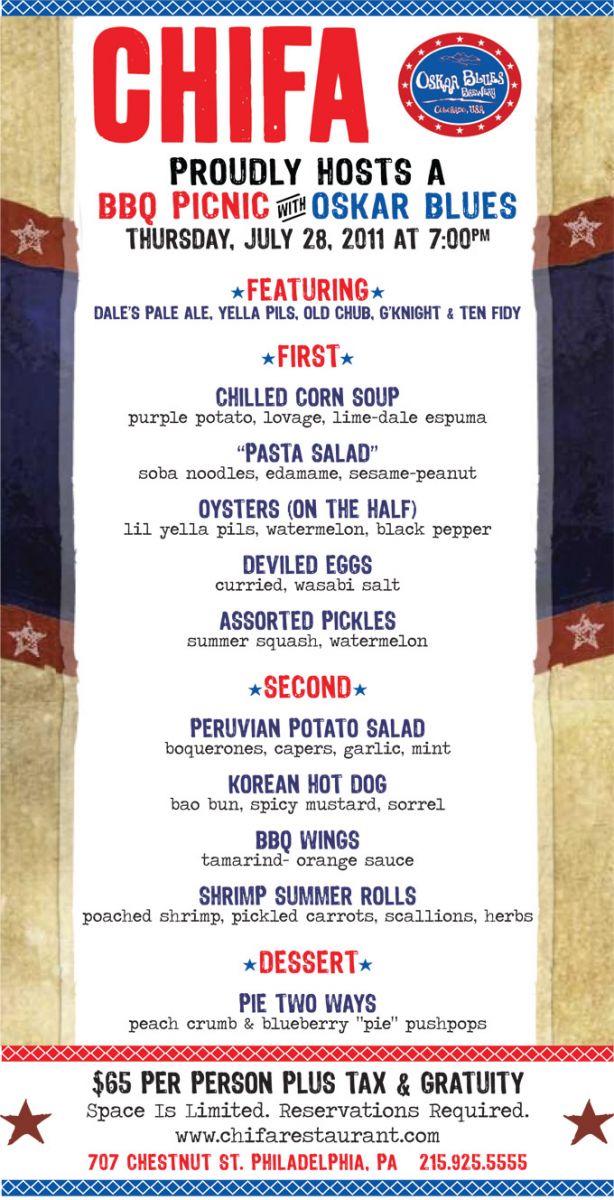 ---
Justin is the Editor for Drink Philly. He is an avid craft liquor/beer enthusiast, as well as a self-proclaimed "food-adventurer." When he's not with the Drink Philly team, he's off video-gaming or moonlighting as a nerdly hip-hop artist.
justin@philly.thedrinknation.com, @zillapersona
---
Related Articles:
Recent Articles

Feedback
How are we doing? Tell us what you like or don't like and how we can improve. We would love to hear your thoughts!