Where to Find Pliny the Younger in Philadelphia (2012 Edition)
Get it while you can
by
Drink Philly
on Feb 28, 2012 in
Beer
for
Belgian Cafe
,
Bierstube
,
Bishop's Collar
,
City Tap House
,
Eulogy Belgian Tavern
,
Good Dog Bar
,
Grey Lodge Pub
,
Jose Pistolas
,
Khyber Pass Pub
,
Local 44
,
Local 44
,
Memphis Taproom
,
Monk's Cafe
,
Pub on Passyunk East
,
Resurrection Ale House
,
Sidecar Bar
,
South Philly Tap Room
,
Tria Washington Square West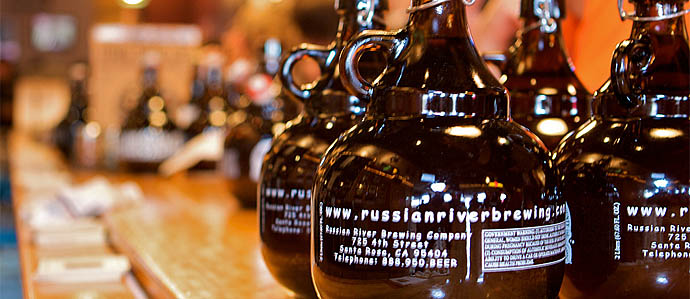 Each March, California's Russian River Brewing stirs up quite a storm in Philadelphia. Their limited release Pliny the Younger is one of the most highly-rated beers of all time, and it is only available in limited quantites in our area. In fact, in past years, Philly has been the only East Coast city to receive shipments.

The bars that do manage to obtain a Pliny the Younger sixtel are usually mobbed with beer geeks angling to get a sip of the 10.5% ABV triple IPA (Russian River's double IPA is called Pliny the Elder, after the ancient Roman naturalist, so they named their triple after his nephew). When these sixtels are tapped, they can be drained in less than an hour, so if you plan to get your taste, it's important to know where and when this will happen. UPDATE: Events that have already passed are now at the bottom of the post.
Tuesday, March 20
Saturday, March 24
Sunday, March 25
Tuesday, April 3
Other bars that reportedly have taken delivery of Pliny the Younger shipments this year:
We're keeping a running list, and let us know if you hear anything new!
-------------------------------------------------------------------------------------------------
Bars that have already kicked their kegs (some with little to no advance notice):
Sunday, March 4
Monday, March 5
Tuesday, March 6
Wednesday, March 7
Friday, March 9
Tuesday, March 13
Sunday, March 18
Monday, March 19
Photo via Flickr user --Mark--
Recent Articles

Feedback
How are we doing? Tell us what you like or don't like and how we can improve. We would love to hear your thoughts!