Boozy Events at The Philadelphia Science Festival, April 20-29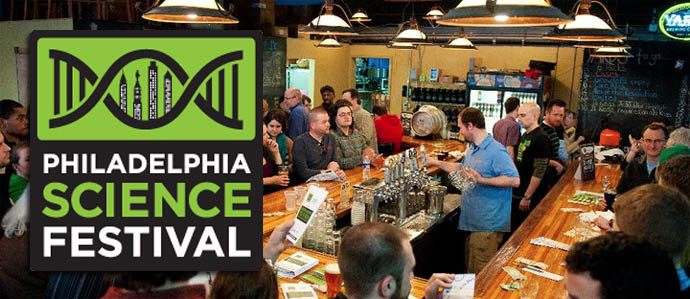 The second annual Philadelphia Science Festival kicks off on Friday, April 20, and runs all the way through Sunday, April 29. As it turns out, there is much science involved in drinking, and the city-wide fest includes several events that may be of interest to Philadelphia drinkers. We've highlighted several, check them out below. (Unless specified, all events have free admission and drinks are pay-as-you-go.) You never know, you could learn something. Science!

Mix It! Opening Night Party
7 PM, Friday, April 20
Yards Brewing has created a special Science Festival Beer, and during this opening night party it will be tapped and the name will be revealed (last year's was known as E=MC Beered). The fun at Fishtown's Frankford Hall will include games, music and the chance to tinker with tools from tech workshop NextFab studio.

Forgotten Sense: Exploring a World Without Smell
6 PM, Sunday, April 22
Scent plays a huge part in appreciating what you imbibe, but what would a world without smell be like? Enjoy the drink list and atmosphere at Old City's National Mechanics as you hear from people who have lost (and regained) this important and emotional sense, as well as biologists who study how smell works.

Science on Tap Quizzo
6 PM, Monday, April 23
National Mechanics will also host this science-centric edition of everyone's favorite trivia game, with questions that range from topics like the atomic weight of plutonium to dinosaurs. Prizes will be awarded to the top three teams.

Science A-Brewin'
6 PM, Monday, April 23
What effect do environmental changes in wetlands and water sources have on brewing beer? Horticulturists from U Penn's Morris Arboretum join the brewers at Iron Hill Brewery in Chestnut Hill to lead a discussion.

Table Top Science
5 PM, Tuesday, April 24
Sip on house-brewed beer at Mt. Airy brewpub Earth Bread + Brewery while you play with hands-on science experiments and learn interesting chemistry tidbits from Dr. Fred Schaefer of the University of the Sciences.

Blogging and Beer: A Discussion with The Public's Health
6 PM, Tuesday, April 24
Brewpub Triumph Brewing Company in Old City plays host to a group of Philadelphia Inquirer reporters, columnists and bloggers who cover the contemporary, historical and ethical challenges that lie ahead for public health in the 21st century.

Wine Chemistry: Best and Worst Pairings
6 PM, Tuesday, April 24
$35 ticket required
How do wine pairings work? Keith Wallace of the Wine School of Philadelphia will lead a tasting and delve into the chemistry of why certain varietals go better with certain types of food at the Rittenhouse location of DiBruno Bros. (Valuable for impressing your next dinner date!)

Whose Nano Is It Anyway?
6 PM, Wednesday, April 25
Enjoy one of 60 beers on tap at West Philly's City Tap House as you play a card game designed by The Franklin Insitute that will teach you how nanotechnologies help or can potentially help societies around the world.

From Farm to Fork: Dangerous Foods
6:30 PM, Wednesday, April 25
Does the five-second rule really count? Dispel some myths and learn some real rules to during this look at food safety from a scientific perspective at Rembrandt's in Fairmount.

Meet and Geek!
6 PM, Thursday, April 26
$15 ticket required
Looking to meet other science-minded folk? Mix and mingle and then participate in a speed-dating style seat swap during this two-hour event at Stephen Starr's Frankford Hall. Bonus: your ticket also brings free entry to the 8 PM event, listed below.

A Nerd's Guide to Surviving the Apocalypse
8 PM, Thursday, April 26
$5 ticket required
Would you be ready if the world ended tomorrow? Philadelphia Nerd Nite leads lessons in Frankford Hall's beer garden on surviving the end of life as we know it, along with a look at how the Apocalypse has been portrayed in popular culture.

All About Ales: The Science of Beer
7 PM, Friday, April 27
$35 ticket required
What makes an IPA different from a Belgian different from a Saison different from a porter? Come to Fishtown's Yards Brewery to learn from the masters as they explain the science behind some of their favorite brews. Expect tastings and pairings and good times.

All Things Fermented: The Science of Beer and Cheese
3:30 PM, Saturday, April 28
$50 ticket required
Enjoy seven beers brewed on-site at Triumph Brewing Company along with four farmstead cheeses as you learn about the science behind these bacteria- and yeast-caused delicacies.

Science Ink
2 PM, Sunday, April 29
Over brews at Fishtown's Frankford Hall, noted science author Carl Zimmer will join forces with local tattoo artist Mandy Sauler to discuss scientists with body art, the use of tattoos in modern medicine and other topics covered in Zimmer's recent book, Science Ink.
Recent Articles

Feedback
How are we doing? Tell us what you like or don't like and how we can improve. We would love to hear your thoughts!