Philly Beer Week Guide: 15 Don't-Miss Events
PBW the Drink Philly way
by
Drink Philly
on May 25, 2012 in
Beer
for
Baby Blues BBQ
,
Dandelion
,
Devil's Den
,
Dock Street Brewing Company
,
Eulogy Belgian Tavern
,
Farmers' Cabinet
,
Frankford Hall
,
Good Dog Bar
,
Institute, The
,
Irish Pol
,
Johnny Brendas
,
New Deck Tavern
,
Varga Bar
,
White Dog Cafe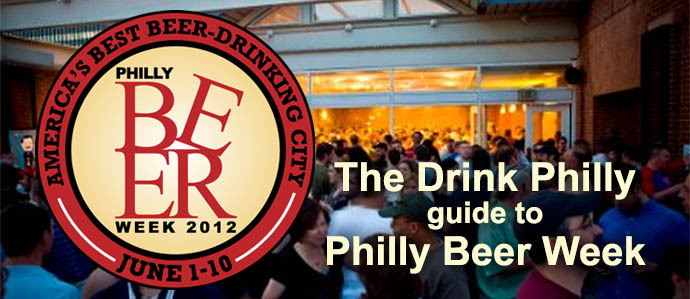 The huge amount of brewliciousness that Philly Beer Week brings can be somewhat overwhelming, even for the seasoned drinker. We sifted through the hundreds of events being held all over the city from June 1–10 and picked out 15 that you should make an effort to hit. We'll also be previewing several other happenings as the event approaches, so check back for more, and happy beering!

(Unless otherwise noted, all events are pay as you go.)

Opening Tap
7–10 PM, Friday, June 1
Independence Visitor Center (6th and Market)
The official beginning of Philly Beer Week, Opening Tap brings together 30 U.S. breweries to Old City for a celebration of American craft beer. After Mayor Nutter swings the Hammer of Glory to open the first keg of Brotherly Suds, the brew will flow freely. General admission is $40 and VIP tickets are $75.

Varga Bar's 3rd Annual Pints and Pinups Block Party
11 AM–6 PM, Saturday, June 2
Varga Bar (941 Spruce Street)
The pinup bar in Wash West will be barbecuing in a shut-down 10th Street all day, serving plenty of craft beer and giving away prizes.

International Great Beer Expo
1:30–5 PM, Saturday, June 2
Marine Parade Grounds, Navy Yard (4747 S. Broad St.)
Score a $46 ticket ($60 at the door) to this celebration of beer around the world, showcasing over 50 breweries and more than 100 different brews to sample. Check out our video recap of the event here.

3rd Annual Fruit Beer Event
11 AM–10 PM, Saturday, June 2
The Institute (549 N. 12th Street)
Enjoy outdoor seating and multiple fruit beers for nearly twelve hours at the "best bar in the middle of nowhere," according to Philly Weekly.

5th Annual Coffee Beer Brunch
11 AM–3 PM, Sunday, June 3
Eulogy (136 Chestnut Street)
The only thing better than starting your Sunday with brunch and coffee is with brunch, coffee, and coffee beer. Enjoy offerings from Mikkeller, Founders, and others at this Old City tasting room.

Italian Street Fair & Festival
Noon–2 AM, Sunday, June 3
Farmers' Cabinet (1113 Walnut Street)
Farmers' Cabinet will be transporting everyone to Italy with the help of Italian tunes and draft list full of Italian craft brew, including two special firkins.

Ommegash It's Allagang!
5–8 PM, Monday, June 4
Good Dog (224 S. 15th Street)
Try rarities from Allagash and Ommegang with "Beer Lass" Suzy Woods and Megan Maguire, representing their respective breweries.

A Brit's Guided Tour of Philadelphia
5–9 PM, Tuesday, June 5
Dandelion (124 18th Street)
Become acquainted with the brewer of Wells and Young's while imbibing in his cask ales from beer engines at the English pub in Rittenhouse.

Sansom Street Block Party
3 PM–midnight, Thursday, June 7
New Deck Tavern, Baby Blues BBQ, and White Dog Cafe (34th and Sansom)
Sansom Street in West Philly will be shut down while the three bars and restaurants serve beer and food outside until midnight. A portion of the proceeds will go to Philadelphia Police and Fire Survivors Fund, CHOP, and Fair Foods Philadelphia.

Philly On Tap
5–7 PM, Friday, June 8
Numerous bars throughout Philadelphia
The tour begins in near City Hall at the Clothespin Sculpture and continues through McGillin's and other historically important bars in the area. Tickets are $35.

Fishtown FestivALE
Noon–8 PM, Saturday, June 9
Johnny Brenda's and Frankford Hall (Frankford and Girard)
An outdoor block party with DJs and a dunk tank.

Blues, Brews & BBQ
1–4:30 PM and 5–8:30 PM, Saturday, June 9
Starlight Ballroom (460 N. 9th St.)
Sample over 50 craft beers from the U.S. and beyond while listening to live blues and rock bands and taking in the scent of some of Philly's best barbecue. Your $35 ticket to either session brings all the brews you care to sample, and vendors will be offering up the eats at discounted prices.

Plus 10%
Noon–2 AM, Saturday, June 9
Irish Pol (45 S. 3rd Street)
The Old City bar with 40 taps will be pouring a slew of high alcohol beers, all 10% and over.

Saison-athon Beer Brunch
10:30 AM–3 PM, Sunday, June 10
Devil's Den (1148 S. 11th Street)
Some of the world's best saisons will be paired with brunch specials at the South Philly tavern.

Dock Street Philly Beer Run & Music Fest
2 PM, Sunday, June 10
Dock Street Brewpub (701 S. 50th St.)
Work off the week's worth of beer in this charity 5k run, which will finish up at the free music festival happening outside Dock Street's West Philly location, full of pizza and yes, more beer. Registration for the race is $35 in advance ($40 day of), and the festival is free.
Recent Articles

Feedback
How are we doing? Tell us what you like or don't like and how we can improve. We would love to hear your thoughts!