Victory Beer Blog: The Making of Headwaters Pale Ale
Follow along behind the scenes and find out how a beer is created.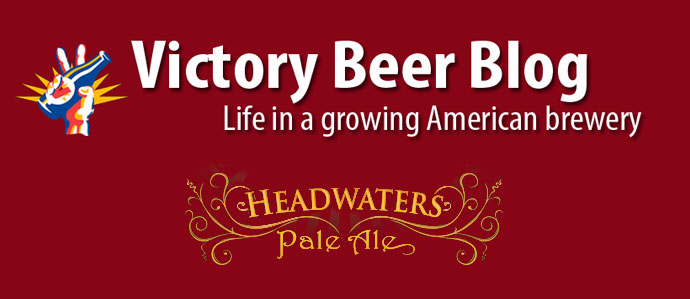 Introduced earlier this year as their 15th anniversary beer,
Headwaters Pale Ale
quickly became one of the most successful releases in Victory Brewing's history. It was so popular, in fact, that the Downington, PA brewery's supply of Citra hops – an aromatic American strain that is central to the brew – dwindled to dangerously low levels. Unwilling to compromise on such a well-received recipe, Victory's brewmaster slowed production of the brand as they searched for a new source for the centerpiece ingredient. Fans of the new beer – who had been
especially pleased with the wide availability
of the special ale – were unhappy.
Now it looks like Headwaters Pale Ale devotees have reason to rejoice. Starting this week, readers can follow along behind the scenes as Victory travels to Washington state to select and contract a new batch of the precious hops. The backstage blog posts will continue, giving brew enthusiasts an insider glimpse into the entire beer-making process. Brewmaster Bill Covaleski will be posting photos, videos, tips and tricks in a series called "Watch Headwaters Flow." Along the way, readers will glean insights into issues faced by a small craft operation, and the solutions they devise to handle the burgeoning growth of the company.
Check it out at
victorybeer.com/blog
. We'll be following along, reading with interest and waiting impatiently for mid-October, when the behind-the-scenes batch of Headwaters will be hitting the shelves.
Recent Articles:
Late Night Wine Happy Hour at McCrossen's Tavern
Drinking Wine Linked to Lower Weight Gain
Irreverent Fermenting: Weyerbacher Blasphemy Ale
Recent Articles

Feedback
How are we doing? Tell us what you like or don't like and how we can improve. We would love to hear your thoughts!