Meet the Drink Philly Flugtag Team: Grant Scavello
The Muscle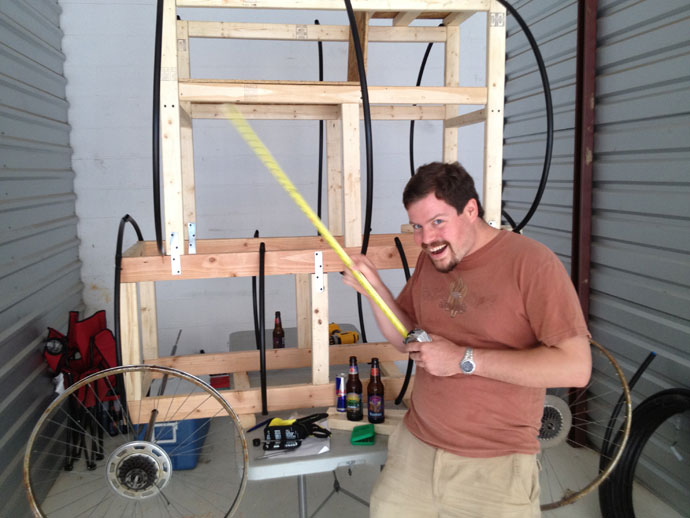 Meet the Drink Philly Flugtag team. Each week, we'll be profiling a different member of our team so you can get to know him and cheer him on. Or just buy him a beer.
Name: Grant Scavello
Flugtag Title: The Muscle

Bio: Grant works as a Program Assistant at the University of Pennsylvania, where is concurrently working toward a masters degree in Environmental Studies. He was first introduced to Drink Philly at a First Friday event in 2010 and stalked [Drink Philly president] Adam and his staff until they let him be their promotional monkey, biking around bars in Philly in the dead of winter, promoting the site. Because of his devotion and won't-quit attitude he earned his nickname "The Muscle," and he considers himself the rightful heir to the growing Drink Nation Empire (not likely Grant).
Height: 1.86 meters
Weight: 97.52 kgs.
How did you become involved in this year's Red Bull Flugtag?
After watching the event two years ago, I really wanted to do Flugtag. I knew Adam had excellent Photoshop skills and asked him to draw up some preliminary schematics. What resulted was a design that clearly vaulted us into the top tiers of the competition.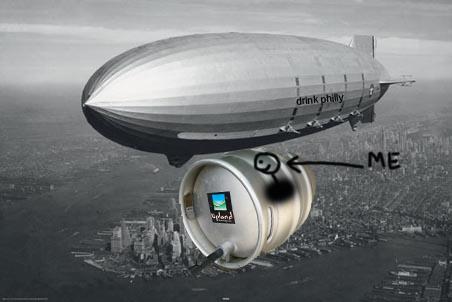 How did you feel when you found out you were going to be competing in this year's competition?
PUMPED UP, as usual. Plus, we had a flawless design and devastatingly attractive team members. I knew we'd be in.
Flugtag is pretty crazy. What is the craziest thing you've ever done up until this point?
Tough question, as I live a pretty crazy life. Recently my fiancée and I completed an impromptu 11-mile hike up Mount Tallac in Lake Tahoe's "Desolation Wilderness" area with a single bottle of water and some almonds.
How do you feel the Drink Philly team is going to do?
When we fly, even McKayla Maroney will be impressed.
Are you nervous about jumping off a 30-ft. high pier into the Delaware River?
I'm more nervous about the crowd being unprepared for the giant cannonball splash I plan to soak them with.
If you had to choose one, what would be your favorite beer?
Hard to say, so I'll give you three. Non-local: Ommegang Hennepin. Local: Victory Hop Devil. Guilty Pleasure: Genesee Cream Ale.
Fun Fact:
I was a nationally ranked tennis player as a kid.
I'm an Eagle Scout.
I always clean my plate.
Captain Planet is my hero (did you know he's gonna take pollution down to zero?).
Recent Articles

Feedback
How are we doing? Tell us what you like or don't like and how we can improve. We would love to hear your thoughts!