Spirits Review: Dad's Hat Rye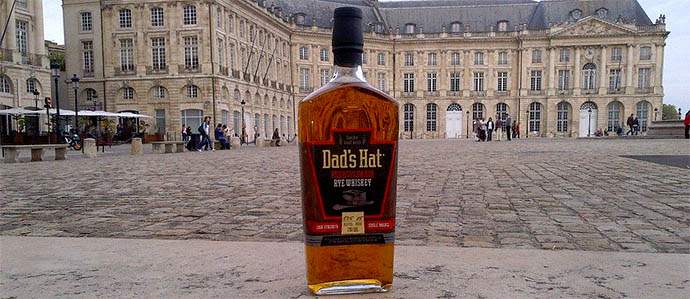 The newest addition to Pennsylvania's craft spirits scene, Mountain Laurel Spirits, is based in Bristol, in nearby Buck's County and has recently released the first Pennsylvania-made aged rye whiskey in over 20 years. An ode to his father, Dad's Hat Pennsylvania Rye Whiskey is the loving creation of Mountain Laurel Spirits' co-founder Herman Mihalich. Inspired by the old-fashioned fedora hats his father would buy in Philadelphia, Mihalich sought to recreate the sentiment that these hats represented: quality, tradition and taking time to do things the right way.

Rye History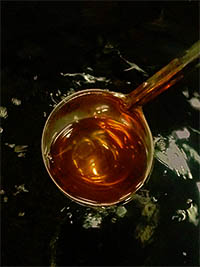 American rye whiskey is, by law, a type of whiskey that is made from 51% rye grain, with the remaining mash ingredients being usually corn and malted barley, which is then aged in charred new oak barrels. American rye whiskey first became popular in the Northeast United States in the eighteenth century, primarily in Pennsylvania and Maryland. Farmers would often use their surplus rye grain to distill whiskey, which led to rye becoming the dominant whiskey in the area. At one point, Pennsylvanian distillers were making over six million gallons of rye whiskey a year.

However, production died off after Prohibition, with the changing palettes and tastes of a new generation. Only a few brands recognizable brands remain today, including Rittenhouse Rye, which is now mostly under ownership of the Kentucky whiskey industry. Rye is finally making a comeback after decades of being relegated to one or two hard-to-find bottles at the niche liquor store.

Dad's Hat Rye

Determined to continue Pennsylvania's tradition of rye whiskey production, Mountain Laurel Spirits is currently distilling both a white (unaged) rye (released first; read our review here) and an aged rye. Both ryes are made in small batches from locally sourced Pennsylvanian rye grain as well as malt to recreate the unique flavor of Pennsylvanian rye. The resulting rye is then either bottled straight for the white dog whiskey or transferred to mature in charred white oak quarter casks for 6-9 months in a temperature controlled environment similar to the original Pennsylvania whiskey aging techniques. Aging in small, quarter cask barrels can be controversial; while it does speed up the aging process for whiskey, it can have negative impacts on flavor.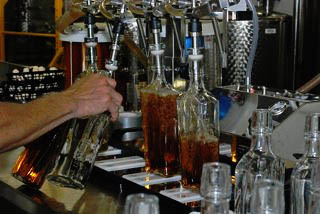 The resulting aged rye whiskey is bottled at 90 proof and presents a light amber color in the glass. On the nose, the whiskey is woody and herbaceous, which is indicative of younger (less aged) whiskey. There are no vanilla notes that would be expected from a whiskey aged for longer periods of time. The rye has a bold, upfront spiciness with a bit of a warm burn on the back of the tongue. This is complemented by the more subtle flavors of citrus, pepper/cinnamon and a hint of sour fruitiness at the end. This whiskey is improved on ice but does taste like a young whiskey and hasn't had time to mellow and soak up the flavors of the cask beyond the char.

Overall, Dad's Hat Pennsylvania Rye Whiskey is a very promising product that fills a void well. It does have room to grow and in a few years you will likely see an even better product when they've really had time to age this rye.

Dad's Hat also just announced a Single Barrel Pennsylvania Rye Whiskey, which is selected from the best of Dad's Hat stock. A limited number of special barrels are to be bottled at cask strength, meaning the whiskey is not diluted down to be at 80 or 90 proof but remains undiluted from barrel to bottle. These bottles will be available directly from the distillery and orders cannot be shipped. The expected release date is in November, just in time to get for your favorite boozehound's holiday present!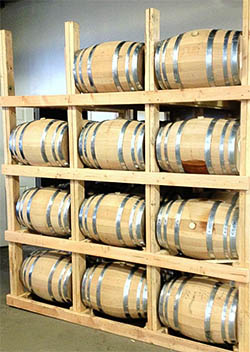 Currently Dad's Hat Rye can be found in Pennsylvania, New York, and Connecticut. Mountain Laurel Spirits also hosts tours of its facility most Saturday afternoons, which includes a look at the actual distilling and aging process along with a whiskey tasting. Additionally, you can sample Dad's Hat at the Philadelphia Whiskey & Fine Spirits Festival on October 25 at Lincoln Financial Field and in New York City at WhiskeyFest on October 26-27. Can't make it? That's ok, head over to your favorite brown liquor bar (in Philadelphia try Percy Street BBQ or Fork) to order Dad's Hat on the rocks or in the following drink:

The Scofflaw

1½ oz. rye (Dad's Hat)
1 oz. dry vermouth
1 oz. lemon juice
½ oz. grenadine
2 dashes orange bitters
1 lemon slice (for garnish)

Add all ingredients over ice in a shaker. Stir and strain into a cocktail glass. Garnish with lemon slice.
Recent Articles

Feedback
How are we doing? Tell us what you like or don't like and how we can improve. We would love to hear your thoughts!