Late Night Eats: Philadelphia Bars That Serve Food Late
by
Grace Dickinson
on Apr 21, 2014 in
Roundups
for
Alla Spina
,
Belgian Cafe
,
Cantina Los Caballitos
,
Cavanaugh's Rittenhouse
,
Drinker's Pub
,
Drinker's West
,
Good Dog Bar
,
Industry, The
,
Johnny Brendas
,
Kennett
,
Khyber Pass Pub
,
Monk's Cafe
,
Prohibition Taproom
,
Rhino Bar
,
Royal Tavern
,
Silk City
,
Standard Tap
,
Tria Rittenhouse
,
Tria Washington Square West
,
Tria Wine Room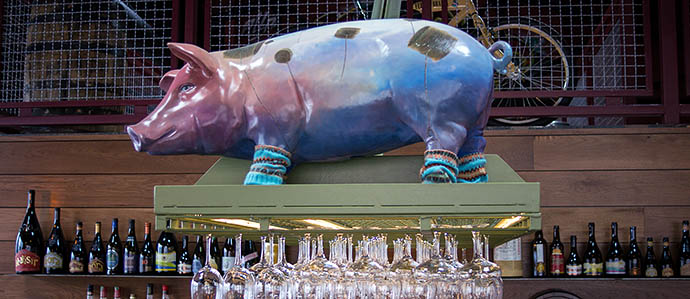 It's late. You're hungry. Another cold one sounds alright. But a hot bite to eat sounds even better. The only problem? The little hand's nearing the twelve and the bar where you're seated closed its kitchen doors hours ago. Luckily, Philadelphia has bars that serve late in nearly every neighborhood, so you needn't ever go home hungry. Satisfy your appetite — or better yet, prevent tomorrow morning's hangover — at any of these bars serving up plates along with the drinks till 1 AM.

Alla Spina: Eat up and drink up beer innovation at Marc Vetri's newest venture, on North Broad. Pair one of the beer cocktails with an order of spicy beer cheese and soft pretzel nuggets, or choose from a serious snout-to-tail menu of pig offerings (1 AM Monday–Thursday, 2 AM Friday–Saturday, Midnight Sunday; 1410 Mount Vernon St.; 215-600-0017).

The Belgian Cafe: This is Fairmount's version of Monk's (it shares the same owners). Top-rated Belgium-style eats (think frites and mussels) and an expansive beer selection are offered in a slightly larger space (1 AM, Friday-Saturday, 11 PM, Sunday-Thursday; 601 North 21st St.; 215-235-3500).

Cantina Los Caballitos: For a timeless way to end a night, swing by the East Passyunk bar for on-the-house chips and salsa, paired with a margarita and mojito-heavy menu. Drinks by the pitcher and a cozy, candle-filled space can make it hard to leave, so be prepared to order additional fajitas or tacos off the menu (1 AM daily; 1651 East Passyunk Ave.; 215-755-3550).

Cavanaugh's Rittenhouse: If you're in Rittenhouse, this sports bar offers a friendly place to finish out the night. Settle in by one of several TVs, order up some food off the full menu of pub fare, and munch away (1 AM daily; 1823 Sansom St.; 215-665-9500 ).

Drinker's Pub: The row of HDTVs cast a comforting glow through the large windows that open on to Chestnut Street in Rittenhouse, and the friendly serve means you'll be welcomed with open arms when you stop in for $1 tacos, 50-cent wings, or the rest of the pub grub menu on your way home (1 AM daily; 1903 Chestnut St.; 215-564-0914).

Drinker's West: In West Philly, if you're looking for sports and dance parties, this is your best bet. It's also the place to find $1 tacos, all day, everyday, and that includes late night, along with the rest of the pub grub menu (1 AM daily; 3900 Chestnut St.; 215-397-4693).

Good Dog Bar: With a central location and three floors to choose from, this tavern is a great spot to hit on the way home. If you're not up for the famous blue-cheese-stuffed burger, a platter of mixed regular and sweet potato fries will do the job (1 AM daily; 224 S. 15th St; 215-985-9600).

Growlers: What goes better with a growler full of beer and a cozy sofa seat by the fireplace than truffle fries and a fresh pound of buffalo wings at this Bella Vista pub? As the clock strikes midnight, absolutely nothing (1 AM daily; 736 South 8th St.; 267-471-5381).

The Industry: When a bar caters to those in the biz, you know it'll serve food through the wee hours. Pull the cleaver-cum-door-handle open at the Pennsport dining room to enjoy cheffy snacks like pigs ear lettuce wraps and bone marrow (1 AM daily; 1401 E. Moyamensing Ave.; 215-271-9500).

Johnny Brenda's: Come to Fishtown for the show, stay for the food. Step downstairs, away from the venue's stage, and you'll find an equally packed audience dining on classics off the chalkboard menu, such as pita-wrapped falafel and killer shrimp and grits (1 AM, daily; 1201 Frankford Ave.; 215-739-9684).

Kennett: Also known as Queen Village's best place for a late night slice. Kennett has a great variety of burger and vegetarian options, but the wood-fired pizza — often topped with locally-sourced ingredients — is an easy choice when the lengthy draft list steals most of your attention (1 AM Tuesday-Saturday, Midnight, Sunday; 848 S. 2nd St.; 267-687-1426).

Khyber Pass Pub: The Khyber gives Old City a taste of the South with downhome cooking and an array of memorable "meaty" selections. From vegan pulled pork sandwiches to the real deal (available in three Southern-styled sauces), this cozy music-venue-turned-pub is a haven for meat-eaters and vegetarians alike – and don't forget the 22 rotating drafts that make it a haven for beer lovers, too (1 AM, daily; 56 South 2nd St.; 215-238-5888).

Monk's Cafe: Monk's holds a dictionary full of beers by the bottle and an imported draft list that rarely disappoints. Aside from winning countless beer-related awards, the narrow Rittenhouse pub has also landed itself on multiple lists for best fries in the city — a great accompaniment to the signature burgers, mussels or frites (1 AM, daily; 264 S. 16th St.; 215-545-7005).

Prohibition Taproom: Known for an excellent craft beer selection and bring-your-own-vinyl Sundays, the neighborhood taproom also offers one of the most memorable alternatives to fries. Beer-battered green beans to dip in roasted garlic aioli never made a late night plate of veggies sound so good (1 AM, daily; 501 N 13th St.; 215-238-1818).

Royal Tavern: It's easy to walk right past the Royal Tavern, hidden on Passyunk Avenue with just a tiny sign above its door. But step inside and you'll typically find a packed house, a hardworking jukebox and a menu full of beer-friendly comfort food. There are hearty options for everyone, ranging from the bacon marmalade dressed meatloaf sandwich to the vegan sloppy joe topped with spicy slaw and pickled jalapenos (1 AM, daily; 937 E. Passyunk Ave.; 215-389-6694).

Silk City: The best of new meets old. Take a seat in the 1950s diner car permanently parked off of Spring Garden and pick from a creative selection of modern American cuisine. Customer favorites include the garlic bread-crusted mac 'n' cheese, Thai-chili-glazed chicken wings and rotating desserts options like chocolate banana brioche bread pudding (1 AM, daily; 435 Spring Garden St.; 215-592-8838).

Standard Tap: Local brews paired with primarily local food is what to expect from this spacious Northern Liberties tavern. Written daily on a chalkboard, the menu changes frequently, but consistently holds a list of quality pub eats. In the event you wake up and find yourself hungry for more, stop by for Standard Tap's signature brunch, served every Saturday and Sunday (1 AM, daily; 901 N 2nd Street; 215- 238-0630).

Tria: Keep it classy with wine, cheese and snacks (for example, warm poached black mission figs with gorgonzola and prosciutto di Parma). With locations in Washington Square, Rittenhouse and University City, Tria is the place to go for a bunch of small, consistently tasty bites and a worldly wine list to match (1 AM Monday-Thursday, 1:30 AM, Friday-Saturday; Wash West: 215-629-9200; Rittenhouse: 215-972-8742; University City: 215-222-2422).

Recent Articles

Feedback
How are we doing? Tell us what you like or don't like and how we can improve. We would love to hear your thoughts!