Snow Day: Bars Open in Philadelphia and Offering Specials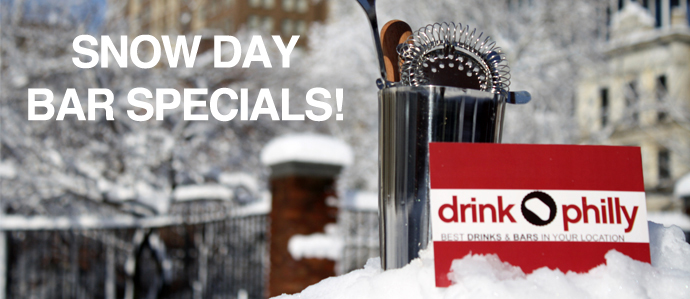 As adults, we can look forward to Snow Days just as much as the kiddies. Just like when you were a youngster, huddled close to the TV or radio anxiously awaiting word on whether school was going to close, stay tuned to Drink Philly today as we bring you the latest on bar openings, closings and snow day specials.
For Tuesday, December 10:
Pennsylvania 6: Snow day specials include $1 oysters, $5 bubbly, $5 hot toddies, $6 Citywides (Yards Philly Pale Ale and Jim Beam), and half-priced burgers. (114 S. 12th St.; 267-639-5606)
Bishop's Collar: Open normal hours (2349 Fairmount Ave.; 215-765-1616)
Resurrection Ale House: Happy hour starts at noon (2425 Grays Ferry Ave.; 215-735-2202)
City Tap House: Open normal hours, and serving signature breakfast sandwich The Big Chik, fried chicken breast, sausage gravy, bespoke bacon, and fried egg on a buttermilk biscuit. Drink specials include $4 Harpoon drafts (IPA, Cider, Winter Warmer, UFO), and $5 Irish coffee (3925 Walnut St.; 215-662-0105)
Brauhaus Schmitz: Open normal hours (718 South St.; 267-909-8814)
Doobies: Opening at 2 PM, and staying open until 2 AM, and offering a variable selection of snow day specials. The deeper the snow gets, the deeper the discounts at the bar (2201 Lombard St.; 215-546-0316)
Local 44: Happy hour kicks off at noon (4333 Spruce St.; 215-222-BEER)
P.Y.T.: The NoLibs burger bar is open all day, serving $1 Amstel Lights, and launching its latest burger creation, The Beerger, a burger topped with fried PBR (1050 N. Hancock St.; 215-964-9009)
Caribou Cafe: Open normal hours and serving chef-owner Olivier Desaintmartin's hot wine with cinnamon, orange, lemon and brown sugar, a recipe developed by a pharmacist in France's Champagne region in 1945 (1126 Walnut St.; 215-625-9535)
Strangelove's: Happy hour kicks off at noon (216 S. 11th St.; 215-873-0404)
Bayou Bar & Grill: Serving $5 lunch and $1.75 Miller Lites all day and all night (4245 Main St.; 215-482-2560)
McGillin's Olde Ale House: Open normal hours, and offering $3 pints Saranac Spiced Ale, $5 Drury Sleigh Rides, and $5 Irish Hot Apple Cider (1310 Drury St.; 215-735-5562)
2nd Street Brewhouse: It's business as usual at this Pennsport watering hole. That means, it opens at noon, happy hour kicks off at 4 PM with $3 select drafts and half off food items (1700 S 2nd St.; 267-687-7964)
The Abbaye: The NoLibs spot opened today at 11:30 today, and is serving lunch and brunch, as well as awesome adult hot chocolate drinks (637 N. 3rd St.; 215-825-7030)
M Restaurant: Open normal hours (231 S. 8th St.; 215-625-6666)

London Grill: Open normal hours, and serving half-price burgers, $4 pints of Willie Sutton all day, and $6 housemade peppermint eggnog and boozy hot cocoa (2301 Fairmount Ave.; 215-978-4545)
The Victoria Freehouse: Old City's Brit pub is open and serving $10 Guinness burgers, $10 fish and chips, $5 select 20 oz. imports, and $5 mulled wine (10 S. Front St.; 215-543-6089)
Old Eagle Tavern: Opening today at 4:00 PM (177 Markle St.; 215-483-5535)
Red Owl Tavern: Open normal hours (433 Chestnut St.; 215-923-2267)
Tap Room on 19th: Open today from 11 AM to 2 AM, with the kitchen going until 1 AM. All day it's Taco Tuesday with $2.00 tacos (2400 S. 19th St.; 267-687-7817)
Square 1682: Open normal hours (121 South 17th St.; 215-563-5008)
Barren Hill Tavern & Brewery: Open and celebrating National Lager Day with house-brewed Barren Hill Edel Helles Lager and Wurzburger Pils on draft (646 Germantown Pike; 484-344-5438)
Devil's Den: Open normal hours (1148-1150 S. 11th St.; 215-339-0855)
Closings:
Cuba Libre: Closed for lunch. No word yet on whether it will open tonight for dinner service (10 S 2nd St.; 215-627-0666)

Keep Checking Back. We're posting updates all day.
Feedback
How are we doing? Tell us what you like or don't like and how we can improve. We would love to hear your thoughts!