17 Brand New Cocktails in Philly to Put a Spring in Your Step
Tiptoe through the tipplings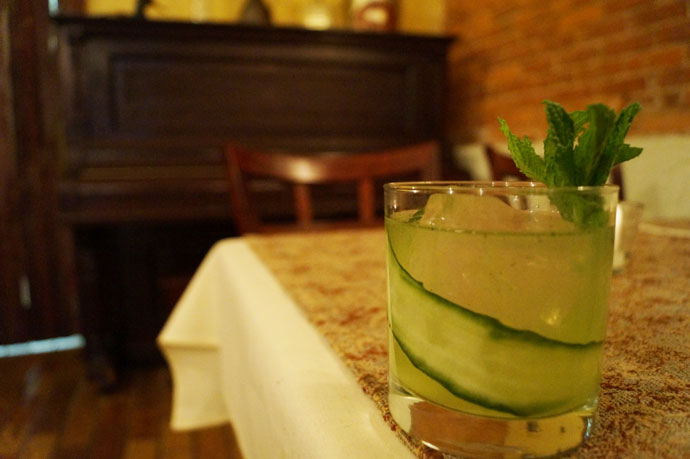 More than four and a half feet of snow fell on Philadelphia this winter, making it the third snowiest in the city's history. Had enough? Same here, so let's all kiss that old man goodbye and welcome the warmer weather with these newborn vernal libations from some our favorite cocktail bars. They are sure to cure your spring fever.
Rex 1516 (1516 South St.; 267-319-1366)
Spring Elixir ($10)
Restorative: Skinos, Dolin Dry Vermouth, Fresh Lemon and Regan's Orange Bitters shaken, served in a coupe, finished with sparkling wine, garnished with celery leaves.
Emmanuelle (1052 N. Hancock St.; 267-639-2470)
It's Only A Wafer-Thin Mint ($12)
Fresh: Cognac, crème de menthe, crème de cacao, Kringle crème, heavy cream and vanilla tincture

A Plethora of Piñatas ($14)
Festive: Mezcal, Amaro Meletti, Agave Nectar, Lime, House Pineapple Preserves, Angostura Bitters and Smoked Rosemary.

Shoot Don't Talk ($10)
Like a grown-up cherry coke: Buffalo Trace Bourbon, Cynar, Cherry Liqueur, Raw Sugar, Angostura Bitters, Vanilla Tincture and Club Soda.
Sutton's Parlor (40 S. 19th Street; 215-800-1217)
Chartreuse Gimlet ($15, pictured above)
Hayman's Old Tom Gin, Green Chartreuse, Yellow Chartreuse, Cane Sugar, Lime, Cucumber, Mint, Served on a Rock

The Dolphin Tavern (1539 S. Broad St.; 215-278-7950)
SAGE Negroni Blanc ($7.50)
Springy: Equal parts SAGE, Sweet Vermouth and Campari
Pennsylvania 6 (114 S. 12th St.; 267-639-5606)
The Bohemian ($10)
Sweet: Sparkling Brut, Becherovka, Bourbon, Honey Syrup and Lemon
Square 1682 (121 S. 17th St.; 215-563-5008)
Fake Name, Fake Passport ($10)
Dry: Bacardi Superior, Martini Rossi Bianco, Ginger Syrup, Lime juice, Mint, Angostura Aromatic Bitters and Brut served on the rocks.

Once Around the Block ($11)
Smoky: Cazadores Reposado Tequila, Del Maguey Vida Mezcal, Pineapple and Lemon, Monin, Agave and Jamaican Jerk Bitters served on the rocks.
Eve's Lament ($12)
Tiki-esque: Bombay Sapphire East, Campari, Orgeat, Lemon, Pineapple served tall on crushed ice.

Pink on Pink ($11)
Light: Stolichnaya Vodka, Lillet Rose, Pomegranate Molasses, Lemon Juice and Peychaud's Bitters served up.

Texan's Mule ($10)
Snappy: Tito's Vodka, Ginger Beer, Ginger Syrup, and Lime Juice served tall.
Red Owl Tavern (433 Chestnut St.; 215-923-2267)
Looking for Summer ($11)
Passionate: Herradura Silver Tequila, Yellow Chartreuse, Spiced Cranberry Syrup, Lime and Mezcal.
Cantina Los Caballitos (1651 E. Passyunk Ave.; 215-755-3550)
La Luz Verde (The Green Light) ($8)
Gin Rickey style: Oxley Gin, Cilantro Syrup, Lime and Soda.
Cielo de la Isla (The Island Sky) ($9)
Tropical: Mount Gay Eclipse Rum, Luxardo Maraschino Liqueur, Velvet Falernum, Guava Puree and Lime.
Avenida (7402 Germantown Ave.; 267-385-6857)
Ginger Beergarita ($9)
Stormy: Housemade Margarita Mix, Ginger Beer and Crystallized Ginger.
Playa Morena ($9)
Cheeky: Tequila, Tamarind Nectar and Ginger Ale.
Photo by Drink Philly
Feedback
How are we doing? Tell us what you like or don't like and how we can improve. We would love to hear your thoughts!