Wharton Entrepreneurship Conference 2011: Drink Philly Takes Home Peoples Choice Award
A Message from the President of Drink Philly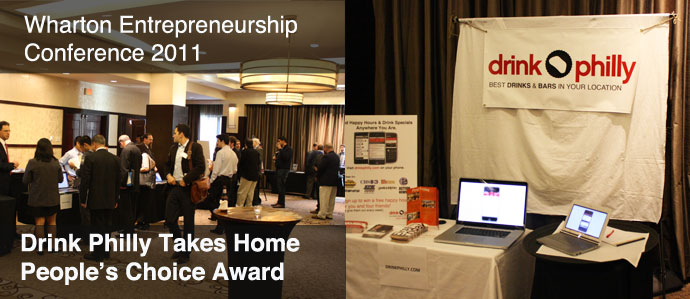 Drink Philly is honored to have won the People's Choice Award at the 2011 Wharton Entrepreneurship Conference.

The conference, held annually by Wharton over the last 13 years, has drawn thousands of students, start-ups and veteran businesses to learn from keynote speakers such as David Pakman (noted for efforts such as eMusic and Apple Computer's Music Group), and Jack Abraham (founder of Milo, an online shopping resource).

The People's Choice Award is given at the Start-up Fair following the day's lectures, and is selected by the conference's attendees.

We weren't expecting this at all. Our goal was to just get our product out in front of Wharton MBA and undergraduate students. The caliber of startup companies here was beyond impressive, so we at Drink Philly feel extremely honored to have won this award. Congratulations to everyone in the Drink Philly team who work so hard every day to make this website so great.
Special thanks to everyone at Wharton and the Wharton Entrepreneurship Club who put together such a fantastic conference and for all their incredible hospitality.
Cheers,
Adam Schmidt
Drink Philly
President & Founder
Feedback
How are we doing? Tell us what you like or don't like and how we can improve. We would love to hear your thoughts!