Phillies Gameday Drink Specials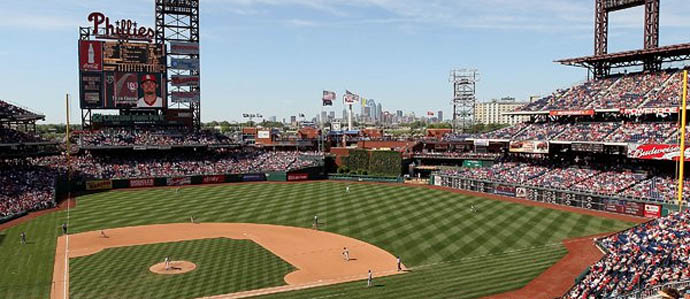 Whether or not we're in for a winning season this year, we'll still be watching and cheering on Chase Utley, Cliff Lee, Chooch and the rest of the boys throughout the Phillies season. Baseball is always better with a good drink and something to munch on, so if you can't make it to Citizens Bank Park, check the list below to find the best places to root, root, root for the home team this year. Know a special that's not in our list? Let us know.
2nd Street Brewhouse (1700 S 2nd St.; 267-687-7964)
Pennsport's venerable Brewhouse will offer a rotating selection of draft specials for Phillies games.
The Abbaye (637 N. 3rd St.; 215-627-6711)
For the season opener on Mon., March 31, the NoLibs mainstay will offer $3 pints of Philadelphia Brewing Company's Pennsylvania Pale Ale for $3, $1 hot dogs and veggie dogs and half-price wings.
Bainbridge Street Barrel House (625 S. 6th St.; 267-324-3553)
Enjoy $4 Neshaminy Creek drafts during all games.
Barren Hill Tavern & Brewery (646 Germantown Pk.; 484-344-5438)
Free rally towels and $1 off Yards drafts throughout the entire game.
Cavanaugh's Rittenhouse (1823 Sansom St.; 215-665-9500)
Enjoy $3.50 Bud Light and $4 Goose Island Drafts during all games.
City Tap House (3925 Walnut St.; 215-662-0105)
For every day game the Tap House will have $3 Yeungling Light bottles and hot dog specials.
Devil's Alley (1907 Chestnut St.; 215-751-0707)
During games, the bar will offer $3 Yuengling drafts, and $10 Yuengling pitchers.
Devil's Den (1148-1150 S. 11th St.; 215-339-0855)
Free rally towels and $1 off Yards drafts throughout the entire game.
McGillin's Olde Ale House (1310 Drury St.; 215-735-5562)
Games will be shown on the bar's TVs as well as its giant projection screens. Nightly food and drink specials will be offered, plus there's Phillies-tinis, vanilla vodka and pineapple with a splash of cranberry garnished with an orange slice and rimmed in red sugar.
Old Eagle Tavern (177 Markle St.; 215-483-5535)
Free rally towels and $1 off Yards drafts throughout the entire game.
Taproom on 19th: (2400 S 19th St.; 267-687-7817)
Score $2.50 Miller High Life bottles, $3 Yuengling bottles, and $3 Chesterfield drafts during all games.
Xfinity Live (1100 Pattison Ave.; 855-406-4119)
The sprawling sports and entertainment complex kicks off the season with Phillies Official Viewing Party for Opening Day on Mon., March 31, with alumni, the Phanatic, ball girls and a live WIP broadcast. Specials include $3 domestic beers, $1 hot dogs and souvenir cup drinks.
Feedback
How are we doing? Tell us what you like or don't like and how we can improve. We would love to hear your thoughts!