Bars and Restaurants Open on New Year's Day in Philadelphia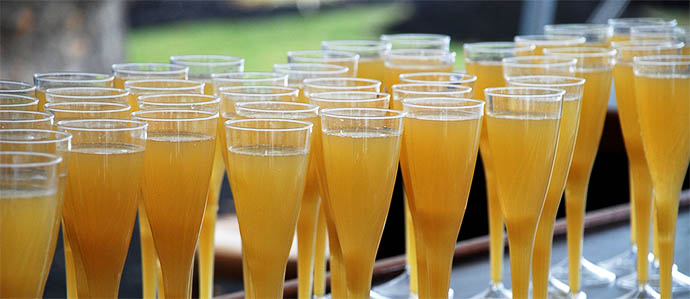 In many ways, January 1 is the best day of the year. A clean slate awaits, and it's easy to imagine doing anything and accomplishing everything. However, it's can also be a tough day — especially for those of us who took advantage of New Year's Eve parties the night before.

Happily, plenty of bars will be open and serving on New Year's Day. Check out our list to find out where to cure your hangover with hair of the dog brunch specials or set a precedent for the year with a great night out. Happy 2013!
Alla Spina: Open 11 AM–5 PM with a special hangover cocktail.

Bar: Open at 2 PM, business as usual.

Bards Irish Bar: Open 10 AM–3PM for brunch featuring make-your-own Bloody Mary Bar and bottomless mimosas. $4 Palm goblets all day.
Bierstube: Open 5 PM - 2 AM

Bourbon Blue: Open 12–9 PM. Serving brunch 12–3 PM and dinner 4–9 PM. Also serving snack menu 12–9 PM.

Brauhaus Schmitz: Open 11:30–2 AM. Serving traditional German New Year's special, pork and sauerkraut. Reservations encouraged.

Brick American Eatery: Open 10–2 AM. Serving famous $20 Bottomless Brunch including $20 bottomless Mimosas, Vodka Drinks, Bloody Marys.

Bridget Foy's: Open 11 AM–11 PM. Serving brunch menu, featuring a build-your-own Bloody Mary bar, for their Hair of the Dog Annual PJ Brunch.

Caribou Cafe: Open regular hours. Drink specials, including champagne cocktail and hot spiced brandied red wine. Brunch and regular menu all day.

Cavanaugh's Rittenhouse: Open 11:30 AM—2 AM with full food and drink menu.

The Corner Restaurant: Open 11:30 AM–10 PM and offering their brunch menu

Cuba Libre: Open 10:30 AM–2:30 PM.

Drinker's Pub: Open regular hours with regular specials including $2 Bud Light and Yuengling drafts, and $4 Absolut from 7–9 PM
Eulogy: Open 5 PM - 2 AM.

Fado Irish Pub: Open 9–2 AM with beer tubs and their regular full menu.

Field House: Open regular hours

Finnigan's Wake: 11–2 AM

Flanigan's Boathouse: Open 11-1 AM for usual Tuesday specials, and lunch and dinner specials.

Good Dog Bar: Open 11:30–2 AM

The Industry: Open 11–2 AM, offering brunch and dinner menu.

Jake's and Coopers' Wine Bar: Open at 3 PM with regular menu.

J.D. McGillicuddy's: Open at 11 AM.

Kennett: 10 AM–6 PM for New Year's Day brunch featuring $5 Bloody Marys and Mimosas.

Kildare's Irish Pub: Open at noon with food and drinks.

Marathon (16th and Sansom and 19th and Spruce): Brunch at 8 AM. Dinner 4–10 PM.

Mexican Post: Open regular hours.

Monkey Bar: Open regular hours with beer, drink, and cheesesteak specials.

Opa: Open regular hours with special New Year's Day menu and $3 PBR Pounders and $2.50 Yuengling cans.

Palace at the Ben: Open regular hours.

Percy Street Barbecue: Open 11:30 AM–10 PM featuring The Hangover Special: 2 skillet eggs, sunny-side up, with smoked and grilled pork belly over Bryd Mill cheddar grits. Served with green tomato preserves and a Hillbilly Gatorade.

The P.O.P.E.: Open regular hours.

The Pub and Kitchen: Open 11–2 AM for brunch and dinner. Serving an all-day special menu and drink specials.

Ray's Happy Birthday Bar: Open 7 AM–2 AM; $4 Citywides with shot of Windsor and Natty Boh or Yuengling Premimum; karaoke starts at noon.

Resurrection Ale House: Open for brunch from 11:30 AM–3 PM.

Sassafras: Open at 4 PM.

Smokin Betty's: Open 10 AM–10 PM for brunch and dinner. Bar open late night.

SoWe: Open 10 AM–3 PM. Serving bottomless Mimosas and Bloody Mary brunch, including banana stuffed French toast, eggs Benedict, and the popular SoWe Burger. Reservations suggested.

Standard Tap: Open 11 AM–6 PM for a seven-hour hair of the dog brunch with $5 Bloody Marys.

Supper: Open 10:30 AM–4 PM for annual "Hair of the Dog" brunch — bring your dog to the restaurant with you.

Tashan: Open with brunch specials from 11 AM–2:30 PM and regular Sunday schedule after that.

Tria Wash West and Tria Rittenhouse: Open 2 PM–latenight with special tappings.

The Trestle Inn: Open 5 PM–2 AM for regular dinner and drink specials. Also featuring Reel Good Time Movie Night 8 PM–12 AM: showing two movies and offering $1 popcorn, $12 Session pitchers and $15 IPA pitchers.
Vintage Wine Bar: Open at 1 PM
Photo via Flickr user Joe Shlabotnik
Feedback
How are we doing? Tell us what you like or don't like and how we can improve. We would love to hear your thoughts!