Mad Elf vs. Rude Elf: A Holiday Beer-Off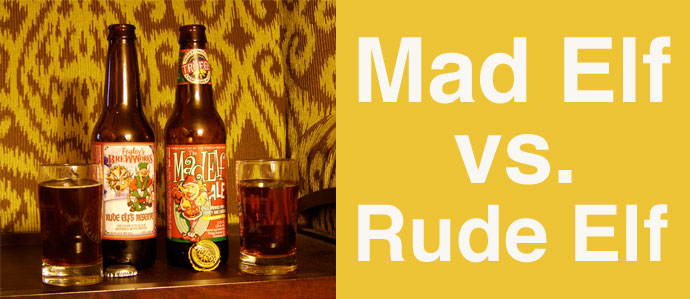 Elves are apparently bad tempered in Pennsylvania, but they make some great holiday beers. With both Troegs Mad Elf and Fegley's BrewWorks Rude Elf's Reserve brewed in PA, we're a bit spoiled to have access to two excellent winter spiced ales, both with a dark Belgian-style backbone. Our natural instinct was to put both of these elves in a cage and let them fight it out.
The Defending Champion: Troegs Mad Elf
Hometown: Harrisburg, PA
Weight: 11% ABV
Mad Elf is brewed with west coast cherries and Pennsylvania honey, adding a fruity twist to the strong and spicy body. The early favorite in this bout, due to a relatively broad distribution and near-universal critical acclaim, Mad Elf is a much anticipated winter release.
The Challenger: Fegley's BrewWorks Rude Elf's Reserve
Hometown: Bethlehem, PA
Weight: 10.5% ABV
Rude Elf's Reserve is this bout's underdog, much less celebrated than its opponent, but nonetheless packing a potent punch. Once known as Rudolph's Reserve, this spiced contender is not to be underestimated.
Round 1: Appearance
Mad Elf's cherry addition is immediately noticeable in it's glowing red body, clear and crisp enough to allow us to watch the yeasty activity of effervescent carbonation. Rude Elf is much darker and browner, looking more strong and intimidating, if not as elegant, as its opponent.
Result: Mad Elf gracefully outmaneuvers Rude Elf on the footwork of its red tinge.
Round 2: Aroma
Mad Elf opens the round with a boozy punch to the nose, backed up by jabs of raisins and yeasty bread. Rude Elf counters with a spicy one-two of cinnamon and cloves, evoking gingerbread, and finishes dry.
Result: Rude Elf gets the slight edge for its pleasant seasonal spices over the sheer force of Mad Elf's aroma assault.
Round 3: Taste
Mad Elf's cherries come back through in the flavor, propelled forward by intense Belgian yeast that brings out flavors of bananas and raisins. The finish is a left hook of crisp hops that cleans the palette on the way down. Rude Elf lands a haymaker of spicy gingerbread on the front, and ends with fruity cake and bananas.
Result: Rude Elf's combinations are a bit smoother than Mad Elf's, earning the nod in a viscous and hard fought flavor round.
Round 4: Experience
Mad Elf provides a thick, syrupy, slow-sipping booze experience, great for a cold winter's night in the cabin. Rude Elf is a much sharper and refreshing carbonated drinking experience, a bit easier to take down, though more boozy heat is present in the feel than in the nose or in the flavor.
Result: Even.
The Decision: Two well-matched opponents with a similar style foundation entered the ring, and despite local sentiment for both contenders, only one can walk out with the belt. This time, the underdog comes out with the victory, with an overall more pleasant drinking experience. Rude Elf's Reserve, who entered the arena with a much more modest entourage, hit harder when it mattered the most and provided a better balance of flavor and aroma. With their double-digit ABVs, both of these elves will bring on holiday cheer in quick fashion, and either can stand to be laid down for a year or more.
---
About Beer Geek Steve:
Steve spends as much time as his wife will let him tracking down rare beers and trying to analyze the intersection between quality beer, hype, and viral marketing. When he's not reviewing beer for Drink Philly, he writes about his adventures in chasing bottles and taps at his blog, Beer Geek Steve. You can also follow him on Twitter, where he tweets about happenings in the craft beer industry and often locates some of the best barrels in southeast PA.
---
Recent Articles

Feedback
How are we doing? Tell us what you like or don't like and how we can improve. We would love to hear your thoughts!