Dunkel Dare with Marc Summers Returns to Frankford Hall For Philly Beer Week 2014, June 4 & 5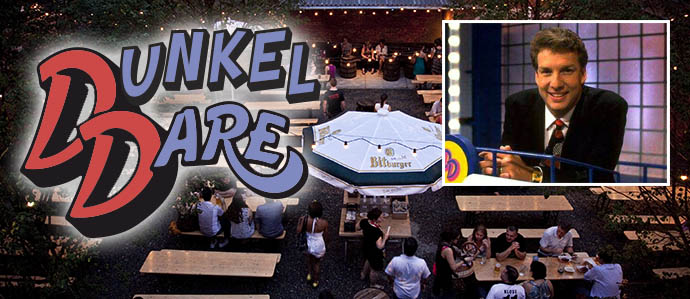 We just got word that what is possibly the best — and is definitely the messiest — event of Philly Beer Week is coming back for a third year. Marc Summers will return to Frankford Hall to host Dunkel Dare, pitting brewers against one another in a frenzy of absurd food-and-drink-related obstacle courses.

The original Double Dare host will lead the crowd in cheering on contestants as they crack eggs, spill beer, throw bread and other fun on both Wednesday, June 4, and Thursday, June 5.
Now here's where it gets interesting. Each team will consist of two brewery employees, one local celebrity, and the last teammate will be chosen via Instagram or be pulled from the audience THAT NIGHT by Marc Summers himself! If you want to enter the Instagram competition to win, head over to Frankford Hall, take a photo of yourself drinking a beer and say why you want to be on the gameshow, and use the hashtag #SlimeMe during the month of May to enter. Two people will be chosen to join in the competition online (one for each night), and one will be chosen from the audience each night of the show.
Guests are welcome for both nights — beer will be pay as you go (but look for some specials) — and there will be TVs streaming the show throughout the entire bar, so there won't be a bad seat in the house. The contest will also be streamed to TVs next door at Fette Sau, so if you can't get into Frankford Hall, head next door to watch the fun while noshing on smoked meat (and drinking more brew, of course).
Also new this year is Stephen Starr's charity partner, the Philadelphia's Children First Fund, which raises money for public schools in Philadelphia. Proceeds from sales of merchanise from the event will go to the Starr-lead cause. Frankford Hall will also be hosting a "School Supplies Drive" on the day of the event. Bring in a school supply and get a free pretzel.
The Teams this Year:
Victory Brewing Company
Yards Brewing Company
Great Lakes Brewing Company (reigning two-time winner)
Paulaner Brewing Company (first time German team representative)
More details coming soon.
Click through the photos and check out this video recap of past year's shennanigans for what to expect.
And of course, don't forget about Marc Summer's famous saying,
STFU
.

Recent Articles

Feedback
How are we doing? Tell us what you like or don't like and how we can improve. We would love to hear your thoughts!