Hammer of Glory Relay and Where to Go and What to Drink for Beer Week's First Weekend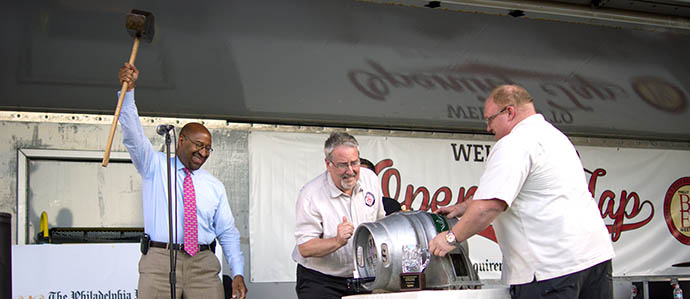 By bicycle, skateboard, twisting-and-shouting flash mobs, kinetic sculpture and something ambiguously referred to simply as "wanker," Philly Beer Week's Hammer of Glory (HOG) will wend its way through the Best Beer-Drinking City in America today on its erratic and seemingly directionless course to tonight's Opening Tap Ceremony at the the 23rd Street Armory.
The mighty mallet, which is said to have been forged from the sweat and blood of 10,000 brewers and has come to symbolize the passion, fervor and thirst of Philadelphia's beer-drinking population, began its journey just after sunrise with Dock Street brewer Justin Low hauling the HOG across town via bicycle, where it was handed off and transported to Fox29 studios in Old City. From there it boarded a SEPTA train to Fox Chase for a brief stop at Hop Angel Brauhuas and then on to Grey Lodge Pub in the hands of Philly Roller Girls. Before its lands in Mayor Michael Nutter's hands tonight just before 7 PM for the ceremonial tapping of this year's Brotherly Suds, the symbolic kickoff of PBW's 10-day beer-soaked extravaganza, it will pass through bars in nearly every neighborhood throughout the city.
If you want to come out and bask in the HOG's majesty, check out the full schedule below:
6:50 a.m. – arrives at Dock Street Brewery (50th & Baltimore); depart via brewer-powered bicycle
7:30 a.m. – arrives at Fox29 Studios (330 Market Street); departs via skateboard
8:30 a.m. – arrives at SEPTA (Market East station); departs via SEPTA Fox Chase Line
9:49 a.m. – arrives at Hop Angel Brauhaus (7980 Oxford Ave.); departs via Philly Roller Girls
10:47 a.m. – arrives at Grey Lodge (6235 Frankford Ave.); departs via Ferris BEERluer's Day Off, plus "Twist & Shout" flash mob dance number
11:25 a.m. – arrives at Philadelphia Brewing (2440 Frankford Ave.); departs via kinetic sculpture
11:53 a.m. – arrives at Johnny Brenda's (1201 Frankford Ave.); departs via Air Guitar
12:08 p.m. – arrives at Frankford Hall/Fette Sau (1210 Frankford Ave.); departs via Sausages, Lederhosen and Dirndl
12:31 p.m. – arrives at Bar Ferdinand/El Camino Real (1030 North 2nd St.); departs via Fishtown Beer Runners
12:50 p.m. – arrives at Standard Tap (901 North 2nd St.); departs via Hot Rod
1:15 p.m. – arrives at Yards (901 North Delaware Ave.); departs via human chain of employees
1:33 p.m. – arrives at SugarHouse Casino (1001 North Delaware Ave.); departs via SugarHouse double decker bus
2:01 p.m. – arrives at Red Owl (433 Chestnut Street); departs via horse-drawn wagon
2:28 p.m. – arrives at Varga (941 Spruce Street); departs via pin-up girls/flash mob
2:53 p.m. – arrives at 12 Steps Down (767 South 9th Street); departs via Smartcar
3:22 p.m. – arrives at Garage (1231 East Passyunk Ave.); depart via bicycle convoy, with Bells Bikes
3:45 p.m. – arrives at Nodding Head (1516 Sansom Street); departs via Tandem Bike
4:08 p.m. – arrives at Fergie's (1214 Sansom Street); departs via Wanker
4:23 p.m. – arrives at Time (1315 Sansom Street); departs via motorcycle brigade
4:46 p.m. — arrives at The Institute Bar (549 North 12th Street); departs via wheelbarrow
5:19 p.m. — arrives at Belgian Café (601 North 21st Street); departs via 1965 Ford Mustang;
5:38 p.m. — arrives at London Grill (2301 Fairmount Ave.); departs via Marie Antoinette and her wenches using a convertible, scooters and motorcycles
6:06 p.m. — arrives at Kite & Key (1836 Callowhill Street); departs via "epic journey" featuring Nick Johnson and Troegs Brewing
6:37 p.m. – arrives at Opening Tap (22 South 23rd Street, First Troop, 23rd Street Armory); will be used by Mayor Nutter for the ceremonial first tap of PBW 2014
If jobs and real-life commitments will keep you from catching up with the HOG today, here are some other highlights for tonight and the Beer Week's first weekend that are well worth checking out:
Friday, May 30:
PBW Opening Slice Carnival
6 - 9 PM
Pizza Brain and Little Baby's Ice Cream World Headquarters (2311-2313 Frankford Ave.)
Sixpoint Brewery, Pizza Brain, and Little Baby's Ice Cream are teaming up for an unofficial, but "totally radical" PBW kickoff event called PBW Opening Slice Carnival. The collaborative affair will celebrate Sixpoint's Sweet Action Ale with special slices from Pizza Brain that feature duck braised in the part pale ale, part wheat and part cream ale concoction, fresh dill, flaked barley crust and orange marmalade lattice; a small batche ice cream made with Sixpoint's Marmalade Toast from Little Baby's and a caricature artist on site. The first 100 guests (21+, of course) to purchase this special slice will receive a can of Sweet Action Ale compliments of Sixpoint.
The Big Bang
11:30 AM - 2 AM
Grace Tavern (229 Grays Ferry Ave.; 215-893-9580)
Grace Tavern gets its Beer Week festivities going with an awesome tap lineup of beers brewed within walking distance of the bar. Some kegs were hand carried from the breweries. Flights will be available as well as Philly themed food specials.
IPA Day
5 - 11 PM
Bierstube (206 Market St.; 215-922-2958)
Old City's Bierstube will be showcasing IPAs to help beer nerds taste and understand the difference between traditional English, Belgian, Session American, typical American, and American Double/Imperial IPA styles.
Sly Fox Presents the Post-Opening Tap Party with Musical Semi-Legends John Train
10 PM - Midnight
Fergie's Pub (1214 Sansom St.; 215-928-8118)
Head to Fergie's after opening tap where the good times will keep flowing with (almost) legendary folk-rockers John Train performing two sets and beers from Sly Fox.
Sarturday, May 31:
Hunter Gatherer Brunch Featuring Bullfrog Brewery
11 AM - 3 PM
The Standard Tap (901 N 2nd St.; 215-238-0630)
Standard Tap Basement has horded and saved several Bullfrog Brewery sixtels for this special brunch. Why? Because men and women can't live on beer alone, and breakfast is the most important meal of the day. Especially during Beer Week. The limited-release ales, which include sour, wild and wood-aged, will be served alongside dishes prepared with wild game and foraged ingredients.
Beat the Heat with Wheat
11:30 AM - 2 AM
Brauhaus Schmitz (718 South St.; 267-909-8814)
Just in time for the arrival of the summer swelter, the crew at Brauhaus Schmitz have stocked up on kegs of traditional German wheat beers, arguably the most refreshing and thirst-quenching beers for this time of year. They'll have 15 of them on tap all day.
4th Annual Kick The Locals
1 PM - 2 AM
2nd Street Brew House (1700 S 2nd St.; 267-687-7964)
Help 2nd Street Brew House crown this year's winner of its annual Two Street Tussle, which pits barrels of local brews against each other. The first keg kicked gets all the glory. Come out and support your favorite local brewery.
Sunday, June 1:
Outdoor BBQ, Sampling, Brigantessa Pop-Up at Le Virtu
Noon - 4 PM
Le Virtu (1927 East Passyunk Ave.; 215-271-5626)
The crew behind Le Virtu are teaming up with mobile wood-fired pizza operation, Pitruco, for a preview of the forthcoming forneria Brigantessa. They will be turning out six different pizzas that Chef Joe Cicala will serve at his new venture when it open later this summer. In addition to pizza, Le Virtu will be offering table service at its gorgeous outdoor seating area with beers from Sly Fox and Sixpont, and sweets from Pastry Chef Angela Ranalli.

Sour Beer 215: Microbial Terroir Tasting and Discussion Panel with Microbioligist Nick Bokulich
5 - 8 PM
Khyber Pass Pub (56 South 2nd St.; 215-238-5888)
Take your beer nerdery to a whole new level with this interactive learning experience and tasting that focuses on the region's microbial terroir and artisan-produced fermented food and drink with microbiologist Nick Bokulich of New York University's Langone Medical Center. Wild beers, cheese, charcuterie, freshly baked bread and pickles will be among the spread served and discussed. Cost is $65 per person, not including tax and gratuity.
Iron Hill Brewery Beer Dinner
6 - 10 PM
Good Dog (224 S 15th St.; 215-985-9600)
For the fourth consecutive year, Good Dog hosts five brewers from five area Iron Hill locations who will each contribute one of their best beers for Executive Chef Jessica O'Donnell to serve alongside of one of the dishes she is serving at this special pairing dinner. Sixty bucks gets you the full spread. Seating is limited, visit the bar's website to get tickets.
Tags:
Beer
,
Beer Week
,
Dinner
,
Festival
,
Food
,
Music
,
Outdoor Seating
,
Parties
Recent Articles

Feedback
How are we doing? Tell us what you like or don't like and how we can improve. We would love to hear your thoughts!