Where to Find Pliny the Younger in Philadelphia (2015 Edition)
by
Drink Philly
on Feb 26, 2015 in
Beer
for
Alla Spina
,
Bishop's Collar
,
City Tap House
,
Good Dog Bar
,
Iron Abbey Gastropub
,
Khyber Pass Pub
,
Memphis Taproom
,
Monk's Cafe
,
Sidecar Bar
,
South Philly Tap Room
,
Varga Bar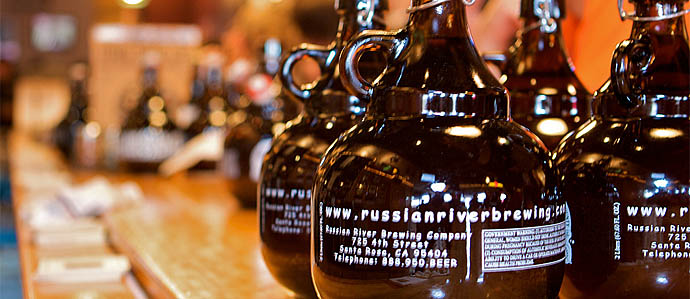 Good news, Pliny the Younger is headed to Philadelphia once again! Every March, local beer nerds play the game of tracking the ultra-rare triple-hopped, triple IPA from Russian River Brewing Company. Similar to years past, the Santa Rosa, CA-based craft brewer unleashed Younger on February 6, making it available to visitors at its brewpub through February 19 by only tapping a small amount each day.
Pliny the Younger is one of the highest-rated beers in the world, and also one of the most sought-after. This is partially because of the beer's well-balanced flavor and body — extra impressive for a 10.25% ABV triple-hopped brew — but also because distribution is extremely limited. Outside of California, Russian River is distributed to a just few states: Oregon, Colorado and Pennsylvania (Philadelphia-area only). When select bars do get their allotment of the special beer, they usually field lines of beer geeks eager to pay upwards of $12 for a small pour. We'll be tracking news of PTY and will post updates on where to find it here, so bookmark this page and check back often.
The Drink Nation's man in Denver reports this year's batch of Younger is well worth the hype, as well as the wait to get a glass.
For an idea of what to expect, check out our Pliny the Younger list from last year. Let us know if you see it around with a post on Twitter or Facebook.
Mon., March 2
Starting at 11:30 AM, Monk's Cafe will open its doors to the public. In addition to PTY, Monk's will also have other incredible beers on tap. A raffle will be held featuring a few special beers. Bar and raffle tickets are cash only, and 100% of the proceeds go to Alex's Lemonade Stand. (264 S 16th St.; 215-545-7005)
Thu., March 5
Memphis Taproom sent out an email and the lucky 50 who were the first to reply will get in at 11 AM. Doors open to the public at 11:30 AM.
(2331 E Cumberland St.; 215-425-4460)

Sat., March 7
Iron Abbey
Iron Abbey will issue tickets starting at 11 AM for a 12 PM tapping of Pliny the Younger. Tickets for Younger are $5 for a 5 oz pour. Tickets are also first come, first served and are cash only. Guests are invited to arrive early for a 9 AM tapping of Russian River's Supplication, Damnation and the Avery/Russian River collaboration Not Litigation Ale as well as other top IPAs. A tapping of Pliny the Elder will take place after the Younger tapping.
(680 Easton Rd.; 215-956-9600)
Sun., March 8
City Tap House
City Tap House is opening its doors at 11 AM and issuing tickets to the first 65 people in line. PTY is scheduled to be tapped sometime around 2 PM. Don't worry, there's plenty of beer to drink in the mean time. Other beers on tap will include Russian River's Pliny the Elder and Blind Pig, Firestone Walker's Wookie Jack and Lagunitas Sucks. (3925 Walnut St.; 215-662-0105)

Sun., March 8
BRU
Tickets will be sold for a 2 PM tapping. Tickets go on sale at 11 AM for $8 each. Tickets are cash only and secures you a 6 oz pour. Tickets can be redeemed between 2–5 PM. Any beer left after 5 PM will be open for sale to the beer loving public. (1318 Chestnut St.; 215-800-1079)
Mon., March 9

Good Dog Bar
(224 S 15th St.; 215-985-9600)

Tickets go on sale at 1 PM for a 3 PM tapping. Tickets are $10 for an 8 oz. pour and are cash only.


Wed., March 11
Local 44
(4333 Spruce St.; 215-222-2337)
Similar to Memphis Taproom, an email announcing the tapping will go out, and you can reply for a chance at being one of the first 50 admitted. Doors will open to the public at 11:30 AM, half an hour after the initial tapping.
Sun., March 15
Varga Bar
(941 Spruce St.; 215-627-5200)
Ditch the red carpet, black tie nonsense and join Varga for a black carpet, red tie event to welcome Pliny the Younger to the bar. Fancy dress is required for Varga's party, which starts around 8 PM. Many other great brews will be on tap alongside the magestic Pliny.
Sun., March 15
Win a Golden Ticket during Happy Hours this week (3/10-3/13) for the Sunday tapping. One of the 20 draft lines will be randomly selected as the winning line each day, and the first person to order the winning beer of the day will win that day's Golden Ticket. If you don't have any luck nabbing a Golden Ticket, regualr tickets for the Sunday go on sale at 5 PM for a 6 PM tapping. $10 gets you a 7 oz. pour. All proceeds go towards the Great Chefs Event, which benefits Alex's Lemonade Stand Foundation and the Vetri Foundation for Children.
Wed., March 18
Strangelove's
(216 S 11th St.; 215-873-0404)

Similar to Memphis Taproom, an email announcing the tapping went out, and you had to reply for a chance at being one of the first 50 admitted. Doors will open to the public at 5 PM. A Pliny the Elder tapping will take place after the Younger kicks.
Dates TBA
Photo by Drink Philly
Tags:
Beer
Recent Articles

Feedback
How are we doing? Tell us what you like or don't like and how we can improve. We would love to hear your thoughts!