William Street Common Delivers An Experience That is Anything But Common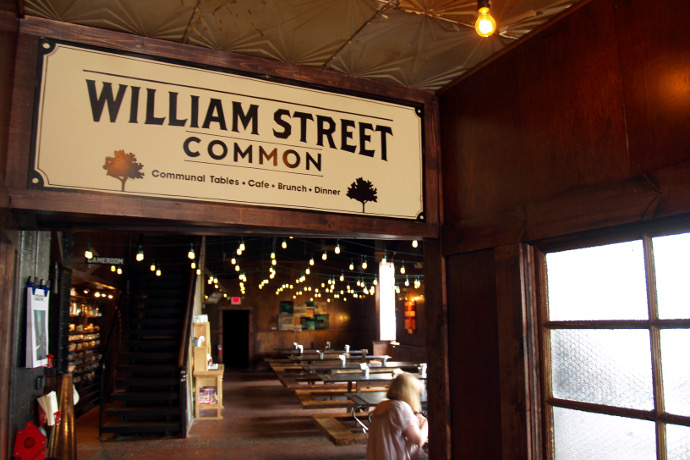 Across the Schuylkill river, amidst the ever-rising ivory (well, steel and glass in more recent years) towers of Drexel and Penn, there exists a new, experimental restaurant and bar at the corner of 39th and Chestnut Streets.
The new venue, which occupies the former, though heavily transformed, home of Drinker's West, is known as William Street Common, an homage to the area's heritage, before it was swallowed up by the expansion of Philadelphia's original grid. William Street, now 39th Street, according to the new joint's website, once served as an escape of sorts from the city proper, the main thoroughfare through a neighborhood full of wide, tree lined streets and plenty of green space upon which one could stroll.
Today, the landscape has drastically changed, but William Street Common seeks to harken back to the area's halcyon days, inviting visitors to seat themselves at one of the communal style tables in an open, airy main dining room, or at one of the more secluded bar tables, and settle in for good food, drink, and company. According to spokesperson Meredith Setzman, "The owner, Avram Hornik, had thought about doing a concept like William Street for several years – a place where a diverse group of people could come together in a public space and use it for their own purposes, whether that be eating and drinking, playing games, or just getting away from the chaos and gathering together with friends for social conversation." She adds that the relatively low rent in the up and coming West Philadelphia neighborhood allows patrons to stay as long as they please, without being rushed out in favor of high turnover necessitated by high overheads.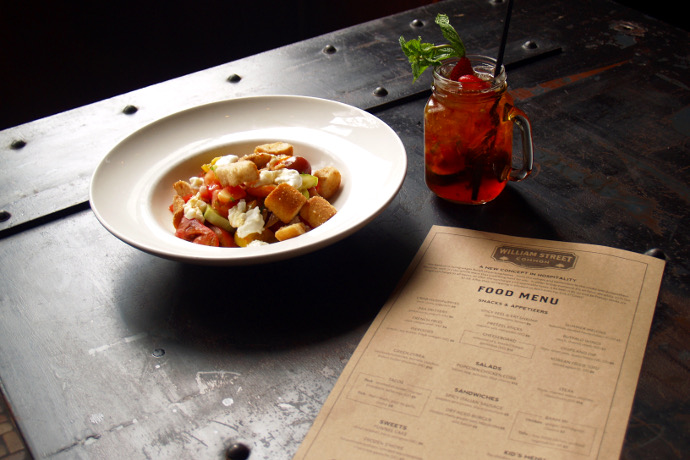 Aside from this laid-back attitude, William Street Common employs some rather curious and forward-thinking business practices. For example, tipping is not only discouraged, but forbidden. Employees are all guaranteed a minimum wage of $15 per hour, with opportunities to earn more based on an intricate system that monitors individual and team performance. To achieve this, William Street Common adds a 20% fair-wage surcharge to each item, which it then matches. They even employ an in-house employee advocate, to ensure a harmonious and synergistic experience for all. Of this practice Setzman says, "In the end, it is meant to create an environment where employees aren't worrying about their wages and instead are empowered to enjoy their work and provide great customer service. That, in turn, creates an environment where patrons like to be, and the atmosphere builds on that."
As for the food and drink, both incorporate local and house-made elements courtesy of Chef de Cuisine Geno Betz, formerly of Le Bec Fin, and Executive Chef David Gilberg, formerly of Koo Zee Doo. For the Green Zebra salad (pictured above with Pimm's Cup), tomatoes are brought in from the eponymous farm in Gradyville, and combined with house-made brown butter croutons, making for a wonderful balance of acidity, sweetness, and saltiness that seems to speak to the delicate complexity of the entire menu, and the establishment in general. The food menu includes other delights, showcasing Betz's eye for technique and fine food, such as the house burger, cooked sous-vide, wrapped in dry aged beef, and topped with cheddar, cherry pepper aioli, and bread and butter pickles (for $8!) and lighter, more seasonal fare like the crab hushpuppies and summer melons served with candied fresno chilies.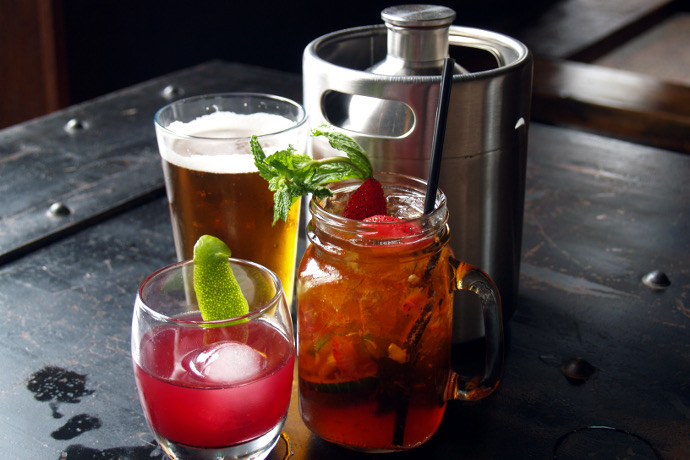 The drink menu lives up the standards set by the kitchen, featuring a set of "New Fangled Old Fashions", combining ingredients such as mezcal with house made blueberry and serrano chile syrup and garnished with lime, and rye whisky with coffee, mole, and lemon. They also mix a variety of house cocktails, incorporating fresh fruits and produce, like the Pimm's Cup and the Lavender Fizz, a refreshing blend of gin, lavender, grapefruit, and club soda. William Street Common also offers three draft wines, and 12 craft beer taps (including Victory's Sour Monkey, while it lasts), rotated out as they kick, available in pints, steins, and table kegs.
William Street Common is open from 12–10 PM Tuesday, 12 PM–12 AM Wednesday–Friday, and 10 AM–12 AM and 10 AM–3 PM Saturday and Sunday, respectively. The restaurant also runs a weekly contest via the Instagram account, @WilliamStCommon, offering the chance to win an aforementioned table keg.
William Street Common, 3900 Chestnut St.; 215-397-4693
Photos by Rob Jagiela
Tags:
Beer
,
Cocktails
,
Food
,
Outdoor Seating
Recent Articles

Feedback
How are we doing? Tell us what you like or don't like and how we can improve. We would love to hear your thoughts!