Best Bars For Outdoor Drinking in Philadelphia, 2017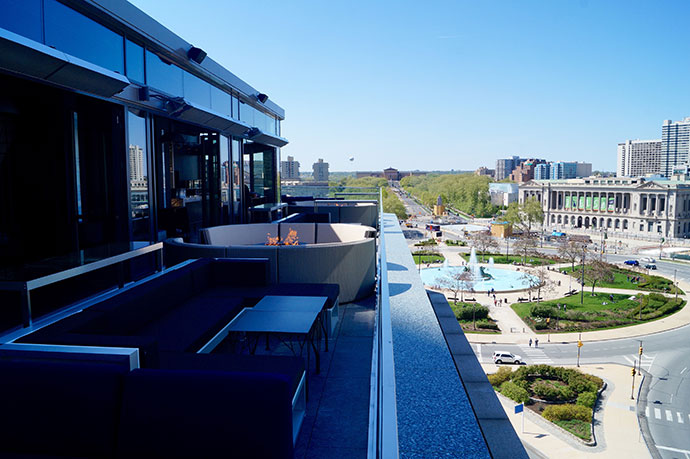 Whether it's to enjoy the first warm breezes of spring or the unexpected sunshine of a crisp day in fall, Philadelphia is full of great places to drink in the great outdoors. We've rounded up our top picks for outdoor bars in the city. Click through to check them out, and bookmark this page so you can be ready whenever the great weather hits.
These are our top picks but if you think we should add something, hit us up on Facebook or Twitter.
Photo by Drink Philly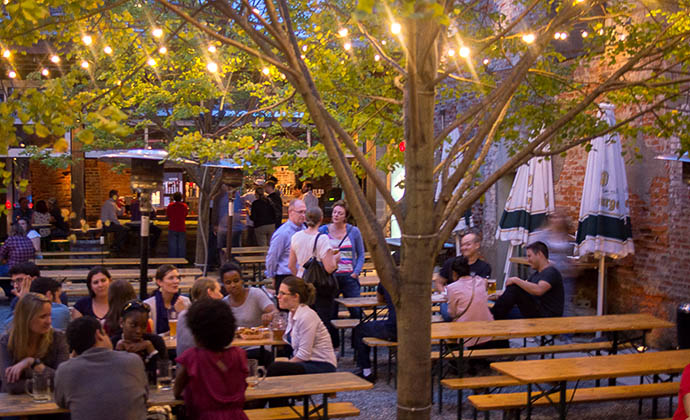 The huge, open-air courtyard at Stephen Starr's Fishtown beer hall feels exactly like a traditional German biergarten, from strings of lights to gravel floors to picnic tables and Linden trees. Enjoy ping pong and fire pits as you sip on huge liter mugs of brew from Bavaria and beyond.
Photo by Danya Henninger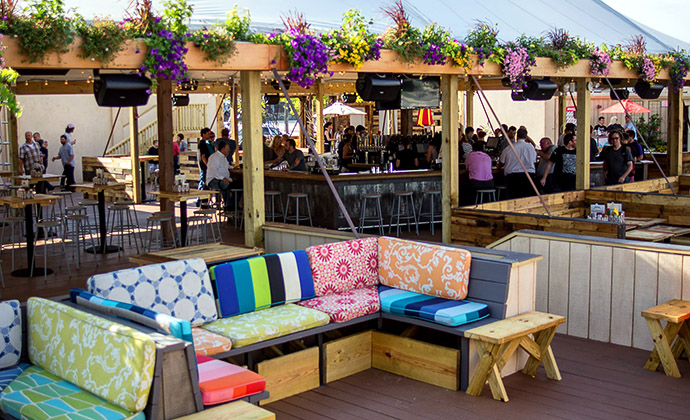 Open from April 20 through the end of September, this deck on the Delaware offers an unprecedented way to enjoy craft beer and killer cocktails by the water. Two bars and half a dozen seating areas are built right out over the river, and the view of the Ben Franklin Bridge towering overhead can't be matched.
Photo by Danya Henninger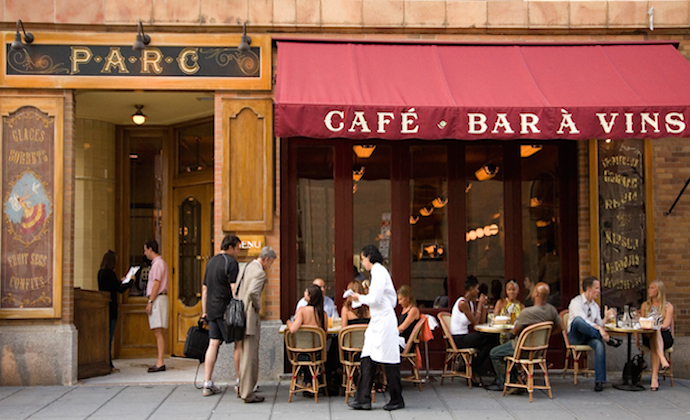 Sip in sophistication under awning-covered tables that wrap around this Rittenhouse Parisian bistro.
Photo by Parc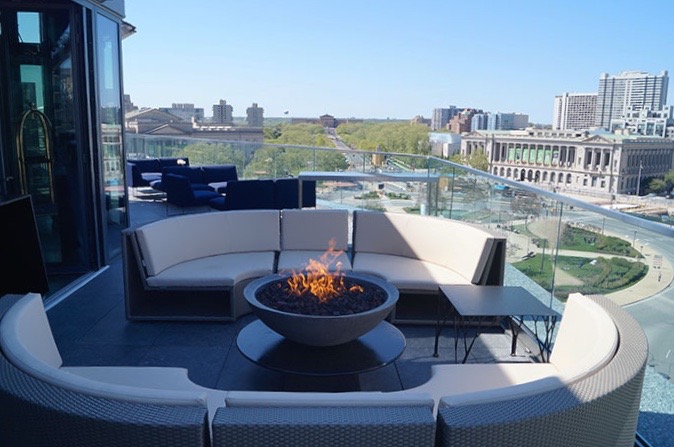 This rooftop bar, which debuted last spring, is nestled nine stories above the city and offers some of the greatest views of Logan Square and the Parkway. Sip on creative cocktails and enjoy shareable snacks while admiring how beautiful Philly can be.
Photo by Drink Philly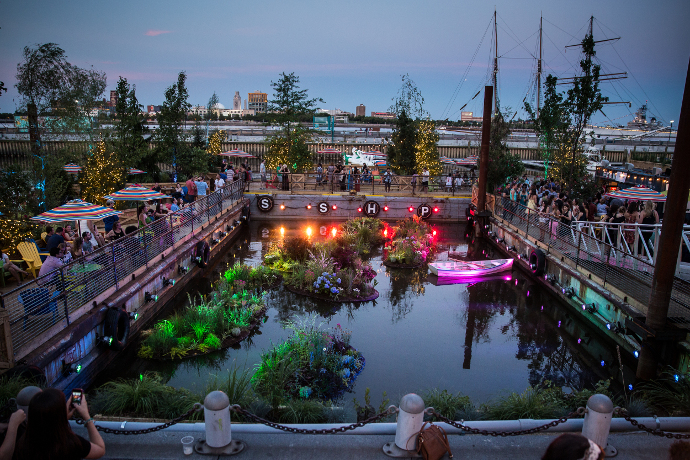 The incredibly ambitious Spruce Street Harbor Park will once again bring life to Penn's Landing. The block-and-a-half riverfront park features a bar, food, lily pad water gardens and nets that suspend visitors over the water built on a series of floating barges. SSHP is set to open May 12.
Photo by Spruce Street Harbor Park and Matt Stanley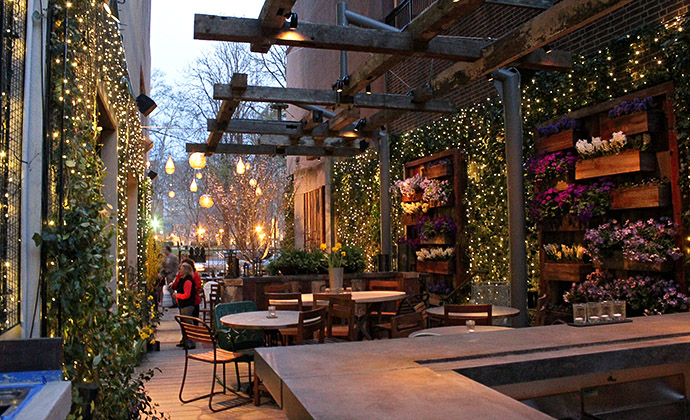 You'll think you've landed in a fairy tale when you take a seat at a table or the granite bar in the garden patio outside Aimee Olexy and Stephen Starr's Washington Square restaurant. Water drips daintily from vintage faucet fountains, vines wind up the walls, colorful flowers bloom, and the food and drink are good enough to keep pace with it all.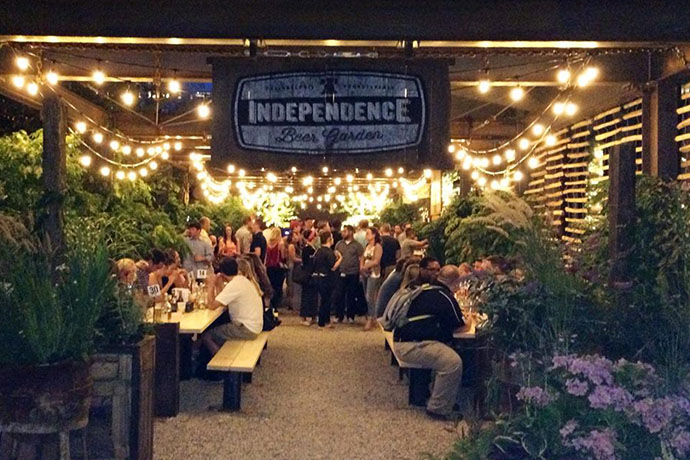 This Michael Schulson beer garden will be back for its third year across from the Liberty Bell and Independence Park. The garden features plenty of local, regional and national taps along with snacks, sandwiches and more to munch on while you sip. This prime outdoor spot is set to open April 27.
Photo via Independence Beer Garden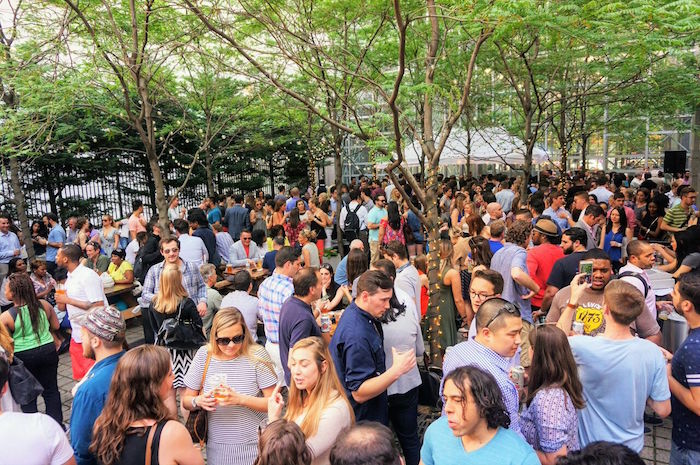 Visit the courtyard at BNY Melon for a Center City getaway. This popular hangout, which will open for the season the second week of May, offers a great selection of brews and 9,000 square feet of space which is usually full to the brim.
Photo via Uptown Beer Garden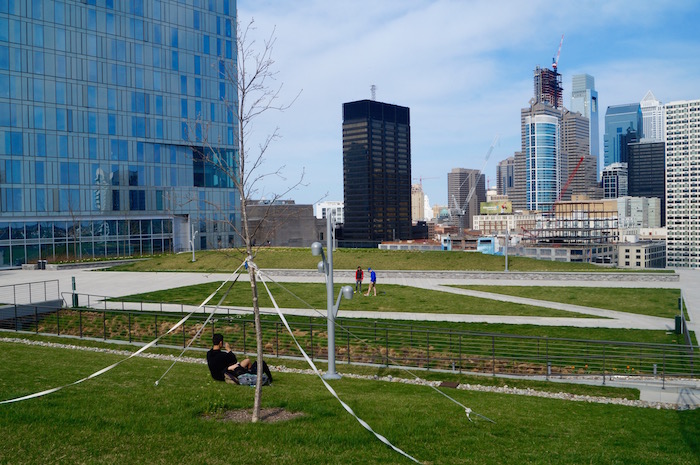 Check out this elevated beer garden which will run for a limited time atop the Cira Center South parking garage. The beer garden will debut on April 21 and will be open from 5-9 PM every Friday until June 23.
Photo by Drink Philly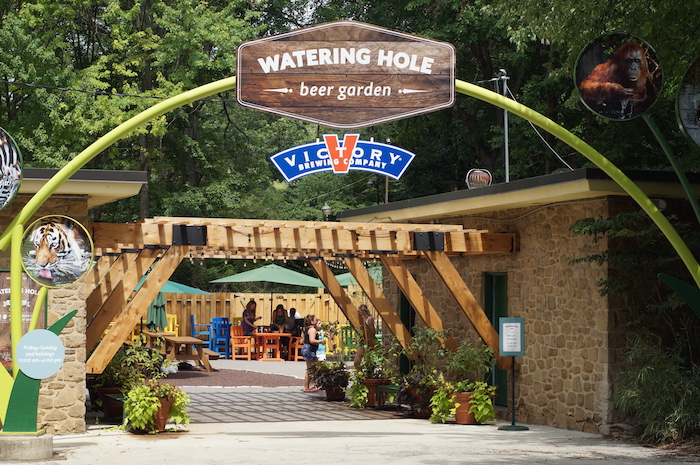 Victory Beer Garden at the Philadelphia Zoo
This Victory Brewing Co. sponsored beer garden is the Philadelphia Zoo's very own open wine and beer garden. Enjoy environmentally-friendly LED lighting and mosaics as you sip a beer amongst the wildlife.
Photo via Drink Philly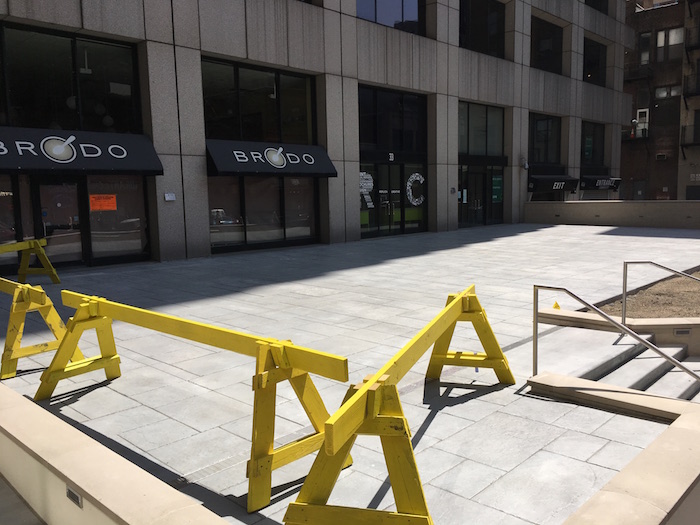 Tria Wine Garden
Tria is opening its own wine garden in the heart of Center City this summer. Situated on the ground floor of United Plaza at 31 S. 18th St., it will operate year round and will open soon.
Photo via Drink Philly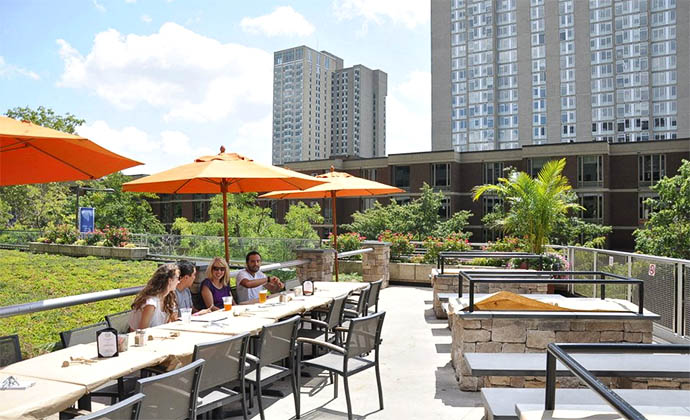 Grand fire pits line one side of the concrete deck at this 60-tap University City tavern, spread out over the second floor of the Radian Building on Walnut. Join the college and beer geek crowd and enjoy a pint and a burger in the fresh air.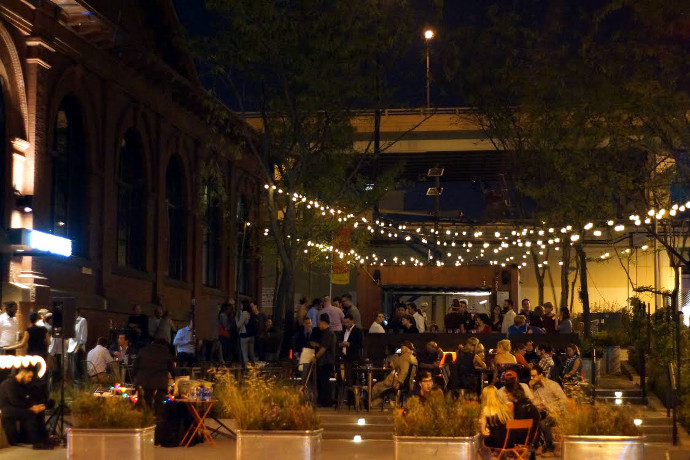 The La Peg Beer Garden offers a more grown up alternative to some of the other Delaware Waterfront options. The outdoor bar and food truck officially opens May 1, but anyone who wants to sit outside before then is free to do so if they order from the indoor bar.
Photo by Drink Philly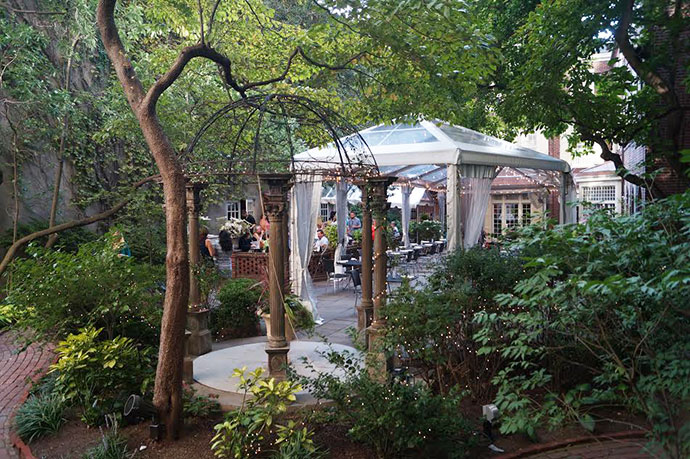 M Restaurant at The Morris House
Whether you are seeking a romantic Center City restaurant for date night, a pre-theater dinner, a wedding rehearsal or reception location, or you simply want a local restaurant experience, the M Restaurant is your ideal, unique venue.
Photo by Drink Philly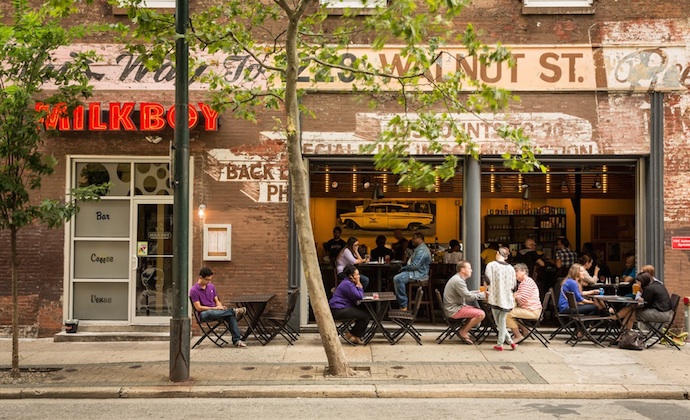 One of the city's largest selections of craft canned beers, Milkboy also offers a well curated cocktail menu. Even when it rains, towering glass garage doors swing open for indoor/outdoor sipping.
Photo via Milkboy


This Tria location boasts plenty of sidewalk seating and choice people watching at the corner of 12th and Spruce. Sit under one of the bright yellow umbrellas while sipping a great beer or wine paired with some of the best cheeses in the city. If the 12th Street location is too packed, try their Rittenhouse or Fitler Square locations.
Photo by Drink Philly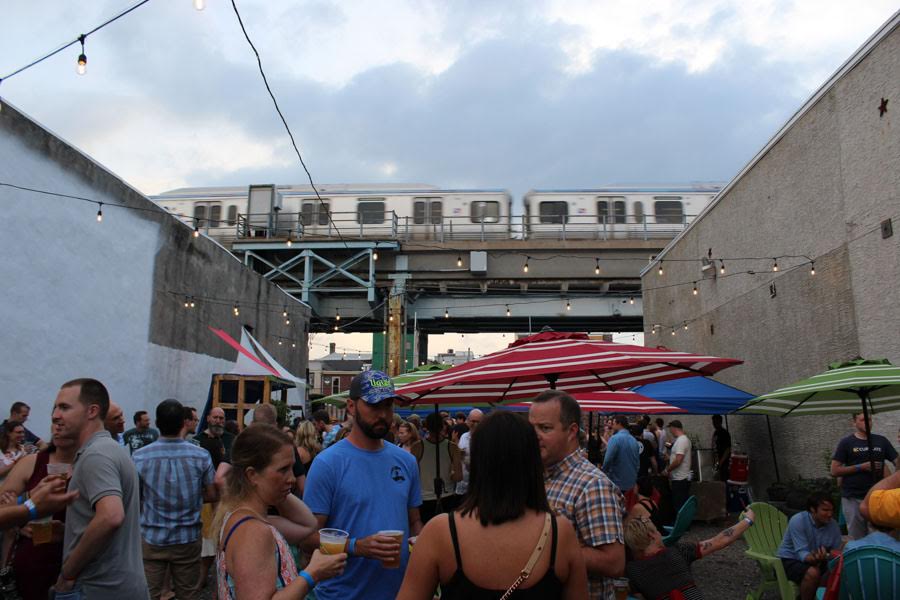 Evil Genuis' beer garden is officially confirmed for the 2017 season. It will debut in May for those who visit their recently-opened Fishtown brewery and tasting room.
Photo via Spirit News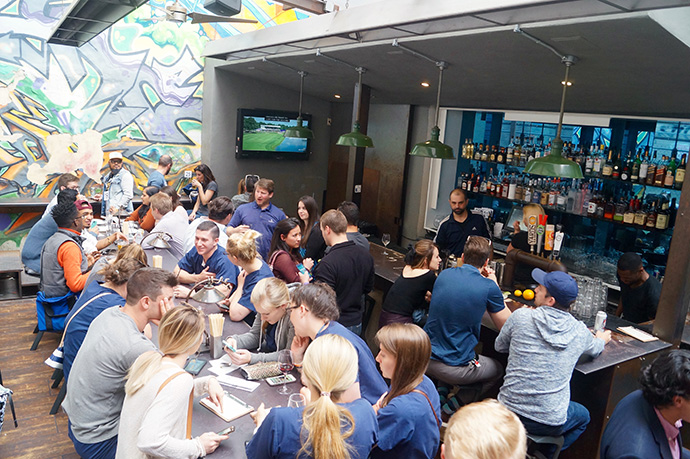 Tucked behind a narrow alley in Midtown Village is Michael Schulson's outdoor hangout, decorated on all sides by crazily colorful graffiti. Great deals are found on bites and sips during happy hour, which takes place seven days a week.
Photo by Drink Philly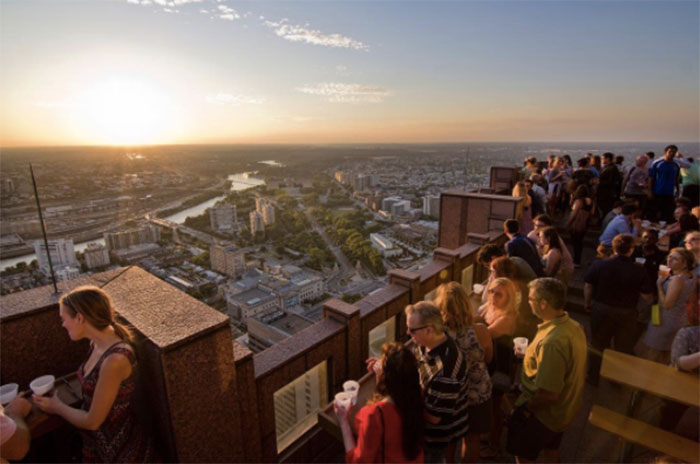 SkyGarten, the 51 stories-high German beer garden, will return for the season on April 19.
Photo via Punch Media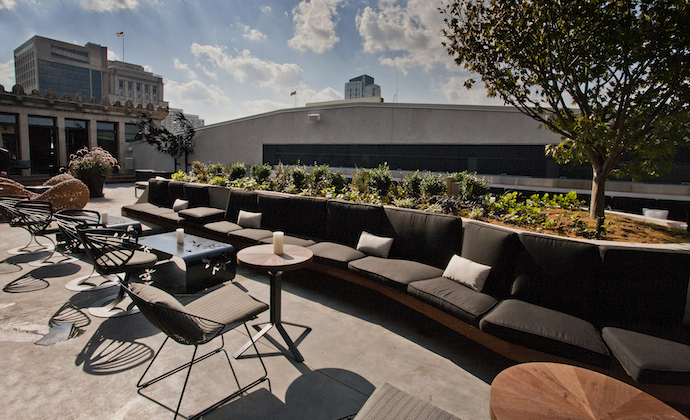 The rooftop bar on the 11th floor of Kimpton's Hotel Monaco Philadelphia offers modern cocktails crafted by Status' talented bar team, craft beer and champagne. Bottle service is also available.
Photo by Laura Kicey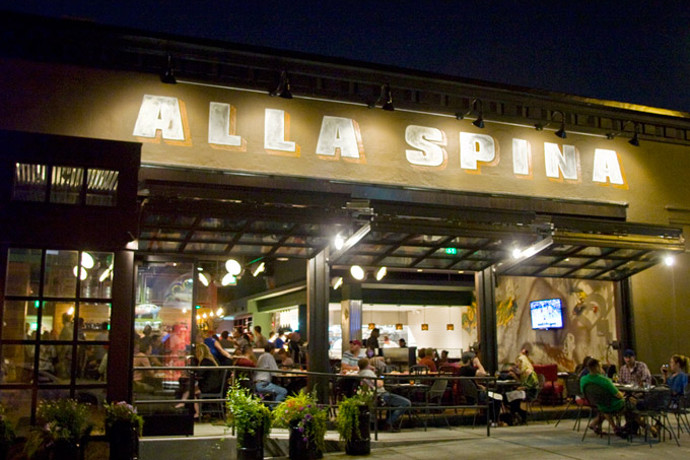 Alla Spina's cocktail menu is decidedly warm weather friendly with a selection of over the top refreshing beer cocktails like the Quattro Pazzo, pilsner with orange juice, prosecco and Aperol and a few beer milkshakes like the Raspberries & Cream with fior de latte soft serve blended with raspberry ale.
Photo by M. Edlow for Visit Philadelphia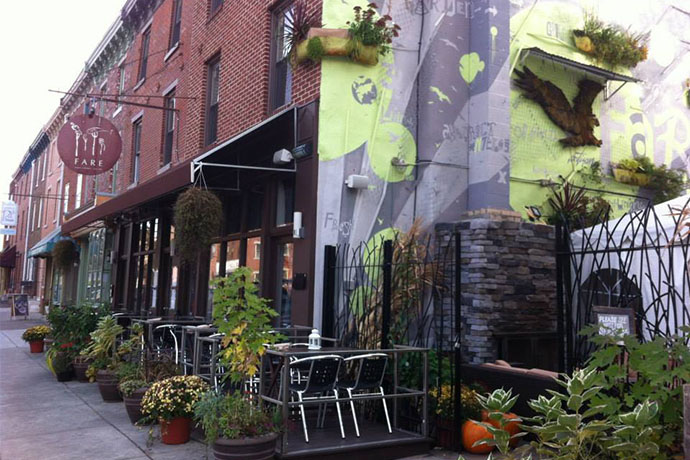 Fairmount's Fare has a spring drinks menu ready to go for out of doors drinking. House-infused booze like pineapple rum is blended with coconut water, basil and fresh lime for the positively tropical, Water of Life.
Photo via Fare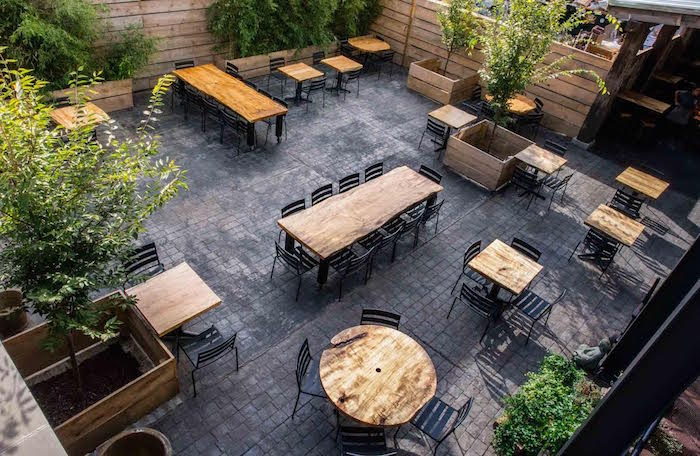 Imbibe with a selection of 16 rotating drafts and curated wine and cocktail lists that include refreshing imaginative options like the Cranberry Sage Gimlet. The cafe offers ample outdoor dining space and fresh farm-to-table fare to boot.
Photo via Front Street Cafe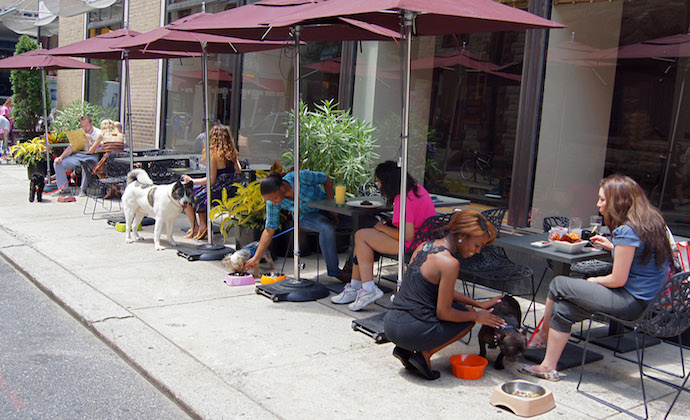 Square 1682

Relax at street-side seating surrounded fragrant planters of herbs while enjoying cocktails under burgundy umbrellas.
Photo: Mark Henninger, ImagicDigital.com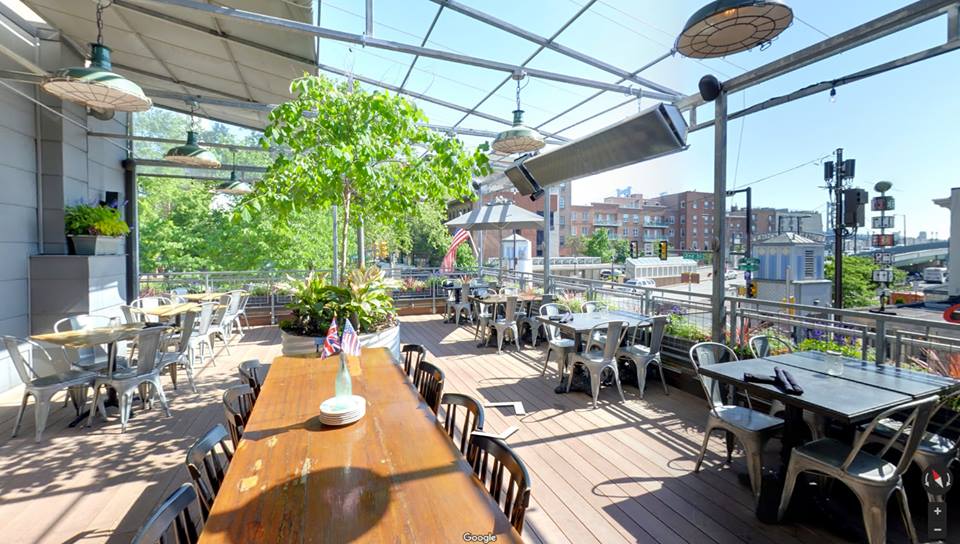 The prettiest patio in Old City is found on the second floor of this Americana-themed bar, and the large corner square holds nearly a dozen tables. Set with heat lamps, this terrace with a view is the perfect place to gather with a group from early spring to late fall.
Photo via Revolution House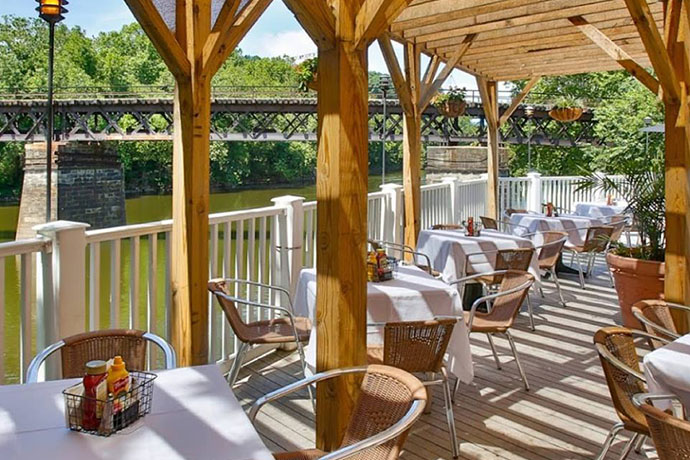 Compared to the street-side drinking options of Center City, Manayunk Brewery's Schuylkill-facing river deck is positively pastoral. Opt for a sweet-tart pint of raspberry and cherry-scented Schuylkill Punch for maximum springtime drinking enjoyment.
Photo via Manayunk Brewing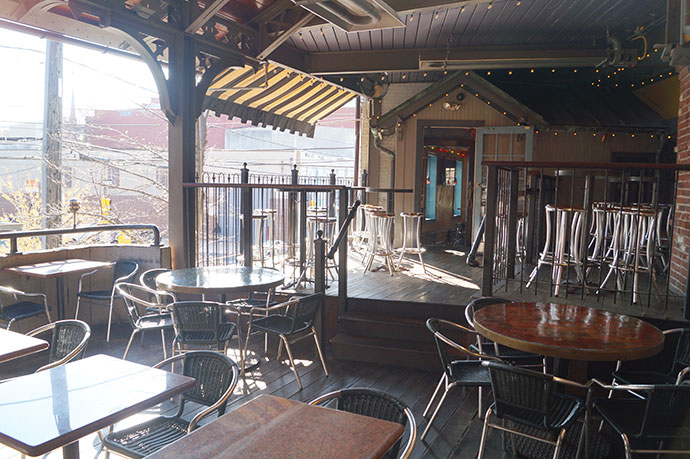 Knock a few back at one of Northern Liberties' roof decks.
Photo by Drink Philly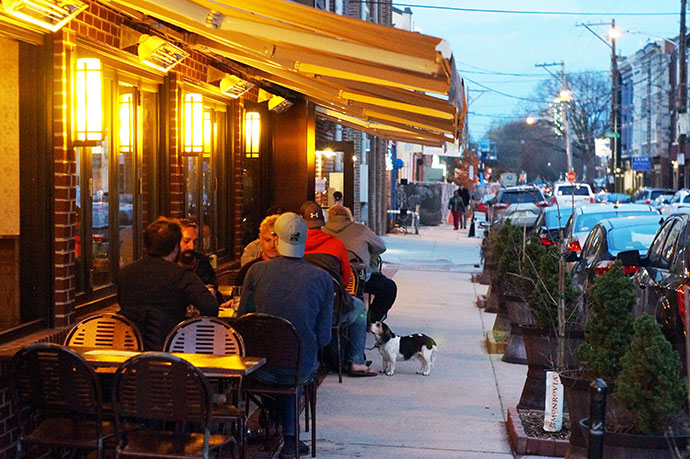 Bainbridge Street Barrel House
This spot has 25 taps in constant rotation and is always getting some rare and exciting beers. It's a great spot to sit with your dog and escape the bustle of South Street.
Photo by Drink Philly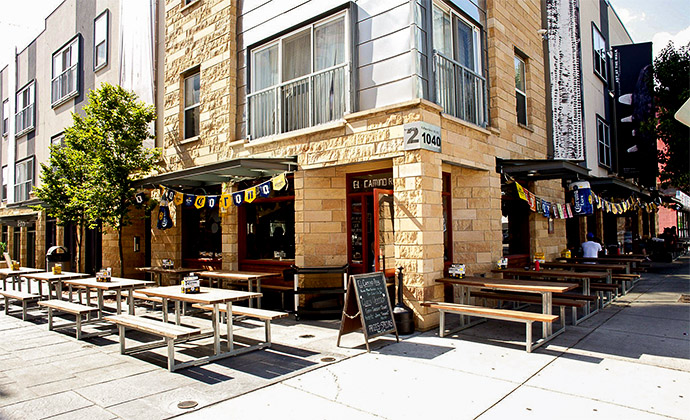 There's plenty of room for the huge portions of Tex-Mex fare and pitchers of margaritas to go with at this Northern Liberties pub. Picnic tables line Second Street and give you a chance to mingle and catch the vibe of everyone hanging in the Piazza and on Liberties Walk.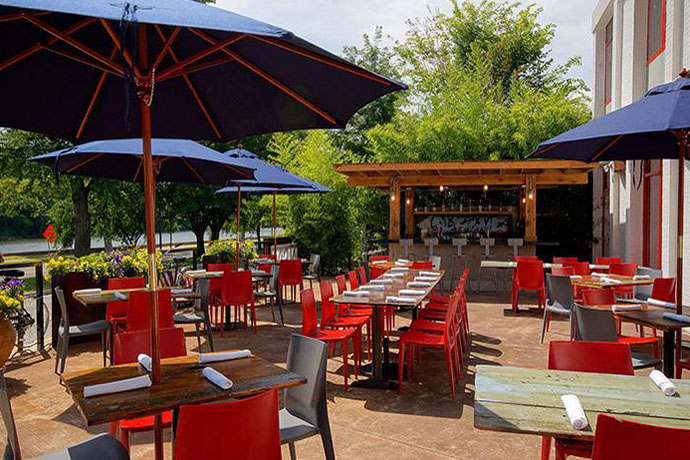 Settle into one of East Falls' most scenic patio tables and spend an afternoon at In Riva, where a menu of pitcher cocktails will keep you there well after the sun sets on the Schuylkill. The Bianco, a blend of vodka, sparkling wine and fresh grapefruit juice, is especially easy drinking.
Photo via In Riva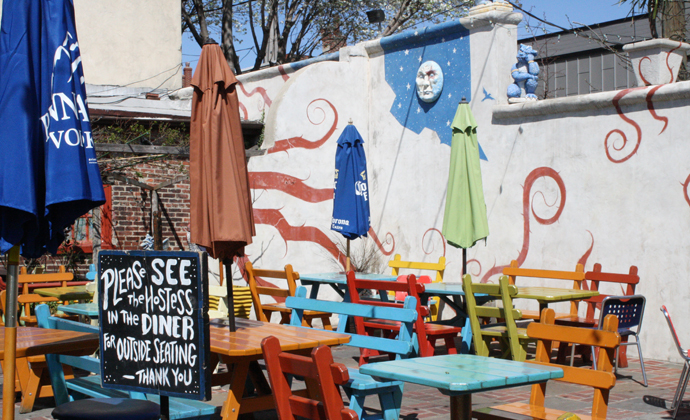 Whether your goal is dancing, drinking or feasting, Silk City's beer garden offers an exciting and vibrant backdrop to a perfect night out. Should you crave a cure for a hangover the next day, Silk City offers one of the most popular brunch menus in the city.
Photo by Drink Philly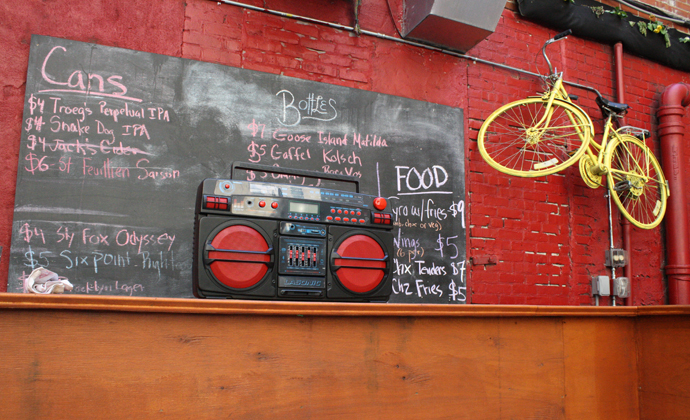 On Drury Street, there's a backyard-sized beer garden (behind Opa) boasting a warm, friendly atmosphere for the center city drinker. The Drury Street Beer Garden has gifted the crowd spilling out of the packed CC bars with a refreshing atmosphere out in the open.
Photo by Drink Philly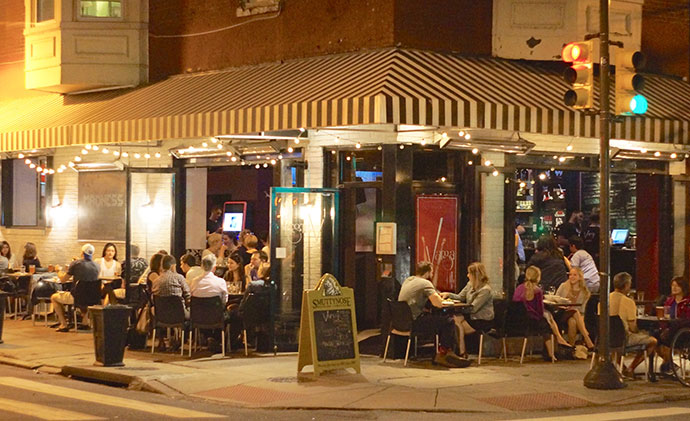 With 20 beers on tap and two casks, the 10th Street seats at Varga Bar are hard to come by. Head over early to grab a spot and enjoy pours of your favorite local and national craft beers.
Photo via Drink Philly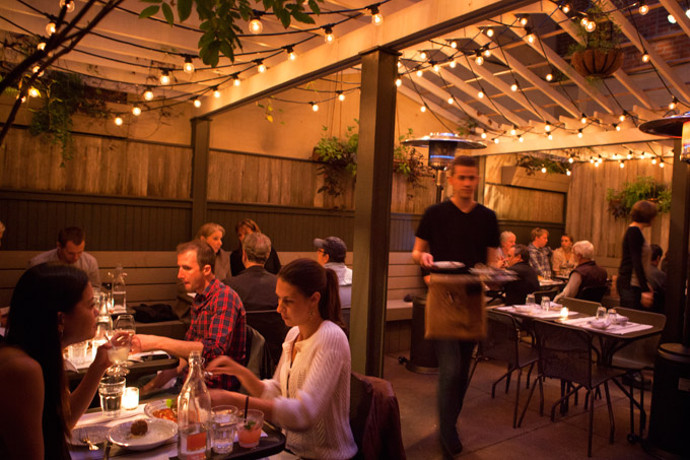 Hidden behind the restaurant's Locust Street storefront, Little Nonna's backyard is meant to look like an Italian grandma's backyard, hanging laundry and all. Cozy up with a Negroni or even better, a sgroppino made with sparkling wine and blood orange sorbet.
Photo by E. Mencher for Visit Philadelphia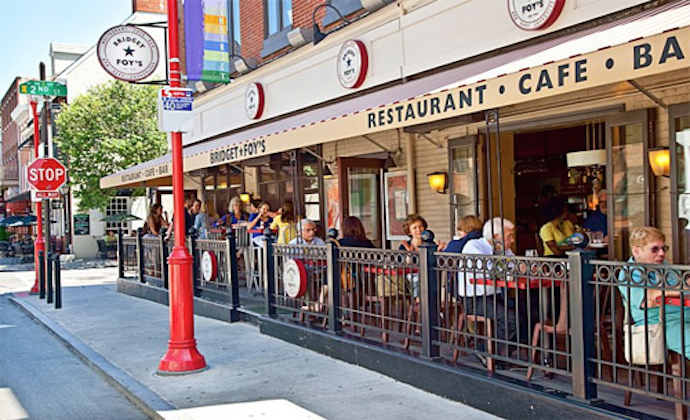 Sitting outside at Bridget Foy's is just like sitting on a front porch on Headhouse Square. Grab a brew or cocktail and relax.
Photo via Bridget Foy's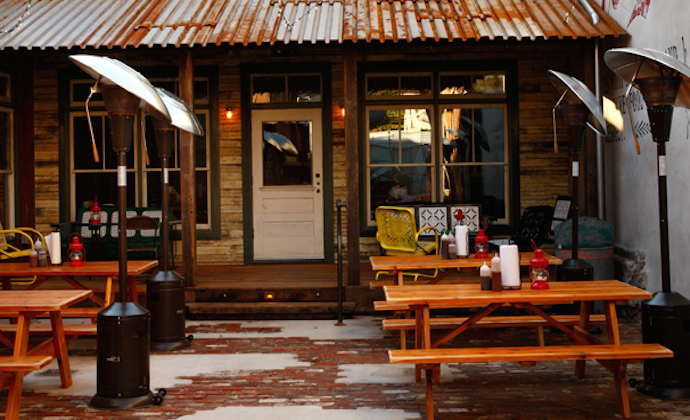 Find picnic tables tucked between exposed brick walls, nine craft beers on tap, cider, and an extensive list of bourbons and whiskeys.
Photo by Jason Varney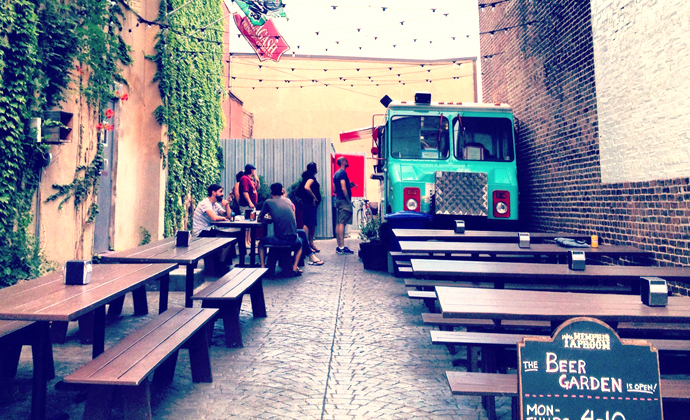 Memphis Taproom's outdoor space opens on April 29. The owners of the Kensington beer garden recently announced that they will be offering full service outdoors this season, which is great news for us outdoor drinking aficionados.
Photo by Philly Love Notes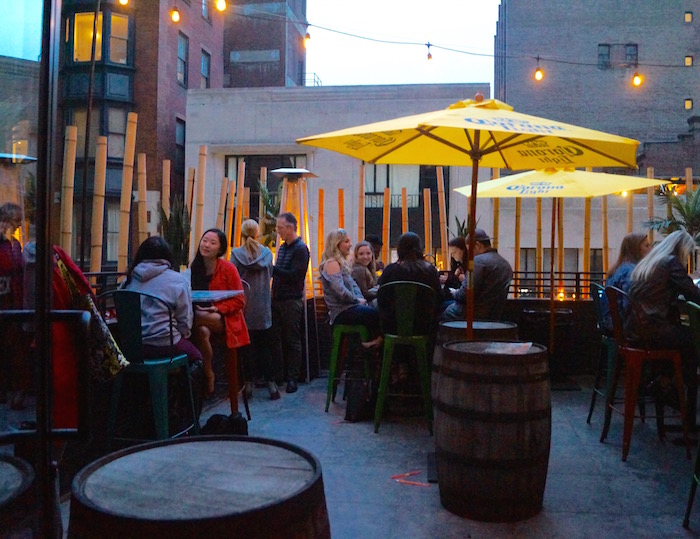 Transport yourself to the islands at this beachy getaway right in the center of Midtown Village. Libations include Mai Tais and other tropical punches. Be sure to stop by for their after hours happy hour as well from 6-8 PM Monday-Friday.
Photo by Drink Philly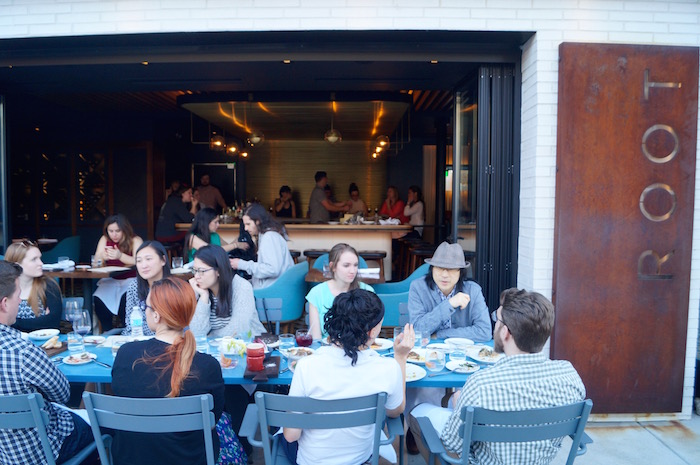 This spot along Frankford Avenue at Girard offers al fresco dining along with delicious European-inspired bites. Grab something refreshing, like one of their four versions of the gin and tonic, and relax.
Photo via Drink Philly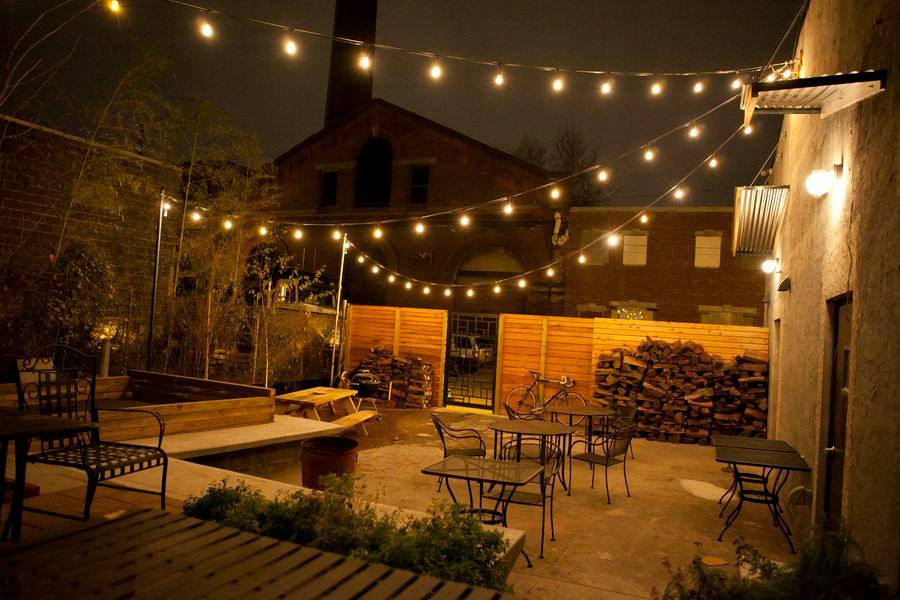 This Fishtown spot offers outdoor dining at their tucked-away patio space. Sip on a cocktail crafted with a local spirit, order some cheese and charcuterie, and kick back.
Photo via Martha on Facebook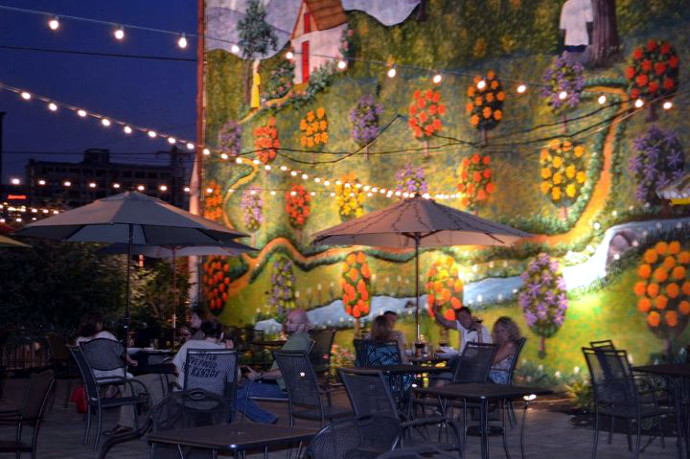 A beautiful outdoor atmosphere that will truly have you feeling as though you are drinking beer in a garden, Llama Tooth has the setup for you to truly embrace your inner nature drinker. The wall mural is beautifully lit at night, and the strings of yellow lights radiate an intimate air. Breathe in the fresh air with a bottled beer, sangria or even some mushroom truffle mac n' cheese.
Photo via Llama Tooth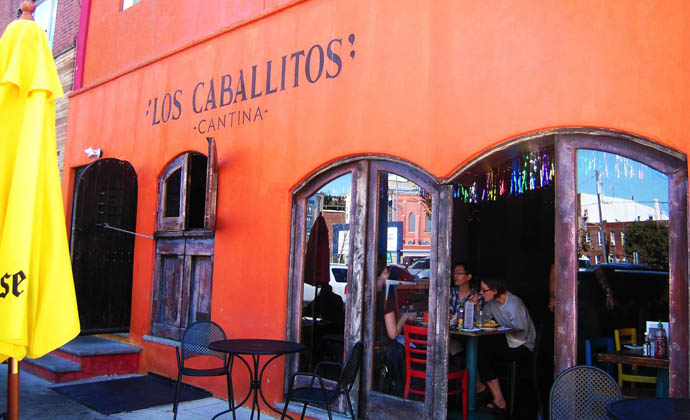 The recently renovated lot adjacent to the restaurant is the largest outdoor space in South Philly and perfect for margaritas.
Photo Courtesy of Two Eat Philly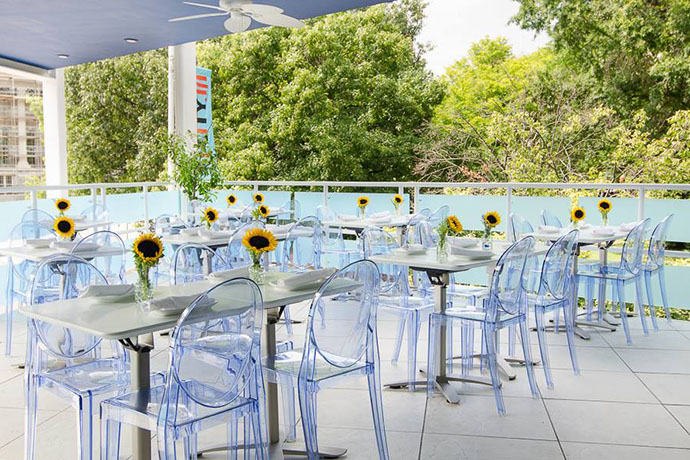 Whether you're stopping in for a pre-cinema cocktail or for an evening of second floor patio drinking, Positano Coast's cocktail list is heavy on the gin drinks (think the Simple Truth, gin with muddled grapes and rosemary) which pair perfectly with the Old City views.
Photo via Positano Coast


Across from Independence Hall and the Liberty Bell, it has a great view from the outside seating.
Photo via Red Owl Tavern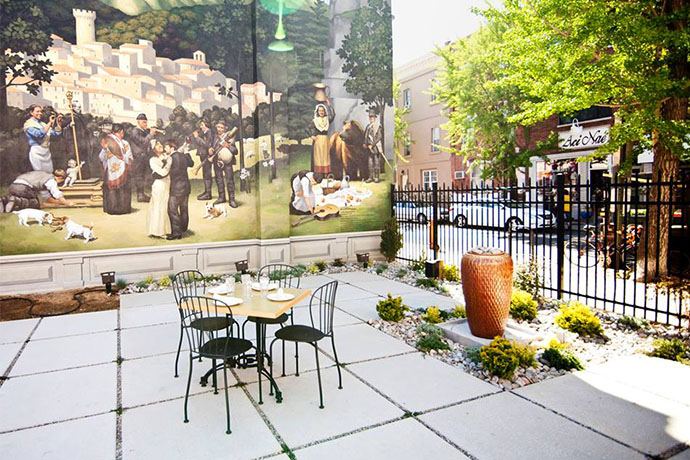 While Passyunk Avenue is hardly interchangeable with the sunny hills of Abruzzo, the patio at Le Virtu does have distinctly 'summertime in Italy' vibes. A section of amaro-based cocktails and Italian wines on draft make for an ideal aperitivo hour.
Photo via Le Virtu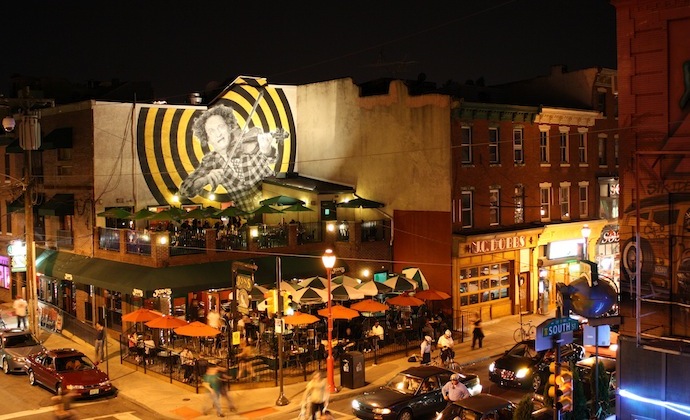 Head to this South Street staple to enjoy two levels of decks and raise a glass over South Street.
Photo via Jon's Bar and Grille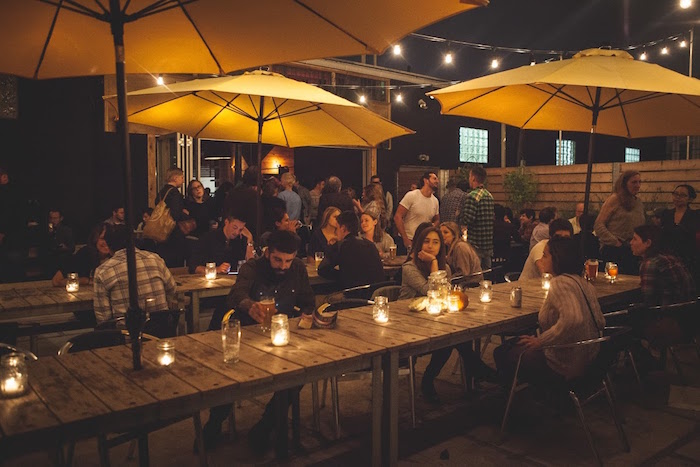 Sip on a local craft beer and dine on the farm fresh meats at this Fishtown spot with an outdoor patio. Lucky for you, they also do happy hour outdoors.
Photo via Kensington Quarters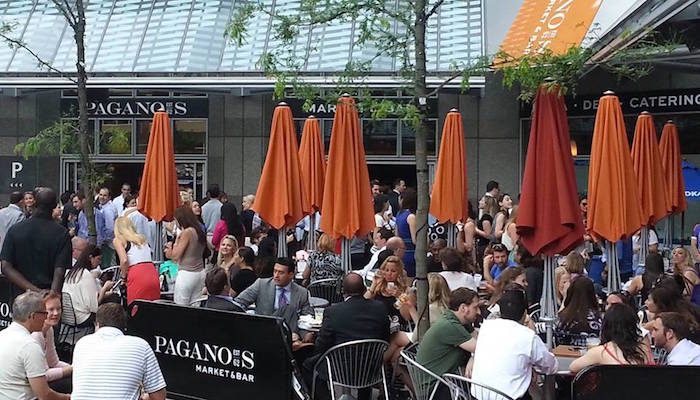 Head to Pagano's in Center City for snacks and specialty cocktails on their outdoor patio right in the heart of the Commerce Square complex.
Photo via Pagano's on Facebook


Tags:
Beer
,
Cocktails
,
Food
,
Outdoor Seating
,
Spirits
,
Wine
Recent Articles

Feedback
How are we doing? Tell us what you like or don't like and how we can improve. We would love to hear your thoughts!