Behind the Bar: Etinosa Emokpae of Walnut Street Cafe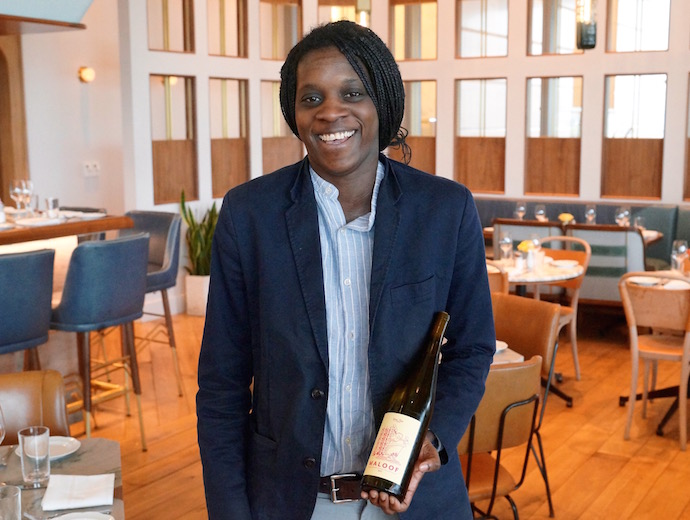 For this installment of
Behind the Bar
, we spoke to
Etinosa Emokpae
, sommelier and manager at West Philly's
Walnut Street Café
. Emokpae, who is originally from the Bronx, attended Hamilton College and moved to Philadelphia from New York two and a half years ago. Currently living in Rittenhouse, Emokpae has been at Walnut Street Café since it opened in June 2017, and we chatted about her time working for Danny Meyer, her favorite wine regions, and what brought her to Philadelphia.
Drink Philly (DP): Tell us a little about the place.
Etinosa Emokpae (EE): Walnut Street Cafe comes from Patrick Cappiello, Branden McRill, and Daniel Eddy (the owners of now-closed Michelin star restaurant Rebelle in New York), who decided to come here and open a contemporary American restaurant. The dishes are approachable - we have plates like burgers and pasta - and we pour 50 wines by the glass, which is a huge undertaking for a wine program. We offer a lot of French and Californian wines from smaller, natural, and biodynamic winemakers. During the day, it's an all-day cafe, so we have space for people to come in and work and enjoy breakfast, lunch, coffees, and pastries. When we switch over to dinner, we take the boards down and it turns into a full service bar and restaurant. I love how the lighting changes the space and gives it a new mood for dinner.
DP: Where did you work before this?
EE: In New York, my first restaurant job was at
Shake Shack
, and I worked my way up through
Union Square Hospitality
[run by restaraunteur
Danny Meyer
]. I worked at several museum cafes, including the original
Untitled at the Whitney
, and the last place I worked in the company was
Maialino
. It was a fantastic experience, and everything that I know and believe in when it comes to hospitality comes from that group. I still use lessons I learned at Shake Shack to this day in service - not just how you treat guests, but how you treat people that you work with. If everyone is happy at work, it'll trickle down to how you treat the guests.
DP: How did you get your start in wine?
EE: Working at Maialino was pivotal to my wine education, because that's when I really started thinking about and getting interested in wine. From there, after leaving the company, I worked for
Andrew Carmellini
and opened
Lafayette
and
Little Park
, and got more into wine. I guess you could have called me a "cellar rat" who helped restock and put things away. I also got a gig at
Wine and Spirits Magazine
through my manager at Lafayette, and I poured wines for sommeliers during blind tastings, where I also got to take wine home and try all the wine.
Josh Greene
, the editor in chief, is one of the best minds in wine, and learning from him and his team was invaluable.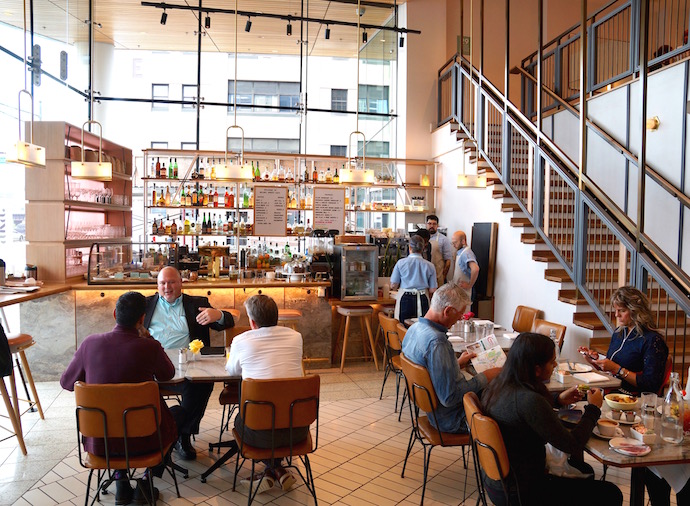 DP: What is it like studying to be a sommelier?
EE: I'm certified through Wine & Spirits Education Trust (WSET), which is a British program that has courses internationally. I have my advanced level through the program. The difference between them and the Court of Master Sommeliers is the latter is more focused on service and independent study. WSET is more class oriented. You have lectures and taste benchmark wines of the world, which culminates in a pretty rigorous exam.
DP: What brought you to Philadelphia & Walnut Street Café?
EE: I needed a change from New York, and the wine scene there felt a bit oversaturated. I knew that Philly had a lot of opportunities when it came to wine - I knew about
a.kitchen
and
Fork
, and applied to those, and staged at all three (including
High Street on Market
) before landing at a.kitchen, where I worked for a year and a half. In between a.kitchen and Walnut Street Café, I worked at
Bar Hygge
and did stints at
Kensington Quarters
with
Tim Kweeder
and at
Osteria
with
Elizabeth Flaminia
.
Mariel Wega
, formerly of a.kitchen, approached me and asked if I was interested in a sommelier position, since she had heard Walnut Street Café was looking for a somm team. The rest is history!
DP: Describe a typical workday.
EE: I'm a floor sommelier and a manager, so it's a lot! I come in around 2 PM. and check the reservations to see what's happening, check in with the all-lady wine team, Kaitlyn Caruke (the Head Sommelier) and Samantha Germani (Bar Manager and Floor Sommelier), to talk about updates to the wine list, any tastings that need to be attended. Then I set up for pre-service meetings - kind of the nuts and bolts that keep the restaurant running. During dinner service, I'm service manager and sommelier and run support for Kaitlyn, so I talk to guests, approach them, and make sure all their questions are answered. I want to be as approachable as possible for guests, since our wine list is big and can be overwhelming, so I just want to be as pleasant as possible.
DP: One unexpected fact about you?
EE: I play the tenor saxophone. I wanted to play the alto saxophone, but my teacher told me I was "too tall!" I haven't played in a while, but I think I could pick it back up again.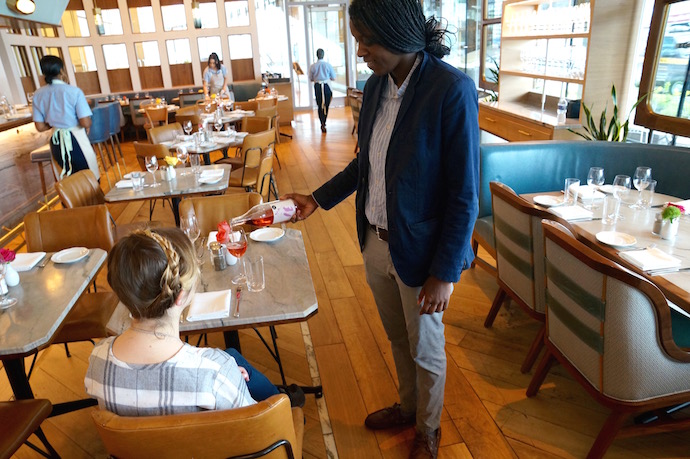 DP: Are there any trends in the wine world you're excited about?
EE: I think everything about canned wines is awesome. Obviously, when the trend started, the wine wasn't great, but there's been a serious uptick in quality. It's so portable and really eco-friendly, and there's some really great stuff happening in canned wines, like
Ramona
,
Scarpetta
, or
Underwood
.
DP: What type of wines are most in demand right now?
EE: Definitely classics. Our clientele are looking for good values and things like pinot noir and chardonnay from places like California and Burgundy. People have also been really excited about Italian wines, and we didn't have a large selection of them when we opened, but we've been adding them to our list because of the demand. Old world wines are here to stay.
DP: Are there any underrated wines you think more people should know about?
EE: For me, I love what's going on in Spain right now.
Envínate
, a wine project made up of 4 friends who went to enology school together, make really cool wines from smaller parcels throughout the Ribeira Sacra and the Canary Islands. These are really soulful red wines with lots of earthiness and minerality. We have one of their wines, Albahra, which is fantastic.
Laura Lorenzo
is another producer that I love. All these wines are super food friendly and can introduce people to a new kind of Spanish wine, away from the over-extracted Riojas. I think people want lighter, lower alcohol, balanced styles, and these winemakers are certainly leading the pack!
DP: Favorite beer?
EE: Anything from
Jolly Pumpkin
! It's my favorite brewery out of Michigan, and I love their focus on sours. Sours are my favorite because they have a similar qualities to wine, are really funky, and they're so food-friendly!
DP: Favorite cocktail?
EE: A Last Word.
DP: Favorite spirit?
EE: Gin. I love the Dorothy Parker Gin from
New York Distilling Company
. I haven't seen it carried here, but I it was featured in many restaurants I worked at in New York.
DP: Favorite wine?
EE: Beaujolais is my favorite region, hands down, and I especially love Fleurie.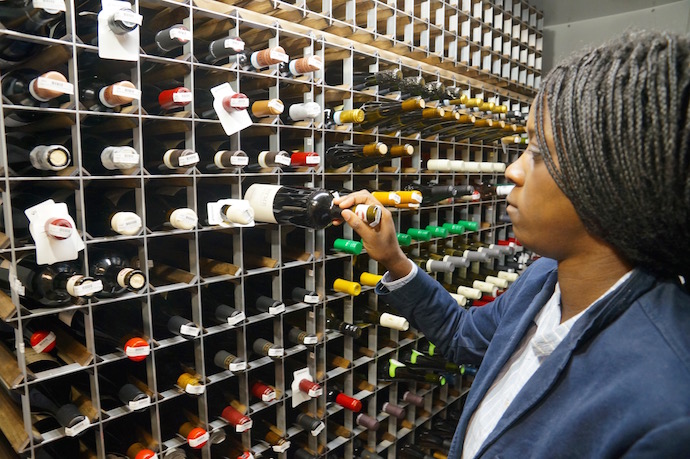 DP: What's your favorite kind of customer?
EE: People that are curious, open, and willing to let me lead them down a new path and experience to something different. I want guests to know we're here to help them find a bottle of wine that's the right fit and the right price for them.
DP: What's your favorite part of your job?
EE: Definitely the teaching factor. We have two wine classes every week for the staff, and I teach on Thursdays, where we taste all the wines by the glass. I love seeing how people learn and digest in different ways, and I love learning how to teach different people and make sure they get the fullest learning experience. The classes are only 5-6 students, so it's small enough for a personal approach, and it helps me learn too - not just about teaching, but about guest interactions while I'm answering questions from the staff.
DP: Where do you go for a drink when you're not working?
EE: If I want a low-key beer and a Fernet shot, I go to see
Michael
at
The Bards
, which is right near where I live - he's a great guy who's really warm and inviting. If I want a fancy cocktail, I'll go to
Friday Saturday Sunday
and visit
Madison
,
Sacha
, or
Paul
. If I make it up north, I love going to
Martha
for wine and beer on tap.
The Good King Tavern
has a great wine selection - I love talking to
Chloe
there - and I love going back to
Bar Hygge
, to see what new creations
Nicole Testa
has concocted for their cocktail list.
DP: Do you have any advice for aspiring sommeliers?
EE: Making sure that you learn every aspect of the restaurant. It is so important because being a sommelier means you're working every angle of the restaurant beyond just serving wine. It'll only help you in your career if you understand every facet, so you can jump in where you're needed.
DP: If you could have a drink with any famous person, living or dead, who would it be and what would you drink?
EE: Lee Campbell, the wine buyer for all the Andrew Tarlow restaurants in New York (Reynard, Diner) because I think her career is fascinating - she's one of the few black female sommeliers in New York. At a time when natural wines were still a bit underground, she was a pioneer in bringing those wines to the city. We would definitely drink something natural from the Loire.
Photos via Drink Philly
Tags:
Behind the Bar
Recent Articles

Feedback
How are we doing? Tell us what you like or don't like and how we can improve. We would love to hear your thoughts!