Behind the Spirit: Aaron Selya, Master Distiller of Philadelphia Distilling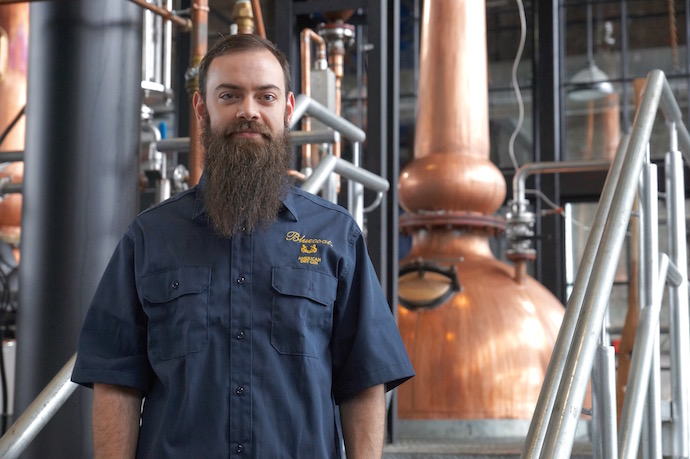 For our first installment of
Behind the Spirit
, we spoke to
Aaron Selya
, the head distiller at
Philadelphia Distilling
(home of
Bluecoat American Dry Gin
). Selya, who grew up in Hatfield, attended Indiana University of Pennsylvania, and currently lives in Fishtown, has worked for Philadelphia Distilling since 2014. We chatted about traditional London dry gin, his background in research, and Swiss absinthe.
Drink Philly (DP): Tell me about Philadelphia Distilling.
Aaron Selya (AS):
Philadelphia Distilling
was the first distillery in PA since Prohibition, and it started in 2005. A great story is that when they applied for their distillery license, PA wasn't granting them at all, so they actually got a brewery license and crossed out "brewery!"
The tasting room opened in 2017, and having the tasting room and distillery next to each other has been really incredible, in that working this closely with amazing bartenders has made me think way more about cocktails. I think working in this space has also helped me think about our spirits in a different way — we have so many representatives, and we bring them in to show them the process and talk about the spirit all the time. Bringing cocktails into that process has made me think more about the spirit as not just a spirit, but a mixing component and its overall flavor structure — and most importantly, why Bluecoat Gin works so well.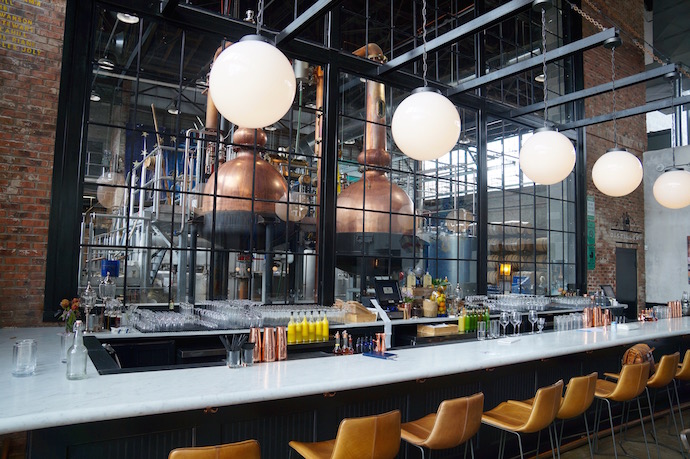 DP: Where did you work before this, and how did you get into distilling?
AS: After college, I worked at Johns Hopkins' medical school as a researcher in immunology, and Abby, my partner to this day, was also a researcher there in a different lab. Once she got her degree in library and information science, she got a job at University of Utah, so I moved with her and got a job at a brewery in Salt Lake City called Epic Brewing as the lead cellarman, after homebrewing and working at a homebrew shop and SLC elsewhere in Utah. My parents made wine a lot growing up, and I helped them with that throughout my childhood and teenage years, so I was really familiar with the idea of making your own alcohol. Abby and I wanted to move out of Utah, so we came back to the Philadelphia area and I started here. When I started, I was hired as a distiller, and became head distiller in an official capacity once we opened the new distillery and tasting room.

DP: Describe a typical workday for you.
AS: We're doing 24 hour Bluecoat Gin production right now, so I'll get here around 4 AM when we're in that process. I check in with whomever took the overnight shift about what needs to be done, and then start thinking about bigger things — packaging for the day, packaging for the future, what products need to be dealt with — and really just manage the day to day operations of the distillery itself. I also deal with bigger picture issues like scheduling, storage and inventory. Overall, I manage a team of 10-12 people and I try not to work more than 9-10 hours.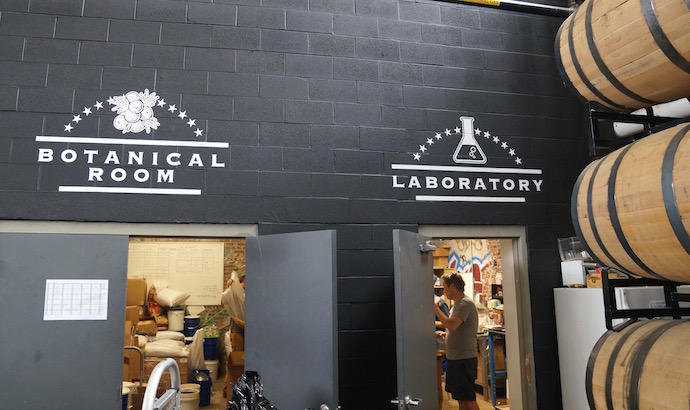 DP: What's trendy in spirits right now?
AS: I'd like to think gin is trending right now! I definitely have a pretty skewed view of that, because I interact with people who want to talk about gin more than other spirits. I think whiskey is still trending upwards, and I think we're seeing small trends where people are looking for more savory flavors in their gin. Rums are also getting really popular, especially funkier rums.
DP: What's a trend in spirits that you wish would die?
AS: This is a personal preference for me, but I don't like gins that have a lot of late palate, warm, baking spice flavors, like cloves.
DP: Any predictions about where the industry might go next?
AS: I think local spirits are getting bigger and bigger. We saw this big emphasis in the beer world on locally produced beer, and I think the spirits world will focus on liquors that are made locally going forward.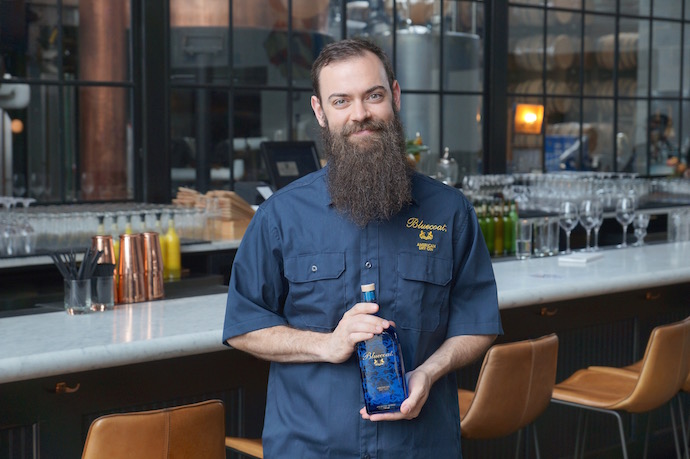 DP: One unexpected fact about you?
AS: Originally, I wanted to work in viral genetics and medical research.
DP: What's special about gin?
AS: Gin is interesting in the world of traditional spirits because it's not a "base" spirit. It's not directly resulting from the distillation of a specific sugar source, like whiskey. Gin is kind of like a second tier of spirit, where it's essentially a flavored version of the distillation product. You're adding flavors into what is essentially a finished product, and distilling it again, so it's a variation of a base spirit, but the possibility of flavors is much broader because you're not limited to the flavors that come up during the distillation of a specific source — you have a huge range of botanicals that you can use in gin.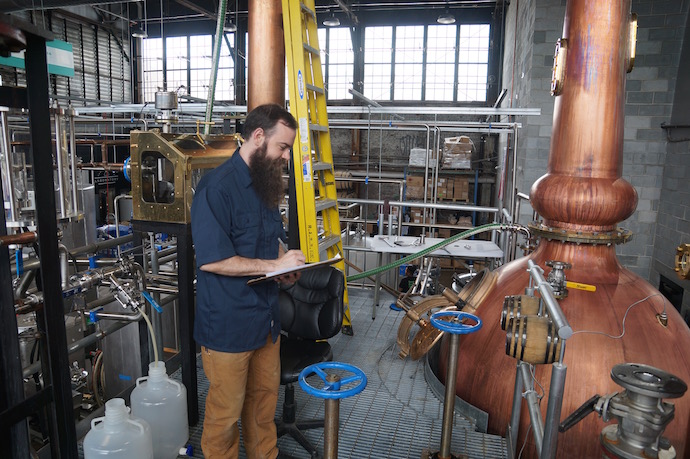 AS: Well, I've been working on developing my own amaro, so I had a variety of botanicals I was bringing into the tasting room. We've been playing with infusing Bluecoat Gin with things like elderflower and rose hips for a number of years. When we moved into this space, we wanted to create a distillery exclusive of Bluecoat Gin that would bring people into the distillery and tasting room itself, so we looked at the test infusions we'd been making. We tried elderflower, and it seemed to really have some legs, so we tested it in some cocktails with
Canyon [Shayer, the bar manager at Philadelphia Distilling]
.
We definitely have more expressions in the works, but I'd like to play those close to the chest. We made 600 bottles at first, and we sold about 500 bottles the first week.
DP: What's different about Bluecoat Gin?
AS: The amount of citrus in Bluecoat Gin is very different than a traditional London dry gin, in that we add way more, which means that the citrus softens the impact of the juniper so you don't get the sharpness of that flavor. On your palate, when you experience the gin, the juniper is forced to almost compete with the citrus. We also use a less harsh juniper than others do.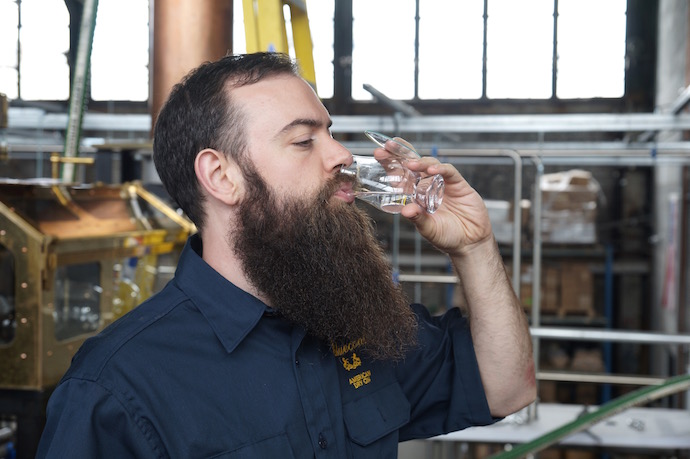 DP: Do you have a favorite Philadelphia Distilling product?
AS: Vieux Carré Absinthe has a special place in my heart, because like a true Philadelphian, I'm a fan of the underdog. I've got some Swiss heritage, and as a kid, I went to Switzerland. Ours is made in a very Swiss tradition.
DP: What's your favorite beer?
AS: Rauch beers or smoked beers — similar to absinthe, I like the underdog! Not a lot of people make rauch beers anymore. I also drink a lot of Victoria from Mexico, made by Modelo.
DP: What's your favorite cocktail?
AS: A 50-50 martini, which I first tried at
Urban Farmer
. It really opened my mind to 50-50 martinis.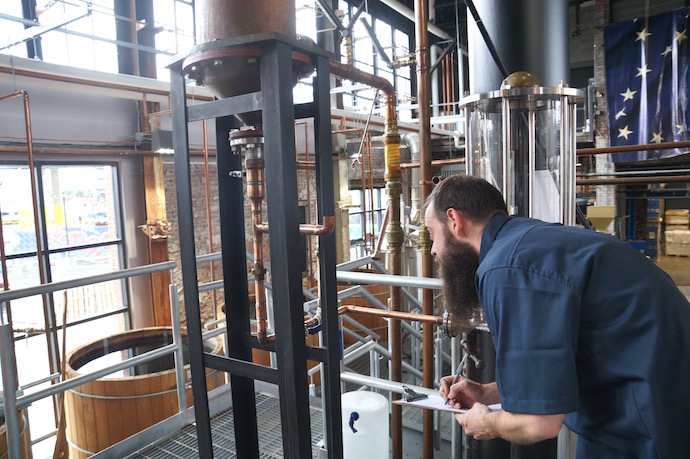 DP: What's a cocktail faux pas you hate?
AS: Ice shards in my drink — it's a result of overshaking, under-straining, and bad ice.
DP: What do you think the essentials are for a good home bar?
AS: Bluecoat Gin! But really, I think you need stuff for classic cocktails, like a good (but not too expensive) bourbon for mixing, some bitters, and good vermouth (that you keep in your fridge). I also think people should practice making fresh juice and fresh simple syrup.
DP: Where do you go for a drink when you're not working?
AS: I have a lot of respect for tons of bartenders throughout Philly, but since I live in the neighborhood, some spots I stop into a lot are Lloyd and Kensington Quarters.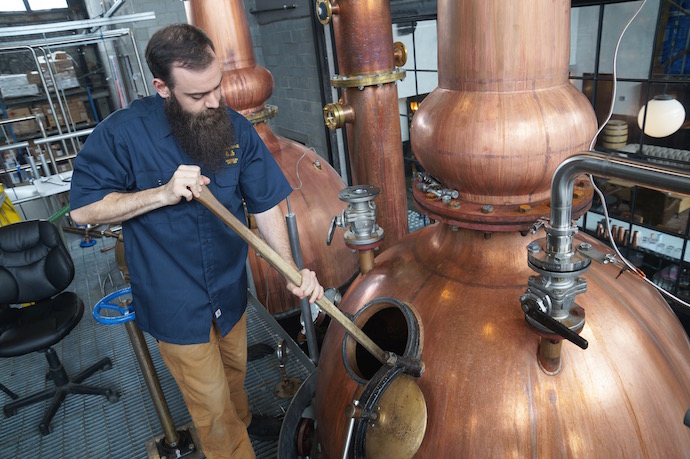 DP: Are there any distillers in Philadelphia you're a fan of?
AS:
Dean Browne
at
Rowhouse Spirits
and
Walter Palmer
at
Palmer Distilling Company
are two other gin-makers in Philadelphia, and they're both great — plus, their gins are totally different from Bluecoat Gin.
DP: What advice would you give to someone who wants to become a distiller?
AS: Having some chemistry background isn't necessary, but it's definitely helpful. There's a lot about the distillation process where it helps to know some of the science behind it. Otherwise, just like brewing or a lot of other beverage production, there's a lot of cleaning — so if you don't like cleaning, this may not be the job for you. I also think distillers need pretty broad palates, so familiarize yourself with different types of spirits as much as you can. I think that when you say someone has a "good" palate, it just means someone is good at putting what they're tasting into words, so most people can build up those neural pathways and have a "good" palate.
DP: If you could have a drink with any famous person, living or dead, who would it be, what would you drink, and why?
AS: Not to be too "on brand," but probably one of the founding fathers. Maybe Franklin or Jefferson. I'd love to pick their brains about starting a new country and how they imagined it would develop. And, of course, we would have to talk about spirits and alcohol, what flavors they like and what they don't like. I'd like to think they'd be into Bluecoat Gin.
Photos via Drink Philly
Tags:
Behind the Bar
,
Behind the Spirit
Recent Articles

Feedback
How are we doing? Tell us what you like or don't like and how we can improve. We would love to hear your thoughts!