Best Bars for Wings in Philadelphia
by
Drink Philly
on Jan 27, 2014 in
Roundups
for
Abbaye
,
Alla Spina
,
Bainbridge Street Barrel House
,
Bierstube
,
Cavanaugh's Headhouse Square
,
Cavanaugh's Rittenhouse
,
El Camino Real
,
Ela
,
Fergie's Pub
,
Good Dog Bar
,
Growler's
,
Industry, The
,
Irish Pol
,
Jose Pistolas
,
Khyber Pass Pub
,
McCrossen's Tavern
,
Memphis Taproom
,
Moriarty's
,
North Third
,
Perch Pub
,
Prohibition Taproom
,
Pub & Kitchen
,
Pub on Passyunk East
,
Redwood
,
Resurrection Ale House
,
Royal Tavern
,
Sidecar Bar
,
South Philly Tap Room
,
Sto's Bar
,
Varga Bar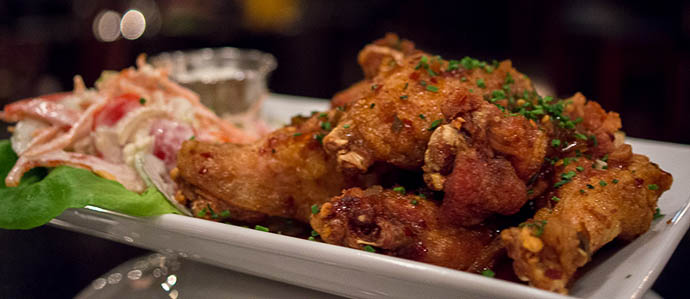 Hot, sticky, spicy or sweet, there's hardly any better bar food than juicy, finger-licking wings. According to Food & Wine, Philly is home to some of the best wings in the whole country — North Broad's Alla Spina landed a spot on the magazine's Best Chicken Wings in the U.S. list. There are actually many great places to get your wing fix in Philly. Check out the best bars for wings in Philadelphia, just in time for Super Bowl XLVIII on Sun., Feb. 2.
The Abbaye: In addition to its one-of-a-kind Smoky Chimay Wings, the NoLibs watering hole offers one of the city's best meatless and completely vegan options with its crispy seitan "wings" tossed in a secret spicy sauce. ($7/$8)
Bainbridge Street Barrel House: The Queen Village craft beer and whiskey bar serves its wings in two styles: traditional Buffalo and Stout Infused BBQ. ($10)

Bierstube: The Sweet Heat Wings wings at this Old City bar have a nice sweet heat from Asian chili hot sauce, and are served with blue cheese dip and celery stalks ($7.99).

El Camino Real: This Northern Liberties Mexican is one of the few places to offer a vegetarian option along with regular smoked chicken wings and pig wings ($9/$16).

Cavanaugh's Rittenhouse or Cavanaugh's Headhouse: Choose mild, hot, third degree or a special house sauce for the killer wings at this Rittenhouse or Headhouse Square sports bar ($7/$12.99). Or get them to go for just 75 cents a piece for orders of 50 or more. Place orders via Cav's website.
Ela: Once again recent Top Chef'testant Jason Cichonski is offering a crazy assortment of wings for take-out at his Queen Village spot, Ela. Wings must be ordered in advance, and picked up either the day before or the day of the Super Bowl. They're being offered in five different sauce variations, including Burnt Honey and Lime, Truffle Parmesan and Herb, Classic House-Made Hot Sauce, Spicy Salted Caramel, Coq au vin (red wine, thyme, bacon & caramelized onion). Pre-order them via the restaurant's website or call 267-687- 8512. ($10)

Fergie's: Deep-fried and seasoned chicken wings with mild, spicy, the face-melting Limerick house sauce, or Pete's spicy with coffee and brown sugar will satisfy at this Midtown Village hang. Vegetarian wings also available with your choice of sauce ($7.50).

Good Dog Bar: This 15th Street pub's burger is legendary, but their wings are pretty darn good too. Enjoy 10 jumbo wings smothered in house wing sauce ($14).

Growlers: This Bella Vista bar has a unique sauce options, including Jameson BBQ, Really Hot, or Growlers House Sauce.

The Industry: Try the General's Wings at this Pennsport spot, which bring a pound of jumbo chicken wings with General Tso's sauce ($12).

Irish Pol: Forget everything you know about Buffalo-style, the hot mustard wings at this Old City bar are smokin' ($9).

Jose Pistolas: Known for their excellent tacos and beer list, this Center City cantina didn't neglect wings either. Try the large wings hot, smoked, or BBQ ($10).

Khyber Pass Pub: The Old City beer serves three types of grilled chicken wings; Buffalo, chiptole-bourbon BBQ and honey habanero. You have the option to sample all three, and you should go for it ($11).

McCrossen's Tavern: Get the regular or habanero version of meaty wings at this Fairmount gastropub ($9/$16).

Memphis Taproom: Out in Kensignton, find pilsner-brined hot wings served with blue cheese, carrots and celery ($11).

Moriarty's: It's classic bar style for the wings at this Wash West Irish pub. Buffalo sauce, celery, blue cheese, it's all there in a satisfyingly big portion.

North Third: Get 'em by the pound at this NoLibs bar, in the house famous or Asian style with peanuts (1 lb. for $10).
The Perch Pub: High above the Avenue of the Arts, Perch Pub serves up a tasty rendition on classic Buffalo but with a bodacious jumbo-sized wing. They also serve a "naked" option for those who don't like it hot. ($12)

P.O.P.E: Munch on either mild, habanero mole or honey BBQ buffalo wings on East Passyunk Avenue ($8).

Pub & Kitchen: Find seriously fingerlickin' smoked chili vinegar wings made with organic chicken at 20th and Lombard ($11).
Redwood: The South Street spot puts an Asian spin on its wings, tossing the little flappers in zingy hoisin, honey and sesame sauce. ($9)

Resurrection Ale House: This Grays Ferry bar is noted for fried chicken, so you know the Resurrection wings with za'atar spice and lemon yogurt or the Ale House wings with the spicy house sauce and poppy seed ranch have a great chance at winning you over ($10).

Royal Tavern: You can sample Buffalo, chipotle BBQ, mango habanero or all three at this Bella Vista pub, served with pickled daikon, carrots and Gorgonzola ranch ($11).

South Philadelphia Tap Room: The South Philly gastropub keeps it spicy with fried wings with chili sauce and pickled turnips ($10).
Sto's Bar: With what may be Old City's broadest selection of different wing styles, Sto's offers something for almost everyone. Choose from Sto's Hot Sauce, Yum Yum Spicy Korean BBQ Sauce, Soy Glazed, Smokin' Parm, or the habanero and lime spiked Face Sweaters. ($7/$12)

Varga Bar: Don't miss these duck confit wings with pomegranate-molasses-bourbon-chili sauce at the Wash West tavern. These are some of the most succulent, fall off the bone wings that you'll ever eat ($11.50).
Photo by Danya Henninger
Tags:
Food
Recent Articles

Feedback
How are we doing? Tell us what you like or don't like and how we can improve. We would love to hear your thoughts!