Snow Day: Bars Open in Philadelphia and Offering Specials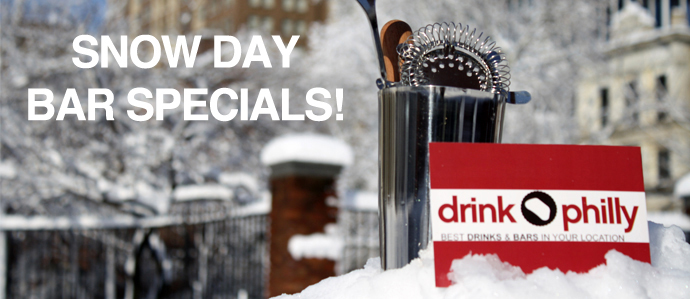 As adults, we can look forward to Snow Days just as much as the kiddies. Just like when you were a youngster, huddled close to the TV or radio anxiously awaiting word on whether school was going to close, stay tuned to Drink Philly today as we bring you the latest on bar openings, closings and snow day specials.
The following is for January 3, 2014:
Bierstube German Biergarten (206 Market St.; 215-922-2958)
Open and serving $3.99 pints of Oktoberfest while supplies last (since the first big snow storm means Oktober is finally over); Snow Jazz special performance at Stube Underbar from 8 - 11 PM.
Brauhaus Schmitz (718 South St.; 267-909-8814)
Open regular hours, and hosting a Brown Bags to Riches snow day party. Six bucks gets you a mystery beer plus some Brauhaus swag.
Bridget Foy's (200 South St.; 215-922-1813)
Open noon to midnight, serving $3 Christmas beers, and $5 dry martinis.
Cambridge (1508 South St.; 267-455-0647)
Open at noon.
Chris Jazz Cafe (1421 Sansom St.; 215-568-3131)
Open 11 AM - 2 AM, serving lunch specials starting at $6 and drink specials straight through happy hour.
Davio's Philadelphia (111 South 17th St.; 215-563-4810)
Open 11:30 AM - 2:30 PM, and 5 - 11 PM, offering its "Cold Weahter Special" (complimentary Davio's Spring Rolls in the bar with proof of current temperatures below 32 degrees) in the bar.
Doobies (2201 Lombard St.; 215-546-0316)
Open 2 PM - 2 AM with happy hour specials all day and all night; hot chocolate, coffee and hot cider; wall fireplace, board games, movies, jukebox; kitchen open until 1 AM.
Drinker's Pub (1903 Chestnut St.; 215-564-0914)
Open at 11:30 AM, and will have $3.50 Lager drafts, $2.75 Narragansett, $3 Coors Banquet, and $5 Slow & Low whiskey.
Eulogy Belgian Tavern (136 Chestnut St.; 215-413-1918)
Open and serving $3.99 pints of Oktoberfest while supplies last.
Field House (1150 Filbert St.; 215-629-1520)
Open regular hours, offering $4 select beers, including Victory Lager, Harpoon UFO White, Harpoon IPA, and Goose Island Nut Brown; and $4 pinnacle cocktails.
Garage (1231 E Passyunk Ave.)
Open regular hours, offering $3 domestic cans and $5 Fireball shots.
The Grape Room (105 Grape St.; 215-930-0321)
Open 7 PM - 2 AM, serving $3 Pabst Blue Ribbon pounders until 10 PM.
Grey Lodge (6235 Frankford Ave.; 215-856-3591)
All day Dogfish Head's Shiny New Year Tap Takeover, beginning at 10 AM.
Jet Wine Bar (1525 South St.; 215-735-1116)
Open 11 AM - 1 AM, and offering a free shot of apricot brandy with every hot mulled wine ordered.
London Grill (2301 Fairmount Ave.; 215-978-4545)
Open regular hours and offering "usual suspects" bottled beer specials (Bud, Miller, Coors, Yuengling, Corona) with 25 cents off for every inch of snow accumulated; and a burger special with 50 cents for every inch of snow accumulated.
McCrossen's Tavern (529 N. 20th St.; 215-854-0923)
Open 11:30 AM, and offering lunch, dinner and late night menus. Snow day specials include hearty beef chili with white cheddar, and scallions; and braised rabbit orecchiette with shiitake mushrooms, leeks, pancetta, and brussels sprouts.
North Star Bar (Poplar St and N 27th St.; 215-787-0488)
Open 5 PM, and serving happy hour specials like $3 drafts, 50-cent wings, and half-priced mussels until 7 PM. After 7 PM, dinners will be 20 percent off.
Pennsylvania 6 (114 S. 12th St.; 267-639-5606)
Offering 5$ hot toddies, $3 Yards drafts, $5 bubbly and half-price burgers.
Public House (2 Logan Sq.; 215-587-9040)
Open at 2 PM, and offering $5 Snow Cone Cocktails, $3 Coors Light bottles and $7 appetizers.
Ray's Happy Birthday (1200 East Passyunk Ave.; 215-365-1169)
Open from 7 AM with daily special of a can of Yuengling Premium and a shot of Windsor for $4.00.
SoWe (918 S. 22nd St.; 215-545-5790)
Open at 11:30 AM, and offering Yards Love Stout and shot of Jack Daniels for $6.
Time (1315 Sansom St.; 215-985-4800)
Opening at 5 PM and serving $3 Goose Island Honkers Ale and $1 off all drafts.
Trestle (339 N 11th St.; 267-239-0290)
Extended happy hour until 8 PM, featuring $2 off all whiskey sours and drafts and $3 Round Guys Original Slacker Ale, Horny Goat Stacked Milk Stout, and Southern Tier 2X(MAS) Rye.
Valanni (1229 Spruce St.; 215-790-9494)
$5 sangria all night.
Feedback
How are we doing? Tell us what you like or don't like and how we can improve. We would love to hear your thoughts!