Tap Into Philly Beer Week's Bottomless Barrel of Suds-Sipping Fun
by
Drink Philly
on May 28, 2014 in
Event Listing
for
American Sardine Bar
,
Barcade
,
Barren Hill Tavern & Brewery
,
City Tap House
,
Devil's Den
,
Dock Street Brewing Company
,
Frankford Hall
,
Grey Lodge Pub
,
Industry, The
,
Institute, The
,
Johnny Brendas
,
Kite & Key
,
Monk's Cafe
,
Moriarty's
,
Nodding Head
,
Old Eagle Tavern
,
Perch Pub
,
Percy Street Barbeque
,
Red Owl Tavern
,
South Philly Tap Room
,
Strangelove's
,
Varga Bar
,
World Cafe Live
,
XFINITY Live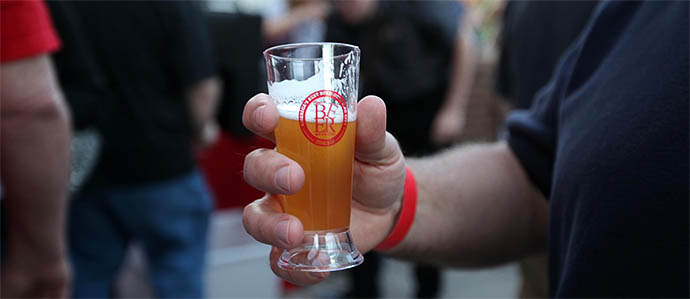 Whether or not you're ready for it, Philly Beer Week is upon us. Over the course of the annual citywide beer celebration's 10 days, which this year run May 30 through June 8, Philadelphia will be awash in tastings, tappings, beer pairings, music fests and a bottomless barrel of suds-sipping events and activities. We'll spotlight some of the many happenings in detail, but here we have a brief rundown of some of the week's standout events.
Festivals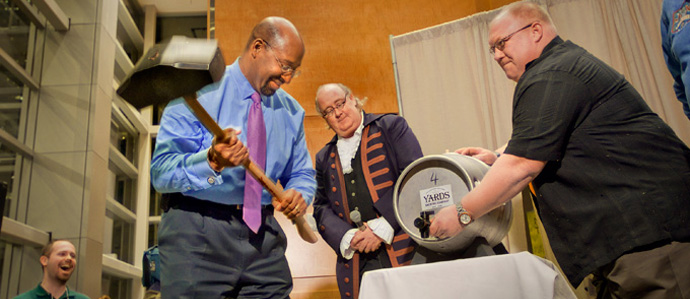 Opening Tap
Fri., May 30 7 - 10 PM
23rd Street Armory (22 South 23rd St.)
Beer Week isn't officially underway until Mayor Michael Nutter taps the ceremonial first keg at this premiere "Don't Miss" event. More than 30 local breweries will be on hand for the tapping, which also serves as the debut of Philly Tripel, PBW's collaboration beer with Dock Street and Belgian beer makers Brouwerij Dilewyns.

Dock Street Philly Beer Week Music Fest
Sun., June 8, 4 - 8 PM
Dock Street Brewery (701 South 50th St.; 215-726-2337)
Grab a pint of Dock Street's Pimp My Rye IPA, some wood-fired pizza, and kick back with the tunes some awesome local bands will be cranking for Dock Street's sixth annual Beer Week Music Fest. This year will feature Grandchildren, West Philadelphia Orchestra, and Gliss. Along with the tunes, there will be canjam, ladder toss, and other outdoor games to enjoy for free.

It's a Firkin Riot
Sat., May 31, 11 AM - 10 PM
Johnny Brendas (1201 N. Frankford Ave.; 215-739-9684)
This riotous affair, which brings dozens of rare and one-off cask-conditioned ales from local producers to Johnny Brendas, is easily one of Beer Week's most popular events. The lineup includes casks from Yards Brewing Company, Victory Brewing Company, Sly Fox, Troegs, Dogfish Head, Neshaminy, Stoudt's and more.
International Great Beer Expo
Sat., May 31, 12:30 - 5 PM
Parade Grounds at the Philadelphia Navy Yard (4747 S. Broad St.)
Seventy-five-plus brewers and breweries from 25 different countries will be pouring upwards of 200 beers at this daylong festival at the Navy Yard. Proceeds from the fest benefit the Committee To Benefit The Children, a local charity that provides resources for the treatment and care of children with cancer, leukemia and serious blood disorders.

5th Annual Fruit Beer Festival & Food Drive
Sat., May 31, 11 AM - 8 PM
The Institute (549 N. 12th St.; 267-318-7772)
The Institute is partnering with Philabundance and Greensgrow for this year's installment of its annual celebration of Fruit Beers and Ciders. More than 20 different fruit beers and ciders will be on tap. Bring a canned good for donation and receive $2 off your first draft. Greensgrow's CSA mobile produce truck will be on hand, offering samples of local farm foods, while the Institute's kitchen will be serving a special fruit brunch menu all day.
Maryland Crab & Beer Fest
Sat., June 7, Noon - 12 AM
Old Eagle Tavern (177 Markle St.; 215-483-5535)
Maryland is invading Manayunk for the day when Old Eagle Tavern features all Maryland brewed beers and a real Maryland Crab Fest. All draft and bottle beers from Maryland breweries will be $1 off all day. While you sip, enjoy a items off a special Crab Fest menu as well as owner Erin Wallace's mom's own infamous Crab Sou. Maryland beers include: Stillwater/Brewer's Art Debutant, Stillwater Why Can't IBU, Evolution, Flying Dog, DuClaw, and many more!

The Third Annual Fishtown FestivALE
Sat., June 7, Noon - 8 PM
(1201-1210 Frankford Ave.)
Join Johnny Brenda's, Fette Sau and Frankford Hall as they shut down Frankford Ave. between Girard and Shackamaxon for one of Beer Week's biggest blowouts. Cold beers and tasty eats will be served up, while DJs the PBW Hammer of Glory, a Dunk Tank and other sudsy fun activities will keep the party hopping all day.

Beer Gardens and Block Parties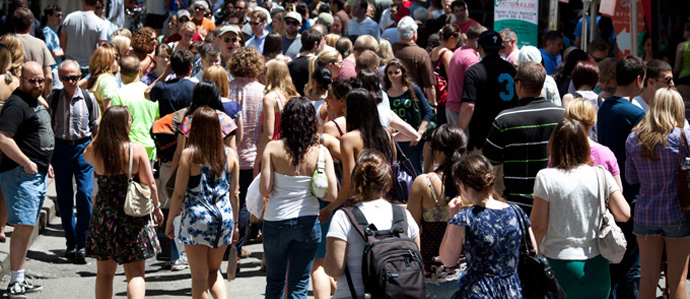 Philly Beer Week Garden
Mon., June 2 - Thurs., June 5, 5 - 9 PM
The Shambles at Headhouse Square (200 Pine St.)
Beer Week brings this pop-up beer garden to the historic Shambles at Headhouse for four fun filled nights. Each evening will present a different featured beer and live music act for your enjoyment. Check the Philly Beer Week website for daily updates.
Quince Street Beer Garden
Sat., May 31, 1 - 6 PM
Moriarty's (1116 Walnut St.; 215-627-7676)
For the second consecutive year, Moriarty's is closing off Quince Street to make way for its Beer Week beer garden. A special tap lineup that will feature cool new brews from Widmer Brothers and Kona Brewing Company (among others) will served al fresco for one night only.

Shakedown Street Beer Festival
Sat., June 7, 1 - 7 PM
City Tap House (3925 Walnut St.; 215-662-0105)
City Tap House beer guru Andy Farrell can trace his love affair with craft beer back to his days of partying in the parking lots outside of Grateful Dead and Phish concerts as a college kid. For this year's Beer Week, he's recreating the experience with a solid lineup of cool craft brews from the likes of Sierra Nevada, Anchor Brewing and more and an equally impressive roster of live music, including sets from Splintered Sunlight and Control for Smilers.
Craft Beer Day On East Passyunk
Sun., June 1, 10 AM - 2 AM
(Multiple locations)
Eight bars located along the booming East Passyunk eating and drinking corridor are teaming up to throw a 16-hour, beer-soaked extravaganza for Beer Week. Participating bars, including Birra, Bottle Shop, Garage, Le Virtu, Lucky 13, Noir and Pub on Passyunk East, will offer revelers a host of beer and food specials.
Clown Shoes Carnival
Tue., June 3, 7 PM - Midnight
Devil's Den (1148 S. 11th St.; 215-339-0855)
Clown Shoes is bringing a carnival to Devi's Den. Join the fun inside the bar when all Clown Shoes Beers will be $1 off. The kitchen will be preparing some carnival inspired food specials for the event, and, of course, no carnival is complete without entertainment. The event will include balloon artists, a caricature artist, dressed-up dogs, and whatever carnival inspired attire patrons wish to wear. Drafts to look for include Chocolate Sombrero, Clementine, Galactica, Muffin Top, Royal Standard, Space Cake, Tramp Stamp, and Undead Party Crasher.
Varga Bar's Annual Pin Up Block Party
Sat., May 31, 11 AM - 7 PM
Varga Bar (941 Spruce St.; 215-627-5200)
For the official kick-off of its annual Calendar Girl Search (and simply because it's Beer Week) Varga Bar is spilling out onto the streets with a festive, daylong affair that will feature amazing beers, tasty barbecue grub, games, prizes and chances to be chosen as one of the 12 Varga Calendar Girls for 2015.
Coronado Brew & BBQ
Sat., June 7, 3 PM-Midnight
Barren Hill Tavern & Brewery (646 Germantown Pike; 484-344-5438)
Coronado Brewing Company, all the way from Southern California, is teaming up with Barren Hill for another Philly Beer Week collaboration brew. Head Brewer Ryan Brooks and Owner Rick Chapman will stop by for the final big BBQ roast of beer week. Guests can stop by the tavern all day to watch the brewers make beer, talk with the brewers and the owner, and enjoy $1 off all Coronado beers with a whole pig roast! Drafts include Islander IPA, Orange Avenue Wit, Bobble Head Red, Black Sails, and Barrelman Brown Ale.
Dinners and Food Pairings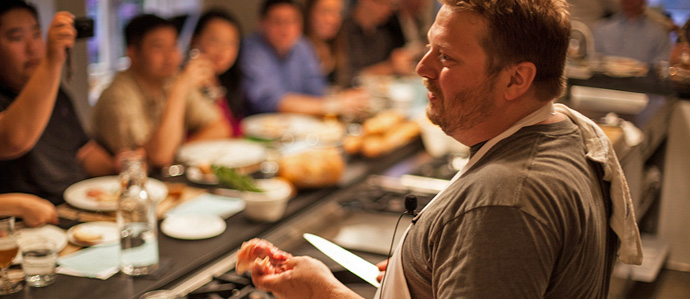 Lagunitas 420 Night
Fri., May 30, 4:30 PM - 2 AM
South Philadelphia Tap Room (1509 Mifflin St.; 215-271-7787)
California's Lagunitas again is teaming up with the Tap Room's Chef Scott Schroeder for an evening of hoppy beers, stoner inspired munchies and lots of black light posters. Previous 420 Night menus have included such culinary hijinks as mac 'n cheesesteak tacos, Mexican poutine and fried ice cream sandwiches.
Morning Wood Beer Brunch
Sat., May 31, 10 AM - 2 PM
Grey Lodge Pub (6235 Frankford Ave.; 215-856-3591)
Grey Lodge Pub will get Beer Week's first full day off to a good start with brunch served alongside some extremely rare wood and barrel-aged beers. Beers include selections from Allagash, Fegleys, Founders, Heavy Seas, Russian River, and Yards. Check Grey Lodge's website for menus and more details.
Shawnee Pig Roast
Sat., May 31, 5 PM - 2 AM
The Industry (1401 East Moyamensing Ave.; 215-271-9500)
The Industry crew is using Beer Week as an excuse to roast a whole pig. And they're pairing the porker with great brews from Shawnee Craft Brewing Company, including Raspberry Blanche, Saison, Double Pale Ale, Apiairus, and Session Porter.
Jim Koch Beer Dinner
Fri., June 6, 6 PM
Red Owl Tavern (433 Chestnut St.; 215-923-2267)
Jim Koch, founder of Boston Brewing Company, will join Red Owl Tavern chef Jorge Chicas for a special collaborative dinner that features dishes paired with Sam Adams beers. The $65 per person prix fixe includes a four-course spread with each course served with a corresponding beer. Each guest for the dinner will also receive a special commemorative Boston Brewing Company glass.
Fishtown Taco Exchange with Nick Elmi and Lagunitas Brewing
Mon., June 2, 9 PM - Midnight
Sancho Pistola's (19 W Girard Ave.; 267-324-3530)
Nick Elmi's recent win on Bravo's Top Chef ensures that it will be months before you can score a reservation at his East Passyunk BYOB, Laurel. But during Beer Week you can get a taste of the culinary champ's take on tacos when he and his staff join the crew at Sancho Pistola's for their monthly Taco Exchange. In addition to Elmi's tacos, the Fishtown hotspot will have Lagunitas Sucks, Pilsner, IPA, Maximus, Waldo, and Sumpin' Sumin' Extra on the taps.
Beers, Breweries and Special Guests of Note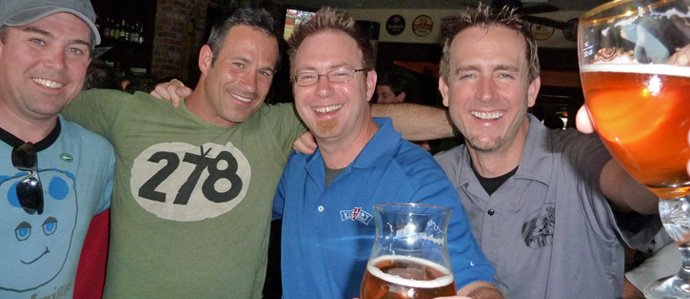 Stinky Sunday with Tomme Arthur
Sun., June 1, 2 - 4 PM
Nodding Head Brewery (1516 Sansom St.; 215-569-9525)
Tomme Arthur, the brains behind Port Brewing and its sour-producing sidekick Lost Abbey, will join Nodding Head for an afternoon of "ridiculously good" beers — some wild, some not so much — and stinky cheese that pair well with them. Beers lined up for the event include Framboise de Amorosa, Cuvée de Tomme, Carnevale, Devotion and Duck Duck Geuze.

Casks & Kegs With Heavy Seas and Hugh Sisson
Sun., June 1, 1 - 4 PM
Perch Pub (1345 Locust St.; 215-546-4090)
Baltimore's Heavy Seas Beer is coming to Perch Pub with casks and kegs galore. Local rep, Mike Beamer, and Heavy Seas owner, Hugh Sisson, will be on hand with two single hop casks of Loose Cannon, Siren Noire, Big DIPA, Riptide, and Small Craft Warning Uber Pils. One cask of Loose Cannon was hopped with Simcoe and the other with Centennial, making each unique. The two will also have a ton of glassware and giveaways.
Meet Anne Catherine Dilewyns
Sat., May 31, Noon - 1:30 PM
Monk's Cafe (626 S 16th St.; 215-545-7005)
Anne-Catherine Dilewyns of Brouwerij Dilewyns, co-conspirator with Dock Street's Justin Low in the creation of this year's PBW Belgian collaboration beer, Philly Tripel, will spend the afternoon at Monk's where a full lineup of her brewery's beers will be on tap for a special tasting in the back bar. Seating is limited to just 25. Tickets must be purchased in advance.

Founders All-Star Road Show
Sun., June 1, 4 - 11 PM
World Cafe Live (3025 Walnut St.; 215-222-1400)
Get down with the Grand Rapids sound when Founders Brewing rolls up on World Cafe Live with its house band, The FBC All-Stars. The rockin' combo is made up of brewery employees including brewers, production and warehouse managers, as well as bartenders and cooks from the taproom. For this big Beer Week bash, they're going to crank some tunes, and tap into some seriously obscure stuff the brewery's been saving up just for this gig. Expect Curmudgeon Old Ale, All Day IPA, KBS, Sweet Repute, Rubaeus, Doom, Bolt Cutter, Mango Magnifico con Calor, Double Trouble, Barrel Aged Red's Rye IPA and more.
Meet and Greet with Dogfish Head's Sam Calagione
Mon., June 2, 1 - 2 PM
Barcade (1114 Frankford Ave.; 215-634-4400)
The Grand Poobah of the craft beer movement as we know it, Dogfish Head founder Sam Calagione, will touch down for the afternoon at Fistown's Barcade. And for his visit, the bar will have a special list of rare and seldom seen Dogfish Head drafts on to sip while chatting it up with Calagione.
New Belgium Tap Takeover at Strangelove's
Sat., May 31, 8 PM - 2 AM
Strangelove's (216 S. 11th St.; 215-873-0404)
Rumors are true, New Belgium — brewers of Fat Tire — are bringing their beers to Philly for the first time ever during Beer Week, and have chosen Strangelove's for their debut. Throughout the evening the bar will be pouring a mind-boggling number of the Colorado-based brewers beers, including the flagship Fat Tire, Ranger IPA, Snapshot Sour Wheat, Cascara Quad, Coconut Curry Hefeweizen, Elysian Collaboration and more.
Competitions and Contests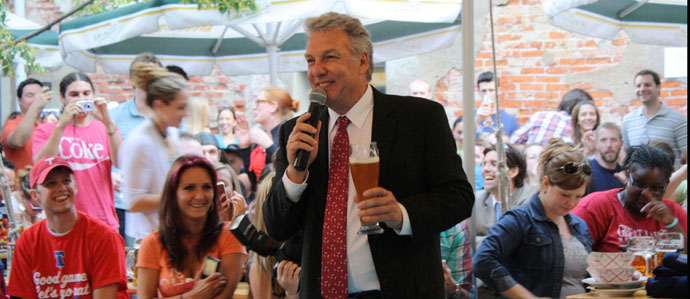 Dunkel Dare
Wed., June 4 and Thurs., June 5, 7 - 9 PM
Frankford Hall (1210 Frankford Ave.; 215-634-3338)
Marc Summers and the original crew from cult Nickelodeon kids game show, Double Dare, are bringing the Beer Week-ized version back to frankford Hall for two riotous evenings of messy fun and physical challenges. Breweries from near and far will compete to get one of their beers on tap at the beer hall for one year.

Philadelphia Mash Bash Homebrew Competition
Sun., June 1, 1 - 9 PM
Underground Arts (1200 Callowhill St.)
Susquehanna Brewing Company will host its first ever Mash Bash on June 1, at Underground Arts. The Bash takes a homebrew competition, beer-centric seminars and activities, and live music and rolls everything into one fantastic day. It all kicks off with a Brewers Roundtable, followed by a lecture on "Chemistry of Beer" by Roger Barth PHD. After that a Homebrew Awards Ceremony will name category winners as well as a "Best of Show". After the awards, local beer companies and breweries will have interactive, beer-centric activities ready to expand your brewing and beer knowledge. And if that wasn't enough, there will be guest bartenders and live music to take you into the evening.
Fast Times at Percy Street with Oskar Blues
Thurs., June 5, 6 - 10 PM
Percy Street Barbecue (900 South St.; 215-625-8510)
In years past Percy Street Barbecue has hosted some of Beer Week's most hysterical and memorable moments with its mechanical bull and mechanical shark competitions. This year they are taking the hijinks to a whole new level with a mechanical surfboard, Colorado-based brewery Oskar Blues and an evening commemorating one of the all-time greatest American movies, Fast Times at Ridgemont High. The night's gnarliest surfer scores a championship trophy. Surfer gear and 80s era costumes are encouraged.
Philadelphia Burger Brawl
Sun., June 8, 3 - 6 PM
Xfinity Live! (1100 Pattison Ave.; 855-406-4119)
Burger Brawl, one of the city's premier competitive food events, moves to a new location for its Beer Week debut. Dozens of chefs from some of Philly's best restaurants will grill up their take on the classic burger. Celebrity judges will pick the best one and name a Burger Brawl Champ. All proceeds from the event benefit Philadelphia's Public Schools. For more information and tickets, check out the Burger Brawl website.
Throwdown in Franklintown V
Sun., June 1, 2 - 6 PM
Kite & Key (1836 Callowhill St.; 215-568-1818)
The friendly sumo wrestling beef that Yards Brewing Company Founder Tom Kehoe and Kite & Key Owner Jim Kirk have been duking out over the past five Beer Weeks has snowballed into a full fledged war. This year the local beer community will be at it again — sumo wrestling, boxing, chariot wars and who knows what else. Cheer on your favorite fighter, or just just kick back with one of the many awesome beers on tap and laugh while it all goes down.
4th Annual Fried Chicken Run
Sat., May 31, 5 PM - 2 AM
American Sardine Bar (1800 Federal St.; 215-334-2337)
Fishtown Beer Runners will run their five-ish mile run from Philadelphia Brewing Company in Kensington to American Sardine Bar in Point Breeze for the fourth consecutive year. As in years past, the $35 entry fee gets runners a t-shirt, three PBC beers and ASB's fried chicken. Check out the ASB website for more details and registration.
Photos: Drink Philly, uwishunu, Flickr users yonissj and brookston
Event Date: 05/31,06/01,06/02,06/03,06/04,06/05,06/06,06/07,06/08
Event Time: ALL DAY
Location: Everywhere
Price: PAYG
Type: Beer,Beer Week,Dinner,Education,Festival,Food,Fundraiser,Music,Outdoor Seating,Parties,Prizes,Spirits,Sports

Tags:
Beer
,
Beer Week
,
Dinner
,
Education
,
Festival
,
Food
,
Fundraiser
,
Music
,
Outdoor Seating
,
Parties
,
Prizes
,
Spirits
,
Sports
Recent Articles

Feedback
How are we doing? Tell us what you like or don't like and how we can improve. We would love to hear your thoughts!